A sewing craft that has been around for more than a decade is appliqué digitizing. Appliqué embroidery digitizing uses thread and needles to sew small pieces of fabric onto a big base fabric in different designs and patterns. This could be done both by manually or on the machine. 
With machine appliqué, a design is first digitized or transformed into a stitch file that an embroidery machine can understand. This stitch file will then tell the embroidery machine where to place the stitches. 
Creating appliqué embroidery designs by digitizing is not as tough as it might look. With the correct tools and a little bit of practice, anybody can make amazing appliqué designs that could be used on different projects. 
How To Create Applique Embroidery Designs?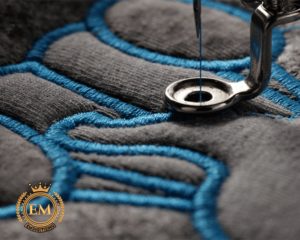 When pieces of patches in different materials in different shapes and designs are sewn or stuck onto a bigger piece to form a design is called applique.
 Hand-sewn appliqué embroidery designs and machine-sewn appliqué embroidery designs are both possible, and they include: 
Embroidery Digitizing Services
If you are looking for embroidery digitizing services, EM digitizing is one of the 
best embroidery digitizing
 company. Providing all types of embroidery digitizing. I recommend you test digitizing services.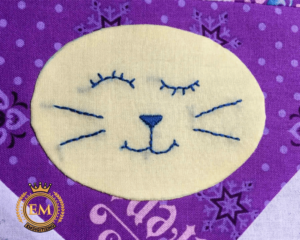 With the help of a sewing machine, the raw edges of the background fabric can be stitched around the shape to make a neat, clean, and smooth finish. A zigzag stitch is used often for this reason.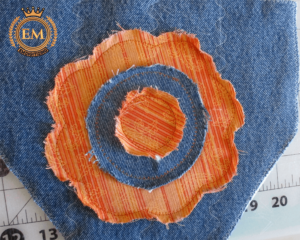 Raw edge appliqué works best for projects that won't be used regularly because the raw edges won't be covered with material to produce a seamless edge; instead, they will be fastened to the background material.
As an outcome, it is left with its current disintegrating edges. This style is best for small items like greeting cards, or wall-mounted vector designs. Cushions and garments are made with durable and strong stitching. This design is flexible and could be altered relying on its intended usage.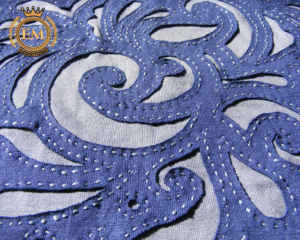 With floral reverse appliqué, instead of sewing material shapes onto the backside of the material such as traditional appliqué offers, you stitch a design on top of different layered materials. You then cut away particular parts of the ensemble to reveal the shape and color to others.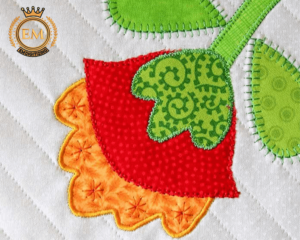 This technique is adaptable to a lot of configurations and variants. A machine can easily achieve it. If you are using a sewing machine, you can use one of the many accessible stitching styles to make something visually pleasing.
Appliqués for decoration could be as vibrant and artistic as required.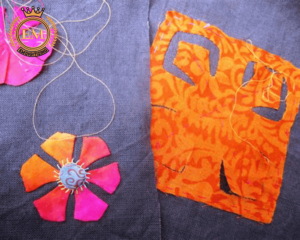 With a lot of appliqué choices and variations available to you, this amazing method is one of the finest. If you love working with different colors and material types, then appliqué embroidery is likely the best choice for your next project! By exploring the different appliqué embroidery designs, you can simply find ones that suit your particular needs and vision.
Appliqué embroidery can be applied through appliqué machine embroidery, manually, or by fused methods. Appliqué machine embroidery has entered the market because of technological advancements and increased demand as the market has completely blown into the fashion industry. 
Appliqué machine embroidery is fast and simple, but it assures that the appliqué embroidery designs are exact and seamless. Additionally, the amount of stitches in an appliqué design is significantly lessened when the material is used as the backdrop rather than a stitch fill, enabling you to make a bigger design with fewer stitches. 
Choosing The Right Stitch For Applique Embroidery
This is the most important factor of appliqué embroidery designs as it shows how long your design will last. Of course, it is best to stick or fuse your appliqué pieces to background material, but gluing by itself will eventually wear out, causing your beautiful design to fall into pieces. 
However, the zigzag thread, blanket stitch, and straight stitches are some of the most common stitches used with fusible appliqué; diverse stitches might make an easy quilt appear beautiful.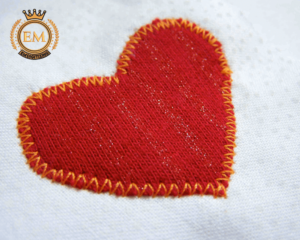 There are different types of zigzag stitches that you can use on a sewing machine, each with a separate look. For instance, you can use a satin zigzag, or a narrow zigzag relying on the settings of your machine.
This zigzag is bolder and more visible as compared to the satin stitch. Also, the structure of this stitch is such that it has the longest length but narrowest width, which makes it useful for securing appliqué embroidery designs without being noticed as a thread line.
Satin zigzag comprises a series of closely spaced, thick, and dense zigzag stitches that make it hard to see any background cloth between the stitches. Most of the time, the design offers you a sign of how to approach the stitches.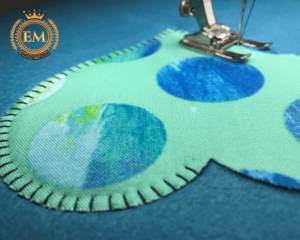 To achieve this method, you would have to use straight stitches along the outermost edge of the appliqué. There would as well be a perpendicular stitch going into the shape of the design itself, this shows off traditional hand-appliqué stitching nicely. If a machine does not have numerous options for blanket stitches, then it probably won't have any.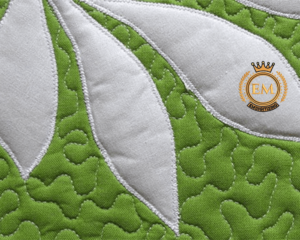 It is not typically listed as its category, but it is a simple type of stitch to do. 
When finishing appliqué machine embroidery, one important aspect to consider is the color of the embroidery thread. Try the following suggestions:
The vertical stitch must be placed outside the boundary of the shape when using a blanket stitch. If you notice that your appliqué threads are rooting onto the appliqué shape as you work, the thread color must match the main color of the appliqué material and the background material. Any mistakes would be less obvious if you try this!

If you don't want to take the time to line your edges with a needle, try a bold decorative stitch instead like star stitch and rick-rack stitch. 

Select a thread color that will stand out from the appliqué and the material behind it if you want the stitches to be part of the design. 
Digitization in the machine for custom embroidery transforms the existing artwork into a file with appliqué designs that could be used on an embroidery machine once stitches are added to the equivalent software. To make a machine embroidery design file with guidelines for the embroidery machine to stitch appliqué designs, embroidery digitizing needs embroidery software. 
The embroidery itself isn't enough in and of itself. Only the embroidery design file cannot sufficiently serve the required purpose while embroidering the design on a computer. However, the artwork is as well important; another skill often overshadows the former's capability in the process. Yes, you guessed it right! We are talking about digitizing for embroidery. The digitized file is made by a skilled digitizer, just like any other professional skill. 
No doubt embroidery machines have become advanced but they still can't understand designs in digital format by themselves. Most materials printing technologies can use design files and print from them.  The exemption is embroidery, where appliqué embroidery designs are made of stitches. The solution to close this gap is digitalization!
The design's stitch representation is found in its digital format. It distributes design elements, including stitch position, path, density, and type, amongst different design regions. 
The embroidery digitizer is responsible for specifying these parameters. Then, the design is transformed into a digital version using a computer program known as embroidery digitizing software. 
However, its effectiveness is still being discussed, the term AUTOMATIC DIGITIZATION provides exciting potential and has been introduced by several embroidery software manufacturers. The concept is to configure the software so digital designs could be made without needing input from anybody else.
We hope this article was helpful for you and by knowing you know how to create appliqué embroidery designs by digitizing.
If you want to customize embroidery logo digitizing, EM DIGITIZING will be your best choice. At EM DIGITIZING, we deliver the best embroidery logo digitizing services with the best quality. We offer 50% off on all our services to our potential customers on their first order. So, get a free quote now and we will get in touch with you.
Hope this article will be helpful for you guys!
If there's any question related to this article feel free to comment to us. And, thanks for reading!