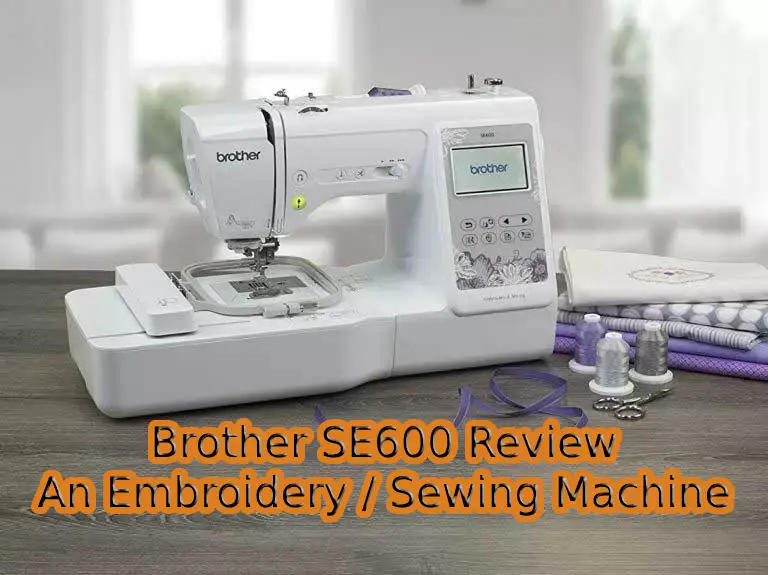 Embroidery Digitizing Services
If you are looking for embroidery digitizing services, EM digitizing is one of the 
best embroidery digitizing
 company. Providing all types of embroidery digitizing. I recommend you test digitizing services.
What is Brother SE600?
The Brother SE600 2-in-1 sewing and 4×4 embroidery machine allow you to easily embroider and sew. View your embroidery design in full color on the large, 3.2 "Save Smart Color LCD touch screen display, and review your design modifications on the screen before sewing.
It is an affordable sewing and embroidery machine which is easily affordable, reliable, efficient, and functionally prominent. Brother SE600 tops all sewing machines in terms of its low cost.
Anyone interested in sewing and embroidery can easily buy this machine. Many great features allow you to edit and display your embroidery designs before applying them to your projects.
What are the Brother SE600 accessories included?
If you buy the Brother SE600 sewing and embroidery machine, here is what you will find in the box:
Brother SE600 machine unit, Buttonhole Foot, and power cord

Embroidered arm and 4 ″ x4 ″ embroidered hoop

Seven sewing presser feet and an embroidered foot

Dust cover

Accessory pouch with two bobbins, three bobbin clips, three pre-wound bobbins with embroidery thread, six-piece needle sets (2 75/11 needles, 2 90/14 needles, 290/14 ballpoint needles), twin needles (2/11), seam wrapper, scissors, disc-shaped screwdriver, cleaning brush, spool caps, spool net, extra spool pin, and eyelet punch.

Operations Manual, Quick Reference Guide, and Embroidery Design Guide in English and Spanish
You need a stabilizer before you start and also need to buy embroidery thread.
Key Features
Brothers make many different models of sewing machines that make it difficult to choose one. Here, I will look at the main features of the SE600 sewing machine for easy decision-making.
103 Built-in Stitches

Easy to Use

Automatic Needle threader

Versatile

Drop-in Bobbin

Work Area 4″ x 4″

USB Support

Lighting

Large LCD Touchscreen

Embroidery Designs
103 Built-in Stitches
There are over 100 built-in stitches that can help you show off your sewing skills with various sewing patterns – 103, to be exact.
This feature makes the Brother SE600 sewing machine an ornament among other machines. Most sewing machines do not have many built-in stitches.
Easy to Use
One of the most important things that come to your mind when you are thinking about choosing an embroidery or sewing machine is how user-friendly it will be. If you are buying a brother SE600, you do not need to think about it.
The overall setup and use technique of the Brother SE600 sewing machine is very simple. In addition, a sewing machine is provided with instructions on how to set up and use the machine.
Automatic Needle Threader
Many people find it difficult to thread the needle manually, so the brother has the best solution. The automatic needle threader will line the needle's eye, so you don't have to worry about it.
Versatile
The Brother SE600 sewing machine is a versatile machine that can perfectly handle both embroidery and sewing.
Whether you are using it for general sewing work or embroidery, Brother SE 600 sewing can perform all the necessary work without any hassle.
Drop-in Bobbin
The sewing machine has a drop-in thread so that the small door can be opened only near the needle plate so that your thread can be inserted.
You can easily track and refill the amount of thread available because it is directly in your sewing field.
The sewing machine has a drop-in thread so that the small door can be opened only near the needle plate so that your thread can be inserted.
You can easily track and refill the amount of thread available because it is directly in your sewing field.
Work Area 4″ x 4″
The machine embroidery area is large, so you can easily decorate your design on fabric. The SE600 is a perfect embroidery machine if you want to use a sewing machine at home.
It features a free sleeve to create sleeves, cuffs, necklaces, and other accessories that are not readily available.
USB Support
This feature is not commonly seen in most sewing machines as it increases the cost of the sewing machine.
Not so with the brother SE600. This feature comes with a built-in USB port used to transfer embroidery designs to the sewing machine.
You can download the latest embroidery designs from their official website ibroidery.com or other websites, provided they have a file extension supported by the sewing machine. You can import designs with .pes file extensions.
Lighting
The SE600 comes with integrated lighting to prevent you from avoiding dim lighting areas or late evening plans.
Brothers use very bright LEDs around the needle section to help you see what you sew, where the fabric can be moved freely and help in deeper fabrics. Found, mostly when the deep thread is used.
Large LCD Touchscreen
The Brother SE600 has a 3.7 ″ large LCD touch screen
display. The company says Save Smart Touch Screen because you can edit and preview the embroidery design on the touch screen before sewing.
It saves your craft plan in the embroidery design you didn't want because you can always preview it before the final sewing.
Embroidery Designs
The sewing machine has internal memory with over 80 embroidery designs that give you a large selection.
However, if that's not enough, you still have the option to download any design of your choice from the Internet and transfer it to the machine's system with a USB cable or memory stick.
Why Brother?
Whether you need an embroidery machine, a simple sewing machine, or a surgeon, Brother's first company that comes to mind.
Brother is one of the oldest sewing machines and manufactures many award-winning versatile sewing machines.
Not only sewing machines, but Brother Brothers is also a well-known brand for printers and computer equipment.
Like many people, I trust my brother's sewing and embroidery machine. Among the most popular models of sewing machines, Brother CS6000i (simple sewing machine, good for beginners), Brother PE770 (best and best embroidery machine for specialists), Brother 1034DX (best surgeon) are some of the best machines.
The company builds its products after much research and customer feedback.
The sewing as mentioned above machine models are just one example; the company has many excellent models in the product line.
They make sewing machines easy to use with many automated features that easily help everyone use them.
Pros and Cons of Brother SE600
Pros

of Brother SE600
A great value embroidery machine that also works for sewing! It has excellent sewing quality and is amazingly powerful on thick layers.

Import design with USB instead of connecting to a computer!

Reduces preview stitches before sewing, and the the LCD screen allows many customizations.

An automatic needle threader is helpful when making several thread changes during a design.

The thread cutter (which can be automatically set on the clip) is a good feature for this price machine.

Brother SE600 is also very quiet when sewing.
Cons

of Brother SE600
Expensive for those with low budgets.

If you are a regular user, you will need to charge the machine frequently.

No difficult case involved.

The use of commercial sewing machines is not the fastest.
Comparison Brother SE400 vs SE600
Comparing Brother SE400 vs. Brother SE600 sewing and embroidery machine, you will see that Brother SE600 is the newer and better version. It looks like the brother is working on shutting down the SE400 at several major retailers.
Compared to the Brother SE600's 80 embroidery designs, 103 stitches, seven accessories fit, and six embroidery fonts, the Brother SE400 includes 70 embroidery designs, 67 stitches, and six accessories feet. There are also only five embroidery fonts. The SE400 LCD is slightly smaller and not as colorful as the SE600.
In my opinion, the biggest difference is how the pattern is transmitted. On the SE400, the machine has to be connected to the computer via a USB cable to transfer the pattern, and the SE600 only needs a USB stick plug. It's much easier for me not to have my computer near my machine.
On both, the hoop size is 4″ x4″. Sewing speed, machine setup, and how you sew are all the same. check out the best embroidery machines for small businesses,
Conclusion
The sewing machine is not bad for home use, and it has all the features one would need in an embroidery machine. It has 80 built-in embroidery designs and 103 built-in stitches.
With a USB port, one can always add more embroidery designs. In addition, the 3.7-inch color touch screen that lets you preview the design gives a much better idea of the final result.
It serves two purposes, embroidery as well as regular sewing. So if you buy a single-purpose machine, you don't have to spend extra money to buy another one separately.
Brother SE600's joint embroidery and sewing machine are quite affordable and affordable.
Freuquently Ask Questions by Our Customers