Have you heard about magnetic embroidery hoops for embroidery machines but don't really understand how they work or if they will help you embroider? I understand that. Before this, I don't know about that. But now I see how the magnetic hoop machine can be a real game changer for the embroidery enthusiast.
While doing my research, one thing I have come to realize is that magnetic embroidery hoops are polarizing! Some people love them and some people think they are a complete waste of money. So which one is it? Will magnetic embroidery hoops help you in your embroidery process? Or are they a trick you should avoid?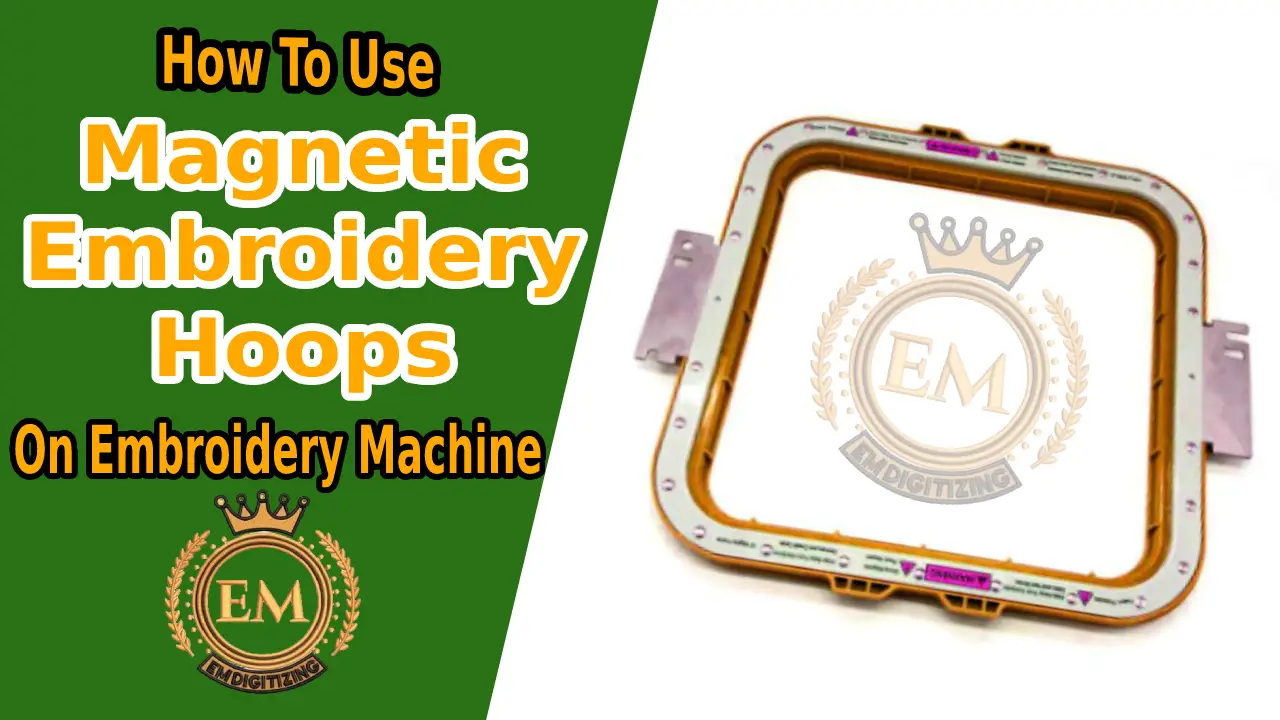 Embroidery Digitizing Services
If you are looking for embroidery digitizing services, EM digitizing is one of the 
best embroidery digitizing
 company. Providing all types of embroidery digitizing. I recommend you test digitizing services.
What Are Magnetic Embroidery Hoops?
A magnetic hoop is similar to a regular embroidery hoop. As you're probably familiar with, a regular embroidery hoop fits with the top of the hoop going inside the bottom and the fabric and stabilizer secured in between. This works best if the material is not too thick and the area you are trying to embroider is easily accessible.
Magnetic embroidery hoops are similar to a regular embroidery hoop except that the stabilizer and the object you are embroidering on lie on the bottom of the hoop piece. However, it differs from a regular embroidery hoop in that the top piece of the hoop does not go inside the bottom piece. It simply lifts up and the magnets hold it together, sandwiching the stabilizer and the item together between the magnetic pieces.
Not all magnetic hoops are the same. Some magnetic hoops have a complete frame as the top of the hoop while others don't have a top frame, just individual magnets.
What Are The Different Types?
There are a few different brands of magnetic embroidery hoops that you can buy. Some of the most popular include:
Snap Hoop Monster hoops from DIME

have a reputation for being extremely strong and durable. In fact, they are so strong that some users have difficulty separating them. They consist of two magnetic rectangles fully magnetized around the border to ensure a secure hold.

Mighty Hoops

is another brand worth checking out. They have a character of being really strong. They advertise that they will carry most anything from thick quilts to Carhartt jackets.

Embroidex Magnetic Hoops are much less expensive than the other two brands, but not as secure. Instead of having a top frame, they have a large section of magnets that you use to secure the fabric and stabilizer to the bottom frame.
Are Magnetic Embroidery Hoops Good?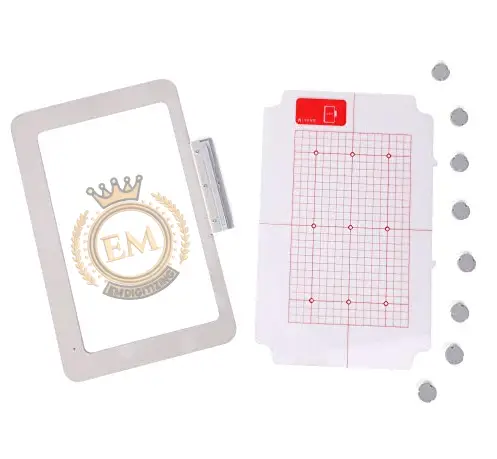 Yes, I love mine! And, magnetic embroidery hoops are even better than traditional embroidery hoops in some hooping situations. However, all hoops are not of the same quality, and not all machines will work with all hoops. And, of course, magnetic embroidery hoops can only be used with specific projects.
Although they are expensive and have a limited range of uses, I still think that owning at least one magnetic hoop is a huge help. Now, I have an Embroidex hoop for my embroidery machine Brother SE1900, and I have two Dime Snap Hoop Monsters and a Brother Magnetic Sash Frame for my Brother Luminaire XP2. I'm surprised how often I turn to them now!
How To Use Magnetic Embroidery Hoops
All magnetic embroidery hoop brands work differently, and not all options are compatible with all machines. That's why it's important to determine the types that work with your machine so you know what you can embroider and how to use them.
Here's an overview of many brands and types of magnetic embroidery hoops and how they work.
1. Dime Monster Snap Hoops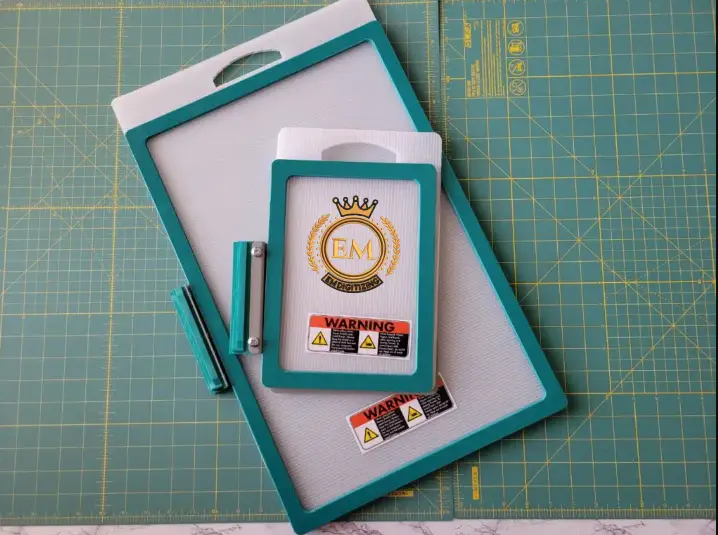 First, Dime has its patented Monster Snap Hoops, which you can use for one-step hooping with minimal hand strain. Now, I recommend using Dime's magnetic embroidery hoops compatibility chart to determine compatibility and availability for your machine. Compatible machine brands include Brother, Janome, Babylock, Bernina, Husqvarna Viking, and Pfaff.
Needle machines (with a maximum hoop size of 6″x10″ or larger). Multi-needle snap hoop monsters are also an option for many Brother, Janome, and Babylock 6- and 10-needle machines. For my Brother Luminaire XP2 embroidery machine, for example, the Dime Monster snap hoops come in the following sizes:
10.5″x16″

10.5″x10.5″

9.5″x14″

9.5″x9.5″

8″x12″

8″x8″

7″x12″

6″x10″

5″x7″

4″x4″
I have a 10.5″x16″ hoop that I use when quilting and a 5″x7″ hoop for smaller projects like embroidered towels. A very large snap hoop works great for quilting, but some other hoop fabrics tend to sag in the middle because the hoop is so large. To use the Snap Hoop, separate the two metal frame pieces. Place your fabric (and stabilizer, if needed) on the bottom frame. Then, pull the top frame back down, which is easy thanks to the magnetic forces.
If the project is attached incorrectly, adjust the fabric by lifting, shifting, and replacing the top frame. (Be careful with your fingers!) If quilting continuously, all you need to do is remove the hoop on top of the machine body and shift your fabric before putting the frames back in place. There is also no need to remove the top frame from the workspace when re-opening the quilt sections!
As a note, something I learned the hard way is not to remove your snap hoop from the machine using the top magnet frame. I've accidentally removed it from my embroidery projects, de-centering them and ruining future stitching. So, if you need to trim applique fabric or jump stitches, remove the hoop from the machine while holding both sides of the frame.
2. Mighty Hoop
One of the best magnetic hoop options for multi-needle embroidery machines is the Mighty Hoop, which was initially developed to work with leather and Carhartt jackets.
As a single needle machine user with no direct experience here, I'll leave an expert video above to help you learn the difference and see how to use the Mighty Hoop! Just be sure to check with the company for compatibility with your machine before purchasing.
3. Amazon Version (aka The Only Magnetic Hoops Compatible with My Brother SE1900)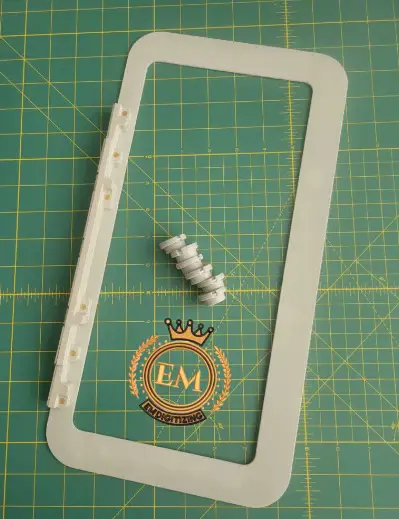 The magnetic hoop for my Brother SE1900 is not a genuine Brother accessory, as Brother currently does not make one for this machine. (Nor is there any money for that matter.) However, for my embroidery machine Brother SE1900 and many other entry-level embroidery machines, Embroidex has marketed a magnetic metal hoop. I just got the new 5″x12″ and love it.
Below is a small selection of hoop options for more entry-level machines to check if you too can get a compatible hoop for your machine!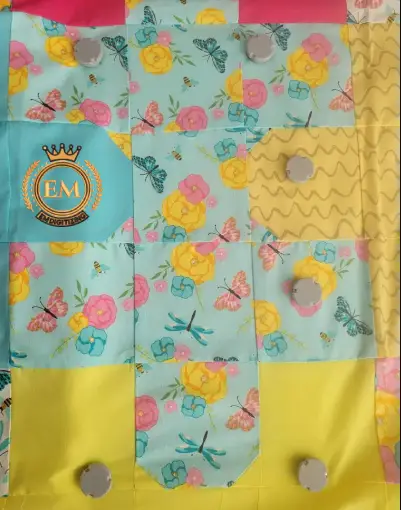 Now, to use the magnetic embroidery hoops while quilting, simply places your quilt sandwich over the metal frame. (No need for a stabilizer!) Then, place the magnets around the edge of the frame. Slide the hoop into your embroidery machine, and that's it!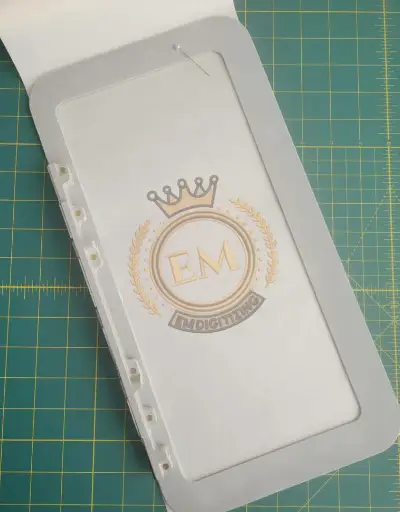 For embroidering leather, vinyl, or other materials, you can use this magnetic hoop almost like a dime sticky hoop or dorky frame. Simply stick a layer of self-adhesive adhesive stabilizer to the base of the hoop and press the item to embroider onto the sticky surface.
Of course, you also have the option of setting up the hoop like a more traditional "float" where you use magnets to hold the stabilizer and then use spray adhesive, a basting box, painter's tape, or whatever method you prefer. Connect the blank embroidery through.
4. Genuine Brother Magnetic Embroidery Hoops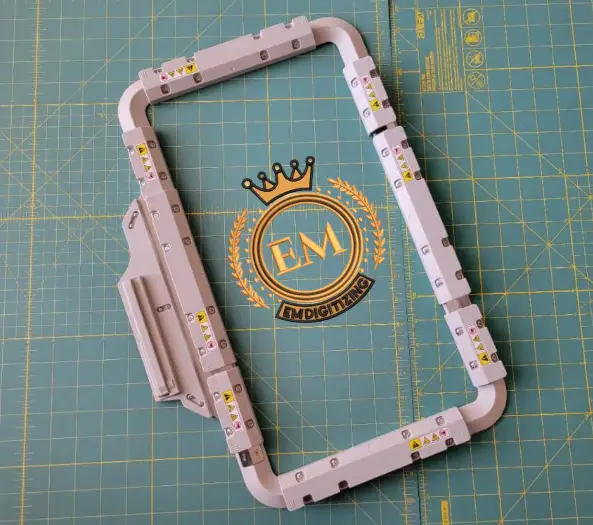 My Brother Luminaire XP2 embroidery machine also has a 7″x14″ compatible Brother branded Hoopnetic Magnetic Sash Frame that came with its purchase. It's really easy to reattach quilt sections between sewing using this magnetic hoop because you can leave some of the magnets and just pull the fabric through. Also, magnets can be used to smooth the fabric, making for tighter hooping than my Snap Hoops.
One major drawback, though, is because of the bulk of the hoop (it's really heavy compared to dime snap hoops and the magnet strength is strong) the maximum sewing speed you can use with it is 600spm. Since my machine can embroider at 1,050 spm with other hoops, it smells a bit. Also, while the 7″x14″ magnetic embroidery hoop just works with the Brother XP1 and XP2 machines, for other larger hoop Brother machines, the Brother SAMF180 5″x7″ Magnetic Hoop is an option.
Cons & Troubleshooting Of Magnetic Embroidery Hoops
Now, while I'm fascinated by my magnetic hoop, I haven't found that all projects lend themselves well.
First, stretched fabrics with dense designs really need to be hooped or secured where there is absolutely no movement. This is not easy with large hoops or those that do not have a secure grip around the fabric. Generally, blanks that require a cut-away stabilizer are not suitable for magnetic machine embroidery hoops.

Another limitation is for small throat machines. Although the magnetic hoop makes quilting more accessible, it is still difficult to keep excess fabric away from the work area. There is just enough room to roll the extra quilt inside the small throat area and not in the center of the hoop.

After my first quilt corner, I also learned to make my backing and batting larger than the quilt on the sides which makes using the magnetic hoop easier. Otherwise, the quilt corner just flops in the middle of the hoop unless I use a stabilizer to hold it.

Always check your design and make sure that the needle will not hit the magnetic hoop at any point during the embroidery process. My Luminaire does not always register the correct size Snap Hoop.

Be careful of magnets around the computerized parts of your sewing machine. Used properly, these hoops should not be a problem. However, misuse can cause problems.

Do not forget to check with your doctor before use if you have a pacemaker or use other devices affected by magnets. My Brother Sash Frame Has All Kinds Of Scary Warnings!

Finally, these hoops are expensive! This is the main reason I only bought a few. If you want magnetic hoops in multiple sizes, the cost adds up quickly.
Conclusion
I hope you enjoyed this tutorial on using magnetic embroidery hoops. Let me know about it what you embroider with your magnetic hoop!