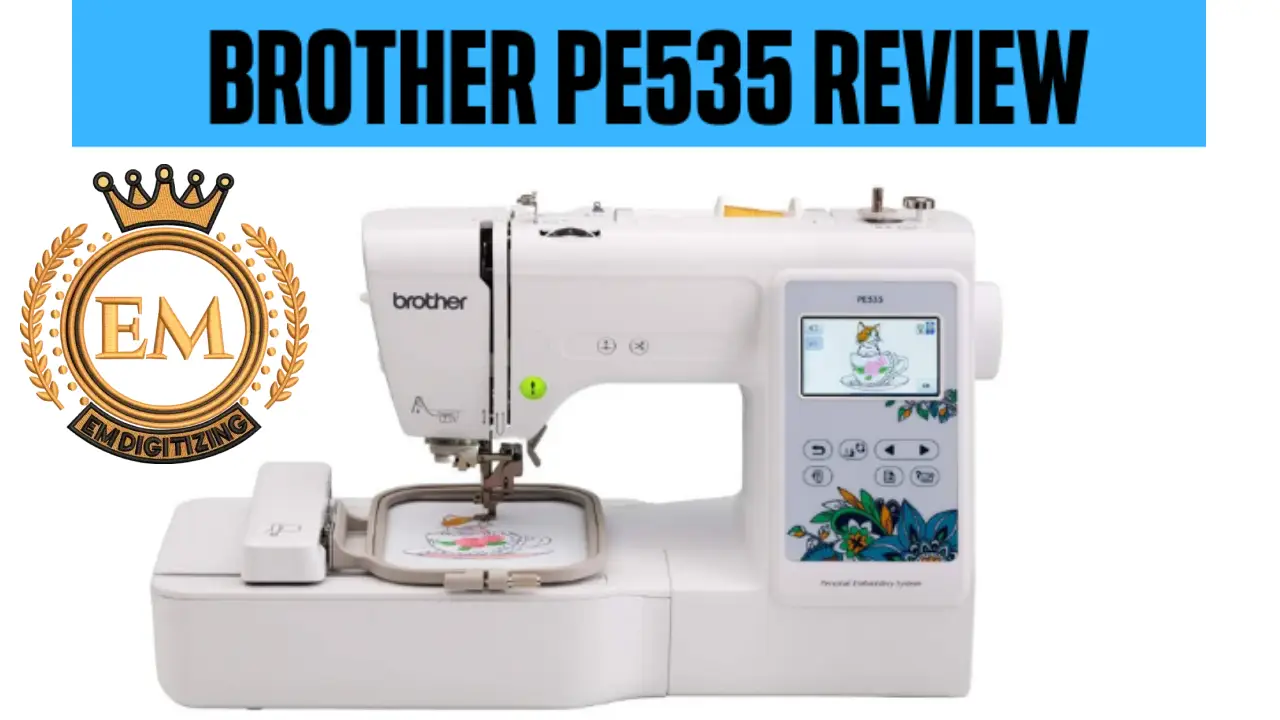 Intro of Brother PE535
The Brother PE535 embroidery machine is a machine that works well for both beginners and professionals with ease of use. This machine offers you incredible value with its many custom embroidery features that make embroidery very fun and easy for both beginners and experienced.

The PE535 machine comes with wonderful features such as an embroidery area of 4 "x 4", 10 frame patterns, 80 inbuilt designs, and 9 different font styles (including 6 English fonts and 3 Japanese fonts), letters, and monogramming. This embroidery machine also has a built-in memory function that allows you to import designs into the machine via a USB port.
The Brother PE535 embroidery machine comes with a large LCD color touch screen that enables you to see the designs you want to make in color before you start sewing. You can move and place the embroidery design on the screen with your finger using the drag and drop feature.
Embroidery Digitizing Services
If you are looking for embroidery digitizing services, EM digitizing is one of the 
best embroidery digitizing
 company. Providing all types of embroidery digitizing. I recommend you test digitizing services.
What comes with the Brother PE535 embroidery machine?
When you buy the Brother PE535 embroidery machine, the following items come in the box:
Instruction manual
Embroidery foot
Embroidery frameset
Thread spool insert
Bobbins
Screwdriver
Spool caps
Spool net
Dust cover
Seam ripper
Needles
Cleaning brush
Scissors
Bobbin clip
Brother PE535 Embroidery Machine Features
This machine is designed for ease of use and comes with an automatic needle threading system, tutorial videos, and a bilingual user manual to help you work with it. Once you understand the functions of this machine, you can embroider all kinds of things on it.
80 Built-in Embroidery Design
It also has a selection of 80 built-in embroidery designs for you. Embroidery designs offer you beautiful options such as floral, borders, children's, holiday, decorative alphabet designs, etc.
4" x 4" Embroidery Area
The most popular embroidery size for most embroiderers is the 4 "x 4" embroidery design. The embroidery size of this machine is also 4 "x 4". It also includes built-in alignment tools and a grid sheet to help you align the position of the needle with your design so that you can place it exactly on the fabric you are sewing.
9 Built-in Lettering Fonts
This machine really gives you a lot of options, including font sizes. You have 9 built-in embroidery lettering fonts that you can choose from, 6 of which are English fonts and the remaining 3 are Japanese fonts. These fonts also come in many sizes, large, medium, and small sizes. There are also different forms and characters. There's the lower case and the capital case, and you have the symbols and the numerals. All you have to do is choose the one that works best for the project you are working on.
Automatic Needle Threader
Like many other fraternal machines, this machine is extremely easy to thread. As a matter of fact, it does not take anything away from you. The machine has an automatic needle threader that does the threading for you by just touching one lever. This is especially important for you if you have to change the threads several times for your embroidery design.
USB Port
With this embroidery machine, you can import your favorite .pes embroidery design files using the built-in USB port. This means you can always increase the amount of embroidery design options on the machine by adding more with the USB port. Therefore, you have virtually unlimited options for your embroidery design. You can also edit the design and save it to a USB device or machine memory.
Large, Colorful LCD Touch Screen Display Screen
This machine comes with a Sew Smart Color LCD touch screen display which is as big as 3.2 ". It allows you to see your embroidery design in full color before you start sewing. You can use the built-in color palette. Are also able to easily change the colors of the embroidery design threads using so make it easy for you to review your design before you start sewing.
Access to EMdigitizng
You also have access to emdigitizing.com's designs where you can find thousands of embroidery designs, designed exclusively for Brothers users. With it, you have access to a wide range of high-quality designs, including Marvel Designs, Disney-Pixar, Disney, and more.
Edit Embroidery Lettering
The ability to edit embroidered letters means that you can adjust the fonts of embroidered letters in a variety of ways, including aligning text in curves or at an angle, and increasing or decreasing the space between letters. Doing, placing text on multiple lines, and more.
Brother PE535 Embroidery Machine Pros and Cons
Like other fraternal machines, the PE35 embroidery machine has many features that are attractive to expert embroiderers and the ease of use makes it perfect for beginners. The fact that it has an unlimited selection of embroidery designs that you can choose from, and the ability to add more designs to your existing design makes it impressive.
But like other machines, it has its disadvantages.
Pros
Great for beginners, because it's easy to set up and use, and it's built for convenience
A very compact and portable machine that weighs only 15 pounds
The price tag is cheap
It is durable and is backed by the manufacturers with a 25-year warranty
Large, easy to use, LCD touch screen display
The machine has built-in memory
Automatic needle threader
USB port that allows you to add designs to the machine
Access to iBroider.com for 80 pre-installed designs and thousands of other embroidery designs
Numerous tools and accessories are included
Cons
For high-end embroiderers, this seems almost too easy
This is just an embroidery machine
The embroidery area is limited
Conclusion
In summary, the Brother PE535 embroidery machine is another advanced machine from Brother. This machine is durable, portable, and affordable. It is known for its comfort and ease of use which makes it a perfect fit for beginners. The machine's embroidery features were designed to make embroidery easier with more fun.
Like other brother-made machines, the machine comes with a 25-year limited warranty, free phone support, and free online technical support. It comes with a tutorial video and a bilingual user manual, written in simple words, to make it easier for users to learn about the machine. Therefore, if you have a problem with the machine, you should first check your user's manual.
One major disadvantage of this machine is that it cannot sew, and this is a common complaint among its users. Well, the machine is an embroidery machine, so it wasn't made for sewing. It is designed to help you focus on the art of embroidery. If you need to sew, get a sewing machine, or go for machines that can offer both.