After Researching hundreds of embroidery events worldwide and given my deep roots in the commercial industry, one of the most common questions of those looking to start or run an embroidery business usually is "which embroidery machine is best " for a home business?".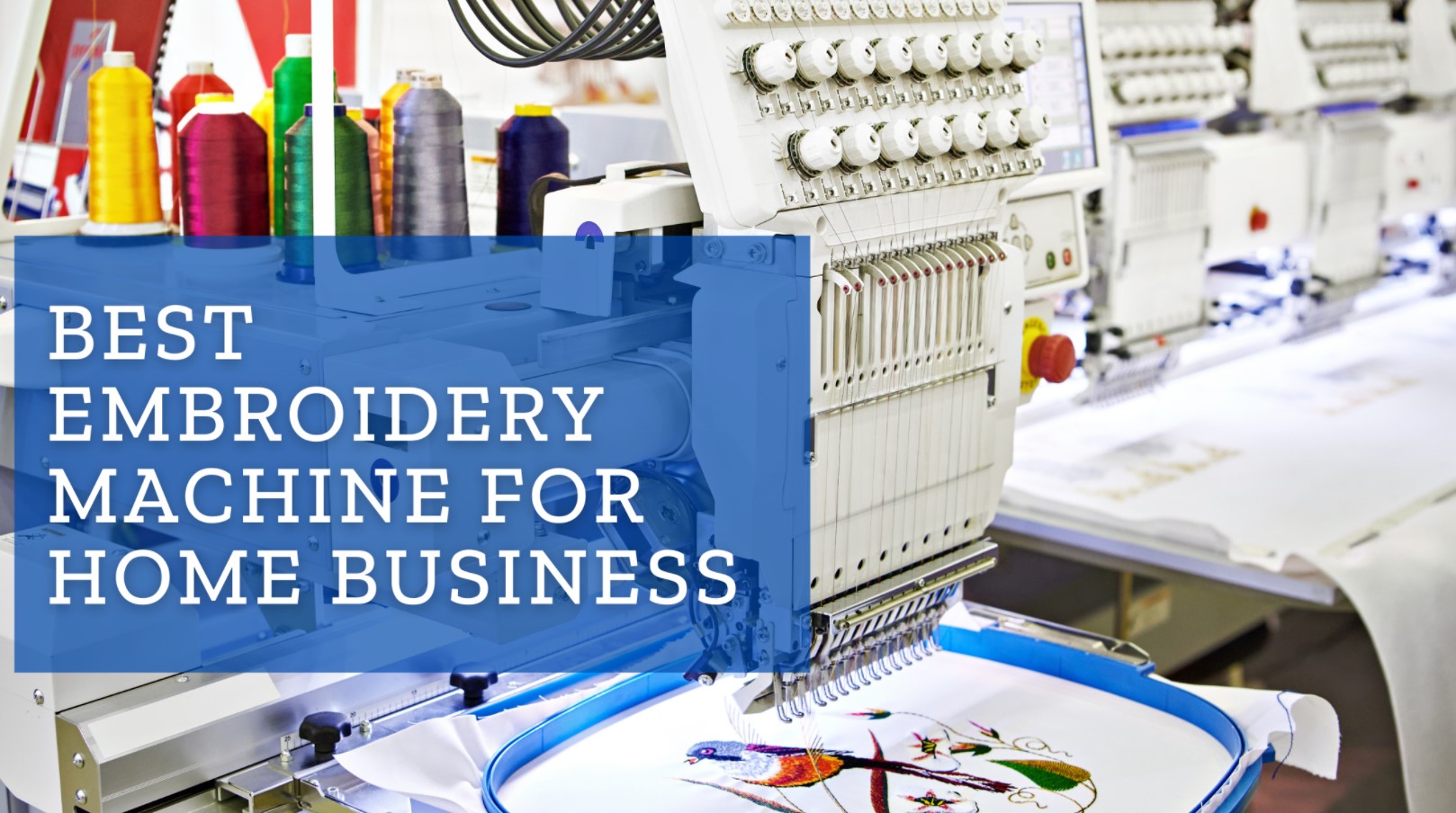 In my opinion, the answer slightly differs from the person. Will provide you an accurate answer, you first need to understand some embroidery business basics and qualify your intentions.
Embroidery Digitizing Services
If you are looking for embroidery digitizing services, EM digitizing is one of the 
best embroidery digitizing
 company. Providing all types of embroidery digitizing. I recommend you test digitizing services.
While selecting a embroidery machine, which would be the right fit for your business, you must consider several factors before making your decision: 
Which machine brand is best for your home embroidery business?

Would you get benefit more from a flatbed machine or a multi-needle machine?

Based on the features you need, do you need a multi-purpose machine? 

Based on your target market, will you need attachments for your embroidery machine or not?

Is an embroidery business profitable?
How much does it cost to embroider a logo?
What is the best commercial embroidery machine to buy?
How much does a professional embroidery machine cost?
Which embroidery machine is best for monogramming?
What is the difference between an embroidery machine and a monogramming machine?
Embroidery machine

flatbeds

vs.

multi-needle 
Are you sure this machine will be used for a business and not a hobby? I always ask this question first because it shows me which road to point you down right away. 
If you're thinking about getting into embroidery specifically because you want to start a business. In that case, a flatbed machine is usually not the way to go!
Flatbed embroidery machines

First off, flatbeds aren't designed or engineered for commercial purposes. The embroidery runs on a flat surface, meaning it'll be challenging to embroider any tubular items (tubular meaning something like a shirt or sock where there's an inside to it. Instead of something like a towel, where there's a front & back). 
As an example: if embroidering on a sweatshirt, you'd need to turn it inside out and create a bowl, moving all the excess material out of the way as it embroiders. Then your full-time job would be to sit and watch the machine run the entire time. The second you walk away is precisely when the machine would sew into the material hanging over.
Flatbed machines also have a decreased speed time. These machines usually use a rectangular hoop, which can be problematic for registration and quality embroidery. This occurs because the hoop's side that hooks into the machine frame drives the hoop back and forth slowing down production time as the motors running isn't commercial grade. 
Another huge downside is that flatbeds can only run one color at a time. This means that you will continually have to stop the machine for designs with multiple color changes so you can pull the next color of thread through the needle. This goes against one of the basic rules as an embroidery business owner: If your machine isn't running, you're not making money!
Multi-needle embroidery machines
Any person considering embroidery as a business should start with the right tool for the job: A multi-needle machine.
Multi-needle machines usually have 6 to 18 needles on the embroidery head. Because of this, once the design is programmed into the machine, it'll change colors automatically and continue running from beginning to end without stopping. 
 These machines can also run at higher speeds on heavier items, and most importantly, they're more friendly for tubular items. A multi-needle machine will have a tubular arm with a rotary hook bobbin case at the end. This means you can slide/fit almost anything you want over this tubular arm, and the excess material hangs down and out of the way. Smaller items like onesies, pockets, E.B. bears, and socks can embroidered on this machine.
The best part about multi-needle machines is that you load the design, select the colors, place the tubular item on the machine, press the start button, and then walk away. This allows you to do other things to grow and benefit your business instead of babysitting your machine while it embroiders.
Do you need a multi-purpose machine?
While we generally recommend multi-needle machine however, there are some exceptions. Based on the market you intend to target it may be important for you to make sure the machine you purchase is suitable to embroidery and comes with quilting or sewing capabilities. For instance, I've known entrepreneurs who are successful and focus heavily on the market for cosplay. They create one-off costumes that need one or two embroidery designs, but lots of custom sewing.
If you're in search of an ultra-modern machine that can be used for multiple functions you can take the multi-needle from your list since embroidery is their main occupation. However when someone doesn't intend to focus on sewing or quilting in their work (or already owns a good quilting or sewing machine) An machine for embroidery that's only used for sewing or quilting, like a multi- is the right choice.
The other elements out and examining an embroidery-only device like a multi-needle is usually a way to be able to save some money, or gain the most value by having additional features.
In the meantime, if you have a multi-purpose, high-end machine and you are planning to upgrade your embroidery equipment I'd recommend your next purchase to be an embroidery machine with multiple needles.
Why? It's because, again you don't need to take care of it. The idea of having two expensive machines that require full-time supervision is not a good idea. Use one machine to sew and quilt on, and the other to have an extra needle that you can unload and go!
Your embroidery machine attachments should match your target market
.
If you're looking to start a home embroidery business, you should ask yourself the following questions:
Who is my target market?

On what items/garments would my target market like to embroider on?

What hoop size and attachments will I need to meet my customer's orders and needs?
These are the questions you must consider before proceeding with any machine that embroiders Therefore, be sure to address these questions with care. If you can answer these questions, you'll choose a machine that will satisfy these criteria within your budget. to invest in.
Most of the time when you're planning to start your own home embroidery business, it's best to keep your expenses to an absolute minimal amount. Even though certain of the features integrated into high-end home brands machines are fantastic (such as the positioning stickers that allow for positioning and projection of simulated embroidery designs directly onto the product that you're working on) however, you have to have to pay for these features.
In the majority of cases these features are whistles and bells that are great for those who enjoy hobbies however they can detract from your profits as an owner of a business. Why? Because they're not necessities. When I was running two embroidery commercial companies in the 90's, we did not have any of the bells or whistles. But we produced more than 10 million merchandise embroidered each year to become one of the most prolific embroidery companies with a volume of over 100 million.
If you're a business owner, you'll need to stay clear that sound and bells. Instead, you should focus on the attachments and maximum size of hoop you believe you'll need. For instance for those who plan to embroider caps with embroidery it is best to choose an equipment that can accommodate an attachment for caps. If you're thinking of embroidery jackets or sweaters then you'll need to find the machine with a big enough maximum size hoop. Do you see the logic?
So, I told you to avoid some of the whistles and bells. This is not the case with Echidna Hooping Station. Echidna Hooping Station. It is particularly useful in case you are limited in hand strength and mobility or are frustrated when hooping your clothing. The Echidna Hooping Station is powered by strong magnets (they're reuseable and don't leave any mess, which is a win! ) It gives you complete control over the hoop's placement on any type of project. It is a complete control system for hoop placement. Echidna Hooping Station can save your time and prevent project mishaps. Hooping mistakes can be costly error to make!
Best embroidery machine for a small business
I categorize machine brands into two main sections:
Home Machine Brands

Commercial Machine Brands
Home machine brands
You might've noticed that when it comes to "Home Machines," I've tried my best not to mention specific brands. The reason being is that most of the reputable home brands in the industry have a strong following, and users can be very protective as to which is best. However, just so we're on the same page, some examples of what I'd consider home brands are: Brother, Janome, Bernina, Viking, Babylock, etc.
Home brands are generally more expensive but come with generous local support as they're primarily sold in-store via "dealer networks." That said, the main reason why you may want to consider a home brand is if you're new and struggle with learning new things.
Although I greatly respect the Brother brand in particular, if you're looking into a home brand, I think you should pick the brand based on the support and education the dealer/store provides. Meaning that almost all popular home machine brands produce quality machines, but sometimes you might consider one brand over another based on the reputation and support of the dealer you're purchasing from. 
With all the online resources available today, it's also relatively easy to do your homework and compare brands and the features they offer. And as always, show me the money. I'm a tiny bit responsible for this one, but I've found that most successful dealers these days are "event and show" driven ones. This means that if you want to purchase from a physical store (or dealer), you'll usually find the best deals on machines at a consumer show or at an event the dealer is hosting. You'll most times get a great price, great financing, and a bundle of goodies thrown in. 
I highly suggest making an educated decision with whichever machines you're interested in purchasing or potentially purchasing in the future. By this, I mean you should make comparisons. What's the difference in prices versus the difference in output? Compare the longevity and return on your investment. Even if you're financing, you're going to end up making money and saving money in the long run by getting a suitable machine from the start. 
Tip: Thinking of purchasing a home machine used? Buyer beware! You might be buying someone else's problems. If it's a local transaction, I'd ask the seller if they would be willing to have the machine looked at by a local dealer technician; if they have nothing to hide, it shouldn't be an issue. Purchasing a used machine from a dealer is usually a much safer way to go, and you can find yourself a great deal. Many of the machines they sell are "last year's model."
Commercial machine brands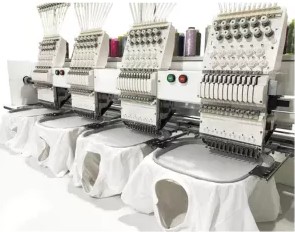 Generally speaking, commercial brands don't have as much one-on-one support as home brands. Still, they're made for pumping out production.
Now, remember, you get what you pay for. If you buy a commercial machine based on a price point, you will have potential issues that you will need to address, and you will need to get past the learning curve. 
Starting as a commercial multi-head embroiderer in the early 80s running two factories with over 136 heads in production, I've seen multi-needle manufacturers come and go. I've also seen machine quality evolve and improve considerably over the years. Years ago, while running an embroidery business, I would only consider purchasing the Cadillac of commercial brand machines: Tajima, Barudan, and ZSK. To this day, I still have great respect for these brands, and if you're willing to spend a bit more, you'll never regret your purchase. 
The reason why I said, "Years ago, I would only consider" was because, at that time, most "offshore" machines produced had terrible reputations and quality. Today, like many other industries, things have changed; the quality isn't as low as it used to be, so I would no longer say you must avoid these machines.
Yet, a word of advice is that I find that with many of the "cheaper" (in terms of price point) emerging commercial brands, there are additional hurdles and learning curves for you to overcome. One example is that the tension systems on many of these cheaper brands are a lot more needy and temperamental. This requires much attention and fiddling for the machine owner, which is particularly challenging for anyone unfamiliar with running commercial machines.
For this reason, although the price point of some of these cheaper commercial machines may be attractive (some of them even under USD 10,000), I would not recommend them to anyone relatively new to machine embroidery.
Best Embroidery Machines for Small/Home Business
Brother PE800 Sewing Machine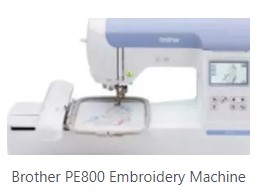 Brother PE800 Brother PE800 machine is machine that can be used for embroidery only which is considered to be one of the top embroidery machines made by the company of Brother. It's an ideal choice for those just starting out with their own embroidery business at home since it has simple-to-use functions as well as essential high-level features.
It has a larger and more powerful "Sew Smart" color LCD display that is relatively easy to use. It isn't necessary to be a technical expert to be able to use it. Anyone with a basic understanding of computers can utilize it. You just need the ability to move your finger to increase the size, decrease it, modify it and combine and then preview your design. You can also choose thread colors due to the built-in color palette.
There are 138 pre-built embroidery designs that include 11 different fonts of lettering and frame patterns that vary and 14 border shapes to add decoration to the fabric. It is also possible to join the device to your computer and transfer other awesome embroidery designs downloaded from internet to your machine using an USB port. It also has an LED light that can be placed near the center of the sewing space to aid in the sewing process with precision and efficacy.
This Brother PE800 is packed with many amazing advanced features, including Bobbin Thread supply alert, advanced Threader built into the machine, Superbright embroidery area and a fast stitching speed. Simple bobbin winding, Fast setup of bobbins using clear plates, built-in thread trimmer, computer connectivity and many more. These features will help you save your time as well as energy.
Additionally, it comes with the ability to thread needles automatically, which means that it will thread the needle without assistance. It is all you need to do is alter a couple of levers, and then pull the needle through the hook and a guide and you're done!
The machine comes with quite a large 5×7 inch embroidery space that is ideal if you're working on larger projects like T-shirts, hats and jackets, as well as other household things. The machine also has the ability to wind bobbins automatically through a device and will have an even bobbin on your disposal. Additionally, the thread sensor will notify you when the thread is running dry.
In addition The Brother PE800 has decent stitching of the speed of 650 stitches per minute which is not extremely fast but sufficient to complete the task quickly. Regarding the stitching quality, it's remarkable, it produces smooth, tidy and even stitches that are consistent with top-quality precision.
If quality is important to you, then this Brother PE800 is the machine for you. It's definitely one of the finest embroidery machines available which can precisely and quickly stitch your design in the way you'd like to.
Brother PE800 Sewing Machine Pros and Cons
Janome 500E Memory Craft Embroidery Machine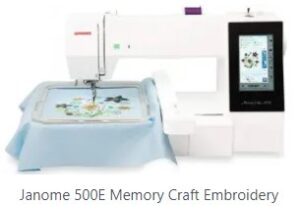 It is the Janome 500E Memory Craft Machine is a committed embroidery machine which, according to users, is an ideal machine for new embroiderers looking to master the basics and learn new techniques for embroidery, as well as experienced embroiderers looking to establish their own business in embroidery.
It comes with 160 designs that are built-in, using the six monogramming fonts available and comes with the 2 and 3 letter monogramming features. This means you'll have plenty of options to create original and unique designs. Additionally, you can upload additional designs if you aren't satisfied with the pre-programmed ones due to using the USB port.
The embroidery is performed at a speeds of between 400 and 850 SPM. You can alter the speed according to your requirements. When you're creating intricate designs, the machine often will reduce the speed of its embroidery it self.
One of the most attractive benefits of the 500E from Janome 500E is the fact that it comes with a huge embroidering area that measures 7.9 11.5″ x 7.9 inches. This means you won't encounter any difficulties while stitching large-scale projects. Additionally, you won't need to repeat the process. If you need to rehoop due to reasons whatsoever, it's easy to do so with this machine due to the extra arm.
It is equipped with a big full-color touch screenthat is easy to read. This responsive and user-friendly touchscreen lets you complete control over the embroidery process. The touch screen lets you to increase, decrease or alter the size and turn, flip, drag and drop or zoom in, mix copies and paste designs. You can also alter the color and dimension of the designs as well.
The screen allows the user to view your design prior to putting the effort into designing. Additionally it will automatically center the design , without any effort on your part. It's a top-quality machine, so it will not have any issues embroidery on fabric that is difficult. It can be used on any kind of fabric like knits, cotton synthetic fabrics, denim upholstery, fine fabrics or anything else you can think of.
We've been working on different sewing machines for quite a lengthy time, and we think that this one is distinct. It's not the same as the other models. It's large and durable with high-end features, making it the perfect embroidery machine for small companies. It is sure to meet all your requirements for embroidery.
Janome 500E Memory Craft Embroidery Machine Pros and Cons
Janome Memory Craft 14000 Sewing And Embroidery Machine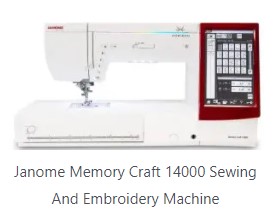 This Janome Memory Craft 14000 sewing Embroidery Machines ensure perfect quality and precision on your work. It is the perfect option for those searching for a machine that is industrial in quality. It is a strong light, compact, and durable and quiet machine built to last a long duration.
It has 350 embroidery designs that are built-in and 11 monogramming fonts and includes 3-letter and 2 letter monogramming options. The designs built into the software are so good that you are able to make stunning and professional embroidery designs.
The machine comes with 400 stitches built-in and 13 buttonhole designs that are one-step. The machine also has an application called a stitch composer which lets you design and modify stitches in the way you'd like to. In addition, the free motion quilting process is simple since it includes an option to zigzag. This machine is also an excellent option that is suitable for sewing (sew creators) as well as quilters.
The best feature of Janome14000 is that the speed of embroidery can go as high as 1000 stitches in a minute, which is awe-inspiring. This means you'll be able to finish your work in a fraction of the amount of time. If you're new to embroidery and aren't comfortable with the embroidery speed, you are able to reduce it with various speeds.
The machine comes with the 9.1 11.8 x 11.8 inches of embroidery space that means you can finish every large task with ease and in a short amount of time. The majority of top-quality machines will not have this huge of an area for embroidery. The work area is stuffed with an excellent LED lighting system that is located in five places so that you can spot the smallest of details easily. Additionally, it comes with Acufeed Flex technology as well as Accu View Magnifiers in three locations, so it has complete control over the details of any project.
The machine is equipped with an LCD touchscreen with full-color that is easy and simple to use. The touchscreen also allows users to use the device via a real-time PC connection to Horizon Link Suite so that you have access to different designs in addition to the built-in designs.
It is packed with a range of amazing features, including 11 fonts that have European characters, and adjustable the hoop's position. Different embroidery formats like JEF, JEF+, JPX programming jump thread trimming, automatic Return port thread breaking and numerous other. These features will assist you tremendously when you work.
Janome Memory Craft 14000 Sewing and Embroidery Machine can be described as a powerful machine made by Janome which is built with the utmost care. It lets you finish the more complex and larger projects more quickly and with less of a hassle. Additionally, it will give you consistently superior results. Be assured that you won't regret one bit after you buy this product.
Janome Memory Craft 14000 Sewing And Embroidery Machine Pros and Cons
Janome MB-7 Embroidery Machine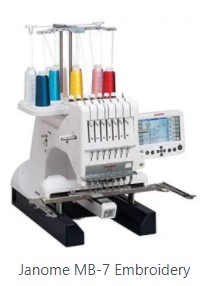 If you're in search of the ultimate machine which sews flawless stitches, you should look no further than Janome MB-7. It's a robust piece of equipment that's similar to an industrial machine, as it was designed to take your quilting, sewing, and embroidering designs to the highest level. It can deliver more designs in less time due to its capacity to multitask using more than seven threads
The MB-7 has a huge 7″ remote screen for computers (RCS) which is able to be used even when you're not on the device. This means you can connect the screen to your laptop or PC using the USB cable. The entire information you'd like to look up will be displayed on the screen including thread colors, the number of stitches per color and designs previously used as well as the total time of stitching and much more. You can also alter the size the group, rotate it, flip it or re-edit, as well as combine as well as duplicate designs. Additionally, you can manage the speed of embroidery and thread color as well as many other features via the remote screen of your computer (RCS).
The MB-7 includes 50 designs for embroidery on board that include 10 monogramming fonts, which isn't much, but they'll surely keep you busy. Furthermore the designs are stunning because they have been added by the manufacturer to bring contemporary designs to the machine. Also, it can also perform three-letter monogramming.
Furthermore, it comes with the largest embroidery area of 9.4″ 7.9″ x 7.9″ this is a great benefit for those who are working on large-scale projects. It has three embroidery hoops that are considered an entry-level option, in contrast to other machines which offer just two hoops for the same cost. The best part is that this machine works with JEF; JEF+, and DST embroidery formats when you upload them via the USB port. Additionally, the embroidery area includes 6 working lights.
The machine comes with everything that is expected of the top-quality products like an adjustable stitch counter, two sensors Upper thread, Presser's foot and stitch-out timer feature. marking the work area of embroidery as well as presser foot and thread sensors, an independent and flexible bobbin winder with adjustable stitch travel as well as jump thread trimming. amazing lighting system with auto thread break feature as well as an auto-return feature as well as many more. These functions are designed to give you a seamless experience. an effortless working experience.
It is crucial to note that those with no sewing machine experience or prior experience will have a difficult time learning to operate this machine since it's seven needles to use. This machine isn't designed for those who are new to sewing.
If you're looking to invest for the long term and want a premium machine that is able to do everything, then take a look at the Janome MB-7. It is a powerful machine made by Janome with the capability to meet all of the requirements of embroidery. This makes this machine an ideal embroidery machine for professionals.
Janome MB-7 Embroidery Machine Pros and Cons
Janome MB-4S Four-Needle Embroidery Machine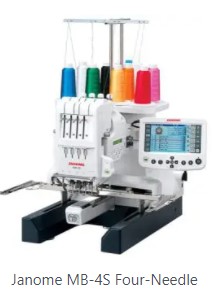 The Janome MB-4S Four-Needle Machine for Embroidery. It lets you create stunning images with a beautiful design on fabric. It's simple to personalize, personalize and personalize your fabric clothing, accessories, and garments with this machine of the highest quality.
There are 50 embroidery designs built-in within the machine. The designs are up-to-date and contemporary designs. This makes it easy to begin. In addition, you are able to create monogramming by mixing several letters. You can alter what size the letters appear that appear on the screen by pressing the keys for size of letters. Additionally, thanks to its huge internal memory, it can save new designs to use for the next project.
The touch screen that is fully color will show all the details, including the various sizes of designs, duration needed, stitch size, the size of the hoop, the number of threads, and so on. You can also browse the patterns list in order of design category using this touchscreen. The machine has an maximum embroidery size of 9.4′ 7.9" 7.9 1". This means you can alter larger designs without needing to rehoop. Furthermore, the work area is completely illuminated by an excellent lighting system.
To edit the designs, simply press the editing mode button. This opens the editing screen that lets you mix creating, altering and copy-paste. You can also change size, resize and transfer different designs. It comes with a full-touch display, which lets you enhance your creativity and show off your talents.
The Janome MB-4S has an easy winding of bobbins device. It is all you need to do is follow the directions on the machine, and follow the required steps and you're ready to start!
If you're planning to launch your first embroidery business, or just beginning to explore with embroidery for fun The Janome the MB-4S is a long-term companion due to its speedy, simple and user-friendly interface. With all the required advanced-level capabilities and features that you need, you can operate the machine with no hassle.
Janome MB-4S Four-Needle Embroidery Machine Pros and Cons
Janome Horizon Memory Craft 12000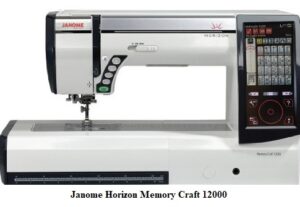 This Janome Memory Craft 1200 (MC1200) embroidery machine is a leap above the model before it (the 9900) The machine has two functions that includes embroidery and sewing. It's a computerized embroidery machine that is able to tackle almost any sewing task you can think of. It can even manage quilting projects. The variable zig-zag design allows free motion quilting.
The MC1200 embroidery machine was intended for serious users and has many more features than the majority of users will ever require for example:
425 stitched-in stitches

338 design patterns

10 fonts, as well as 2 and 3 letter monogramming functionality

5 LED lights with 10 LEDs in 5 locations

Maximum area of 9.1″ by 11.8″

Built-in USB port, and real-time connection to PC, 4MB of memory

Stitch is a program for creating stitches.

Large LCD screen

The perfect home-based business idea

The best embroidery machine to use at home

Simple to utilize
The MC1200 is a sophisticated high-end embroidery machine. The features it offers are specifically designed to make sewing faster and more efficient. There are a variety of sewing stitches and embroidery patterns available to select from. It also comes with editing capabilities, including duplicate, resize combine, drag and drop and flip, arc, trace, group and color selection. It is possible to make anything you want easily.
With the capability to edit designs and store them on computers The sky is the limit for creativity. It's simple to modify the design.
In terms of embroidery is concerned the MC1200 comes with an enormous maximum embroidery area of 9.1″ by 11.8″ with sewing rates up to 1,000 spm.
Janome offers a wide range of accessories for this machine, such as the following accessories Blind hem G foot darning foot quilting guide bar knee lifter, free-motion quilting closed-toe foot embroidery foot, 2 hoops roll hem foot, zig-zag foot open toe foot with satin stitch foot zipper foot E overedge foot M free motion quilting zig-zag foot hidden zipper foot Z button sewing foot automatic buttonhole foot AcuFeed Zipper foot AcuFeed foot and Flex Holder Free Motion Quilting Open toe foot , QO for bobbin holders, 1/4 seam foot O AcuGuide cloth guide, AcuGuide fabric guide.
With so many automated features such as threading, cutting and tensioning and thread tension, the MC1200 stitching and sewing machine user-friendly.
Janome Horizon Memory Craft 12000 Pros and Cons
Janome Horizon MC9900 Sewing and Embroidery Machine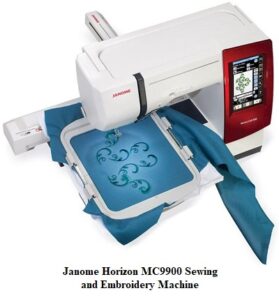 This Janome Horizon MC9900 sewing and embroidery machine is a fantastic household sewing device that be used for regular sewing projects and embroidery. Flexible, fast, precise as well as quiet. This machine has computerized capabilities and a myriad of features that can help you take your work to the highest level.
The computer's color display makes it simple to operate the machine and it has 5 LED bulbs that are located in 3 places to give you a complete light source for your project.
Editing features allow you to use your creativityby allowing you to flip, resize and combine, Arc, Duplicate Zoom, Group, Drag and drop and Track. These options let you alter the pre-designed designs to make them completely your personal. The storage is 3MB and has an USB port to make it easy for transfer of design.
This machine for sewing with computers provides a large max. embroidery area of 6.7″ 7.9″ x 7.9″ and has adjustable placement. It has the ability to stitch at speeds of 400-800 spm , and a regular sewing speed of 1000 spm.
Horizon's MC9900 computerized sewing machine is packed with a dazzling array of features, the majority of them are created to ease your life and your embroidery projects more professional. There's an automatic threader AcuGuide, an automatic thread cutter cloth guide as well as an adjustable knee lift, and much more.
Janome comes with a wide range of accessories that come with the machine, such as the button sew feet, blind foot G as well as 1/4 seam foot O and satin stitch foot. extra-large foot controller zipper foot E, darning foot overedge foot M and the zig-zag foot.
While this model comes with the maximum area for machine embroidery of 6.7″ by 7.9," Janome only has an 5.5″ and 5.5″ hoops. It is possible to purchase the larger hoop for yourself.
The bonus package includes the case, which has slots to hold all of the necessary accessories. A semi-hard, rolling case is also available , as along with additional bobbins, needles and other accessories.
Janome Horizon MC9900 Sewing and Embroidery Machine Pros and Cons
Brother SE1900 Embroidery Machine
The Brother SE1900 has a huge embroidery space with an LCD touchscreen and more designs built-in than you'll ever require. This top-of-the-line combination machine is able to handle embroidery projects in addition to regular sewing tasks.
The Brother SE1900 has 138 embroidery designs. You can also create your own designs with its built-in storage for computer files. Additionally, the machine comes with more than 244 different kinds of stitching patterns, monograms as well as lettering fonts. If you're looking to incorporate buttons into your work There are 10 different styles of buttonholes with a 1-step design to pick from. You can also design your own unique sew-in stitches to save them onto your sewing machine.
The 5″ 7″ embroidery field lets users to create larger designs without the need to re-hoop your designs constantly. The large screen on the digital allows you to see your designs in full color prior to stitching. You can also alter the colors of individual threads and then preview the changes prior to stitching.
In sewing routine projects, the sophisticated feed system ensures seamless material feeding. It comes with the Brother SE1900 also includes 8 flexible presser feet to use with your projects, which include monogramming, buttonhole overcasting, zigzag button fitting, zipper blind stitch, and embroidery.
The LED light that is built-in lights up your work area and makes it much easier to work in dark conditions and also with darker fabrics. The needle threader is automatic to help you save time and stress. This is especially helpful if you're working on an idea that requires numerous thread changes.
Overall, the highest-rated SE1900 sewing machine is a remarkably versatile machine, which is perfect for users who want to be serious. It comes with three capabilities: sewing, embroidery and quilting. As with the majority of embroidery machines in this list, this one is user-friendly and has more designs built-in than you'll ever require.
Brother SE1900 Embroidery Machine Pros and Cons
Brother PE550D Embroidery Machine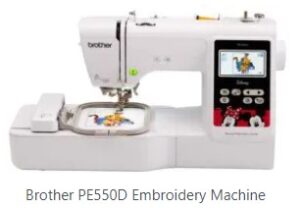 Brother PE550D is among the most popular machines used by embroiderers, specifically for Disney enthusiasts. It's a well-known beautiful and well-known machine which will allow you to create stunning designs with no extra effort. It's a multi-faceted machine with a variety of basic and advanced options
The Brother PE550D comes with an embroidery design that is installed in 125 designs There are the preinstalled designs are 125 and 45. are Disney designs. Additionally you can also import additional Disney designs. Additionally, this machine comes with nine fonts, including six English as well as 3 Japanese that means you'll have a variety of options when it comes to personalizing your embroidery designs. It is also possible to save many designs with its built-in memory.
It is equipped with the embroidery space of four" 4″ This isn't big, but it is adequate for small-to medium-sized projects. However, for larger projects, it is necessary split them into smaller sections. Additionally, the machine's 3.2″ touchscreen LCD screen is loaded with editing options. You can change the size or rotate your patterns, mix previews and modify the designs you create.
The Brother PE550D comes with six lettering fonts to choose from Small, Medium and large. These fonts can be used to further customize the style. Additionally, it comes with needle-tweaker that is automatic, so you don't have to spend time threading the needle. Furthermore, the Brother PE550D is tiny, minimalist, and compact, thus, extremely portable.
One thing that should be pointed out is because the Brother PE550D isn't an elite embroidery machine, it's not able to pass through thicker materials. In turn, the cost isn't too expensive as well. This makes it a cost-effective alternative.
If you're in search of an inexpensive but popular embroidery machine, then this is the right machine for you. It's an affordable embroidery-only machine that is easy to learn and is suitable for use at home too.
Brother PE550D Embroidery Machine Pros and Cons
Brother SE600 Sewing and Embroidery Machine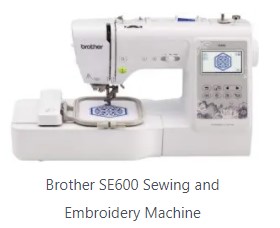 Brother SE600 is usually rated as the best embroidery sewing machine made by Brother. It's a machine with a lot of features which is extremely simple to operate and will become your perfect embroidery partner within a matter of minutes. It's loaded with great embroidery designs as well as fonts, stitches patterns, borders and much more. To top it off this machine, it is able to sew and embroider at identical precision and pinpoint accuracy.
SE600 SE600 offers an 4″x4″ embroidery area that isn't the best, but is sufficient for most homeowners who want to embroider at home. It does not mean that it's not appropriate for larger designs. it can stitch a large design, but you'll need to cut it into smaller portions. However, you'll be able to purchase larger hoops if you do not want to go through the practice of re-hooping and again.
This machine comes with a massive and fully-colored 3.2 inches Sew Smart color LCD touch screen and is an absolute pleasure to use. It's easy to use to utilize your fingers to operate the machine. It's possible to do anything from selecting the type of stitch and altering the colour of the design to watching tutorials and deciding on the length and width of stitching. The best part is that you can observe the thread colors within the design and alter the design accordingly.
Its Brother SE600 is packed with stitching stitches that are built-in, and comprise decorative scallops, scrolls feathers, waves, stars as well as other essential stitching options. The built-in stitches will meet your design requirements. Additionally, the machine provides a variety of buttonholes which can be automatically sized.
The SE600 comes with an easy drop-in bobbin system. It is all you have to do is open the small door that is located near the needle plate, and then drop the bobbin into it. You can also refill it if it's getting a bit depleted since it is right in the sewing area. Additionally, it's jam-resistant. This means you won't need to make adjustments every time.
It is equipped with many great features for embroidery, such as an automatic needle threader, an integrated lighting system that is bright and powerful and a simple setup system. simple bobbin set-up system 7 sewing feet automated cutters, threaders, automated finish options and much more. All of these options make embroidery very simple and worthwhile.
The SE600 includes 80 designs built-in to help you get going. You can mix any number of designs you like. If you believe that the built-in designs don't suffice The machine comes with USB 2.0 connectivity that lets you create your own design via the internet and view them on the display.
One thing that should be noted here is that it is an extremely simple interface, however If you're just beginning you may find it difficult because it's a completely computerized system and you'll need to be knowledgeable about technology to be able to understand the workings.
The SE600 is small and is a great choice for any kind of embroidery. It is a great value in terms of price and can be utilized by those who require a simple and easy embroidery equipment for their work. It's also the ideal machine for home-based businesses.
Brother SE600 Sewing and Embroidery Machine Pros and Cons
Brother PE770 Embroidery Machine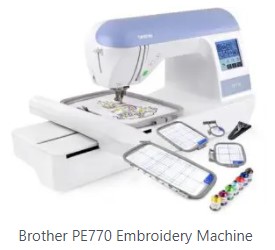 Brother PE770 deserves your attention since it is among the top embroidery machines available. It may not be the most advanced machine, but it will elevate your embroidery to the next level with its user-friendly functions and other advanced features. It is sure to meet your style and requirements no matter what stage you're at.
It has a huge embroidery space of 5×7 inches. This is fantastic when you look at other embroidery machines that are available for the same cost. The 5×7-inch area allows for larger monograms, hatsand t-shirts jacket backs, jackets and much many more.
There are 184 stitching stitches that can be used on this machine. Each one is different from other. In addition you can pre-programme designs of 136 that include 10 frame shapes as well as 12 border designs for your embroidery. In addition you can import numerous designs and save them to the memory of the device, which is large and inbuilt.
The machine is equipped with an easy threading process, you simply need to follow the diagram on the machine in order to get familiar with the process of threading. It also features an automated needle threader to make it easier. With the needle threader that is automatic it is possible to stitch any design you'd like without feeling uncomfortable. In addition, the machine has 11 sewing feet which comprise overcasting, zipper stitches, and many more, so that your work is made easy and easy.
You may also like: 5 Best Embroidery Thread Brands
It comes with It comes with a 1.4″x2.7″ LCD Backlit Touch Screen Display, which lets you to navigate the various options this device has to offer. It can change the angle, increase or decrease or change the display, as well as combine and combine the designs with the touch screen.
The PE770 comes with a basic interface that any person can operate this machine without difficulty. If you're not confident with a computer-based machines for embroidery, an user's manual is included to guide the features in a way to ensure that you do not face any problems working.
If you're in search of an independent machine that's not too costly and that enhances your hobby the Brother PE770 embroidery Machine is the right one for you. It's sturdy and powerful and comes with a variety of efficiency features, and can produce sharp, precise, precisely stitched embroidery that create the finest designs for your home or even small-scale businesses.
Brother PE770 Embroidery Machine Pros and Cons
Brother PE535 Embroidery Machine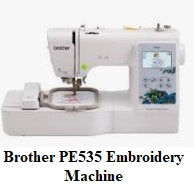 The PE535 comes with 80 built-in designs along with borders and fonts (10 frames). The machine also comes with a built-in PC that allows you to upload patterns for design. There's no limit to your imagination with this device.
Large, 3.2″ LCD touch screen lets you see your design before beginning stitching. You can also alter the individual thread colors by using the machine's color pallet and see your changes in a preview.
The Brother embroidery machine has nine embroidering fonts (6 English and 3 Japanese) You can edit them in various ways. You can either align the text, or bend it to create curves. You can put your text on several lines, or alter the space between your words.
Although it's not the greatest however, the 4″ 4 x 4″ embroidery area gives you plenty of room to work on your design. Also, there's an alignment sheet and grid tools to make sure your embroidery is precisely placed on the fabric exactly where you'd like it.
As with other machines for embroidery like this one, it also comes with an automated needle threader which allows you to easily thread your machine and begin using it. This feature is extremely helpful when designing a pattern which requires multiple adjustments.
You'll have no problem finding space for this device in your craft room or at home.
Most Brother embroidery machines have a 25-year warranty and this isn't an one-off.
The PE535 comes with a standard-sized of embroidery area (4″ 4″) which means you'll have to re-hoop frequently in case you're working on large-sized embroidery.
Brother PE535 Embroidery Machine Pros and Cons
Brother SE400 Sewing and Embroidery Machine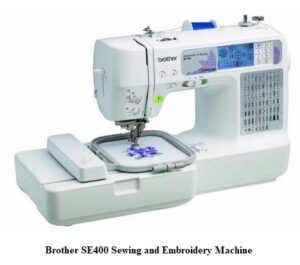 This Brother Project Runway LB6800PRW embroidery device is identical to SE400 in that it is similar to SE400 because it comes with both embroidery and sewing options. One benefit it has above the SE400 is the roll-on carrying case, making it simple to transport the machine to class meeting, hotel or other location in case you're travelling.
The machine, you get an 4×4 inch hoop, as well as a lot of stitch designs and designs. There are 67 stitch patterns built-in and 70 pre-built designs. 120 frame combinations and five letters fonts.
Similar to the majority of other embroidery and sewing machines listed in this listing, you could also connect the device to your PC for uploading more designs.
Threading is easy and an automated thread cutter cuts the threads of your top and bobbin quickly and effortlessly. It also has a 7-point feed dog system that is ideal for feeding your fabric with a smooth, even flow.
Beginning users will appreciate the fact that all designs and functions are available via the touchscreen LCD. You can also alter your embroidery designs by altering their size or dimensions, mirroring them, or turning the designs. The machine also comes with instructions that help you master the use of the new machine.
Similar to like the SE400 Hoop, it might not be enough to accommodate certain monogramming projects. If you are looking for longer names or bigger project with letters, you could require a larger hoop. Many don't see this as to be a problem, however.
Overall the Brother LB6800PRW Project Runway machine is a excellent choice for those who is looking for a sewing and embroidery machine all in one. It has advanced features and smooth stitching to complete any task you could imagine. It is among the top sewing machines for beginners.
The Brother PE535 machine is flexible and appropriate for people of all levels. The computerized features increase efficiency without limiting the user's creativity or ease of use. The user-friendly design and the extended warranty make this machine an excellent investment for anyone who loves embroidery.
Brother SE400 Sewing and Embroidery Machine Pros and Cons
Brother LB6800PRW Project Runway Embroidery Machine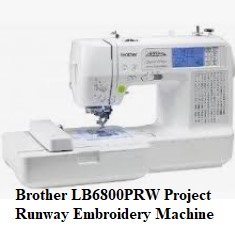 This Brother Project Runway LB6800PRW sewing machine is like SE400 in that it is similar to SE400 because it comes with both embroidery and sewing options. The main advantage against the SE400 the machine comes with a roll-on carrying case, making it simple to transport the machine to class meeting, hotel or other location when you're on the road.
This embroidery machine, you get a 4 inch x 4 inch hoop as well as a variety of designs and stitches. There are 67 stitch patterns built-in and 70 pre-built designs. 120 frame combinations, and five alphabetic fonts.
As with the majority of other machines for sewing and embroidery on this list, you could also connect the unit to your personal computer for uploading more designs.
Threading is simple and an automated thread cutter cuts the threads of your top and bobbin quickly and effortlessly. Also, there is a seven-point feed dog system that is ideal for a smooth and easy fabric feeding.
Beginning users will appreciate that all designs and functions are available via the touchscreen LCD. You can also alter your embroidery designs by altering sizes, mirroring, or turning the designs. This machine also has instructions that will help you learn to operate the new machine.
As with the SE400 hoop, it may not be enough to accommodate certain monogramming projects. For names with longer lengths or bigger project with letters, you could require a larger hoop. Many don't see this as an issue, but it could be.
Overall The Brother LB6800PRW Project Runway machine is a ideal choice for anyone who needs a sewing machine and an embroidery machine in one. It has advanced features and smooth stitching to complete every project you can think of.
Brother LB6800PRW Project Runway Embroidery Machine Pros and Cons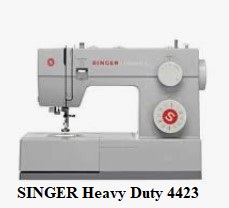 SINGER Heavy Duty 4423 has been constructed with a heavy-duty metal interior frame which ensures that this sewing machine would remain still for skip-free sewing and also offers the machine much-needed durability. This comes with the stainless steel bedplate, which would provide you with the smooth fabric feed and is responsible for even sewing.
The machine has been constructed with a powerful motor. This sewing machine would reach your hands with 23 in-built stitches along with an automatic needle threader and a top drop-in bobbin system. It is to be noted that this machine has extra-high sewing speed, which can produce 1100 stitches per minute, while the speed with other machines like Singer 7258 Stylist is only 750 stitches per minute.
SINGER Heavy Duty 4423 Pros and Cons
EverSewn Hero Sewing Embroidery Machine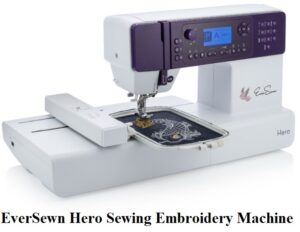 The EverSewn Hero model is a different machine that combines embroidery and sewing that is a bit different, however this model comes with more sewing capabilities. This machine is equipped with over 400 decorative letters, utility, and decorative stitches. All of these are available within the library of stitches located near the winder of the bobbin.
Alongside a wide range of stitches Along with a wide range of stitches, the Hero sewing machines include 40 built-in designs as well as various design sizes that range from 110mm 170mm. 6.5 inches of space give you ample space and EverSewn comes with eight different presser foot options on this machine.
The Hero embroidery machine is able to stitch at 850 SPM. It also comes with a vividly lit LCD screen. It also has an USB port that lets users to connect to a laptop or computer to download other designs.
However it is true that the Hero does an excellent job in embroidery orsewing. Many prefer sewing to embroidery, yet they acknowledge that the stitching capabilities are superior. For beginners, they will appreciate the flexibility they can use the EverSewn sewing machines have to offer. They are among our top brands which is a fantastic machine for all levels of experience. We particularly like their large work space for larger projects. This is among my favorites sewing machines for beginners.
EverSewn Hero Sewing Embroidery Machine Pros and Cons
EverSewn Sparrow X Embroidery Machine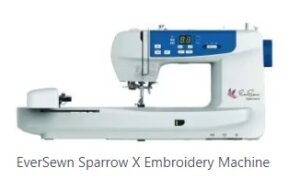 The EverSewn Sparrow X Embroidery Machine is the most advanced, futuristic sewing and embroidery machine intended for novices or intermediate users, as well as professionals. It's a highly technological machine that will give you the opportunity to show off your creativity to your designs.
Let's start by looking at the physical features of this device. Sparrow X is a good sewing area of 4.75 and 7 inches. It may not be a huge space, but it's ample to work on bigger projects. Additionally, you are able to alter two different embroidery hoops on the machine.
In terms of the designs for the Sparrow X, Sparrow X offers 100 embroidery designs that include animal, floral scenes patterns, holiday themes frames as well as home and glasses patterns patches, and many more designs. We are sure you will find the perfect match among the designs already available. In addition, there are 120 stitches in the. If you're dissatisfied or bored, you can add additional. In addition, you'll have an possibility to edit, change the size or combine the design by using the application.
As per the manufacturer's claim the machine has 800 rpm of sewing speed. But, when we tried the machine, it offered only 650rpm of speed. Although it's not speedy, it's good enough to allow you to finish your task quickly and efficiently. In terms of stitching quality is as it is concerned, you'll get clear, consistent, and precise stitches all over your canvas.
Additionally it, plus, the Sparrow X comes with a mobile app that is compatible with the. This EverSewn Pro app will let you control the entire process using your tablet or mobile phone to make it quick and easy to use. You can alter the design and add more or less designs, alter the font size and more, all with using your fingers on the screen. The app is available to both Android as well as Apple users.
The best feature of this embroidery machine is it will let you know about the progress via the application. It will give you a notification in the event of an issue or work is complete. Additionally, it will inform you of the current status, the remaining time and other details so you can keep track of the progress of your work.
There are plenty of fantastic features on this machine, like Autolock, stop/start the needle, up and down speed adjustment, value-setting. There are many one-step buttons. It also has a built-in cutter and speed control, straight stitching plate with storage adjustable speed feature as well as thread selection and editing options. These features will help you finish your job easily and effectively. Furthermore, the machine comes with an advanced level of auto-threader that automatically cuts the thread between jump stitches as well as an electronic tension adjustment.
Additionally, Sparrow X is quite user-friendly and you'll be able to discover its primary functions by using its intuitive interface. If you encounter difficulties using the machine, go through the User Guidefor more thorough directions.
If you're looking for an advanced machine that is technologically advanced, the EverSewn Sparrow X Embroidery Machine is the perfect choice you need. It's a cutting-edge combination of a sewing machine and an embroidery machine which is worthy of your attention because its top-quality features can make your life easier.
EverSewn Sparrow X Embroidery Machine Pros and Cons
How much will it cost to embroider an image?
Logo embroidery can be quite expensive because it requires the vectoring of the logo and digitalization. The cost ranges from 40 and hundreds, based on the dimensions of the logo and its level of. For instance, basic left chest logos on jackets or shirts are about 4 inches in size and are priced at around $60 one piece. Are you interested in learning more? What is the cost? Did it cost to Digitize a logo?
Are embroidery businesses profitable?
The last few years have seen an increase in the demand for personalized clothing and accessories with embroidered components like handbags, gloves and hats, and other items that are a desired to personalize.
Uniquely designed and custom-made embroidery products make up a large portion of the sought-after gifts, particularly around the major holidays. This makes it a very profitable venture for any small-scale business which deals in custom embroidery when it's handled properly.
All it boils down to is pricing your products in a manner that is appealing to buyers while also recouping the expenses of your set-up as well as the materials and labor. The median wage for embroiderers is approximately $12 an hour, but it is contingent on your location and the kind of equipment that you are using.
For instance, standard short-sleeved, sleeved shirts on average could cost as much as $20 and the embroidery on this kind of clothing is among the easiest in terms of work.
The smaller items that require more effort like hats, for instance, could be purchased for between $10 and $40, depending on the style, size, and decorative components.
Larger items, such as jackets increase the average price to $80-120. More complex designs require more effort with tiny elements, which can increase the time spent on labor and, in turn, the final cost.
The possibilities of choosing the right niche and creating your own brand in it are endless, as the demand for personalized clothing and accessories is only growing. There are a few specific and profitable niches that could provide a steady stream of income for both startups and established small companies. They are weddings as well as national holidays and religious holidays, products for pets, as well as various fraternity and sorority groups as they can be a good source of repeated business.
Even if you're starting with a small amount, be it at home in your study or garage, quality embroidery equipment plays an important role in the development of your business. After you've established your client base and defined the main areas of your business there will be room to upgrade to larger workshops and more advanced equipment to accommodate the growing volume of orders. The most important aspect of establishing and maintaining a successful embroidery business is knowing how to effectively manage your time.