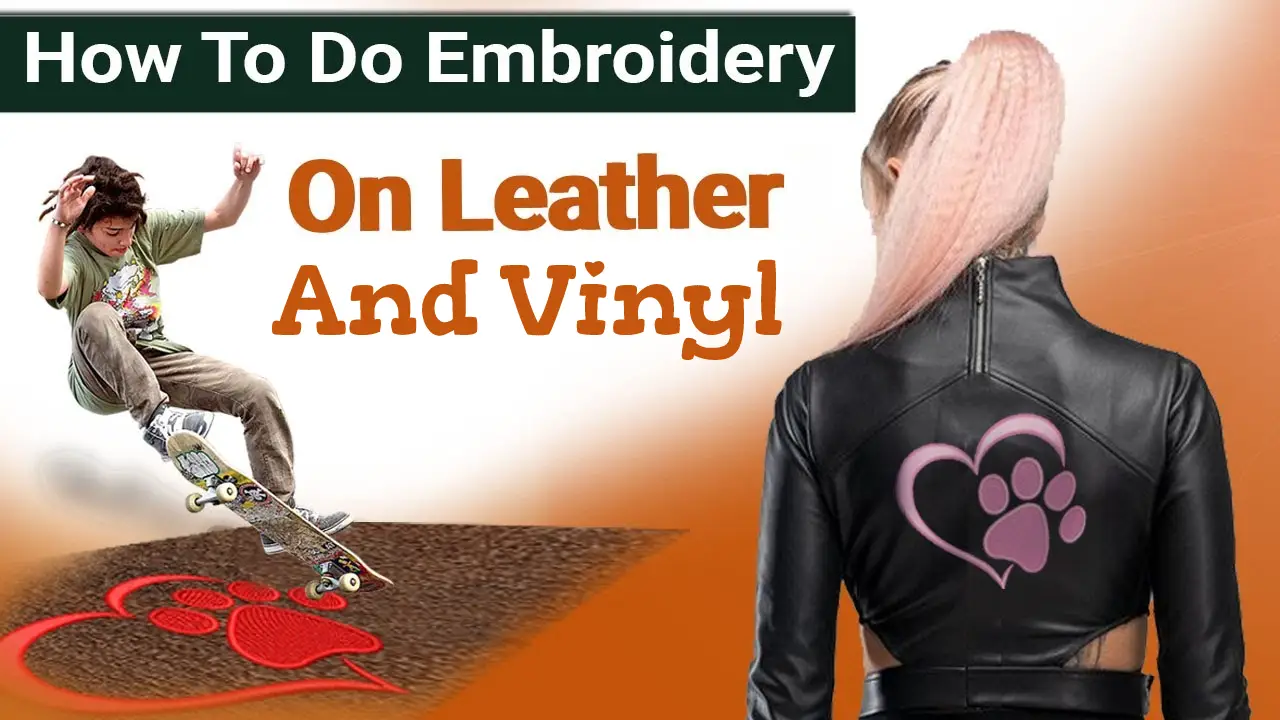 Embroidery Digitizing Services
If you are looking for embroidery digitizing services, EM digitizing is one of the 
best embroidery digitizing
 company. Providing all types of embroidery digitizing. I recommend you test digitizing services.
This article will teach you why there are problems when embroider on leather and vinyl, and give you some tips and the best ways to get better embroidery results.
Leather Embroidery
Leather can be a bit more difficult to estimate as its properties will vary depending on the type of coating, thickness, quality, and the way it is handled. Some skins are very thick and have little or no texture, such as cowhide used in leather, melton/leather jackets, or soft quality leather goods made from lambskin, buckskin, or suede. They are usually more generous and may be out of shape
When embroidering on leather, there are several things to keep in mind
Leather is available in a variety of colors and textures. Cowhide, suede, lambskin, and buckskin are all available in various colors and patterns. Each kind has its characteristics: thin, thick, flexible, or multiple varieties that keep their shape even when stretched.
When selecting designs to embroider on leather, consider light and sheer motifs in appearance. The pattern may burst straight out of the leather, if you pick solid leather embroidery designs with solid fills and satin stitch columns due to all of the needle holes.
To embroider on leather, a size 80/12 leather embroidery needle is suitable. Because of wedged tip for this type of needle, the hole or perforation created in the leather is smaller than with a standard needle.
Vinyl Embroidery
Vinyl being synthetic will not make a difference in the spread of leather goods. However, what they have in common is that the penetration made during embroidery does not close or damage itself as they do with the fabric, leaving permanent holes. Marine vinyl products have better results because they have a woven backing, which helps in holding the stitches. Regardless, too much penetration will cut into leather or vinyl and punch holes.
Factors For Embroider on Leather and Vinyl
1) Size of Needle
Truth be told, I don't practice what I'm going to preach. But I have a fairly good explanation of why. Industry experts recommend using an 80/12 leather needle when embroidering on leather as it has a wedge point in the shape of a triangle, which reduces the size of the hole when sewing into leather. I agree with this principle but to be honest I have never changed my needle before embroidering on leather or vinyl.
As strange as it may sound, I've always used a standard 75/11 for everything I embroider. My argument is purely economic. When my family started production, we had 136 multi-heads running in the factory alone, and we designed for our partner's factory, which had more than 300 multi-heads.
Can you imagine replacing only needles 3, 5, and 6 on a 12 head needle, 24 head machine for 300 jackets and then having to change them back? It will be a logistic nightmare as we run three shifts with different operators and floor managers. Keeping track would be a nightmare, and just changing the needles would adversely affect downtime profits.
2) Choice of Thread
Rayon was industry standard when I started production, but fortunately, today's thread is polyester which is stronger. Raven's use meant that the design had to be digitized with low density because it was not as strong as today's polyester. I suggest you check out, the best embroidery threads brands.
3) Technique of Hooping
The second factor to consider when embroidering leather or vinyl is hopping. Due to the thickness of the item, both can be difficult to bend, and the leather has to be scratched or marked permanently.
If your hoop is on both sides inside the leather, I suggest creating a "felt window" that acts as a barrier between the hoop surface and the leather. This will reduce the chances of abrasions on the skin surface and can be used over and over again.

When embroidering on delicate leather/suede, I remember situations where I floated this item on a stabilizer hoop piece. I did this to make sure it wouldn't move. To reduce packing, we will always use some temporary spray adhesive on the stabilizer and then put the leather down. If I can hop on the item, I will, but if not, swimming is a good option.
Today I have a relatively new option, which I think is the best. Magnetic hoops have become extremely popular with both multi-needle machines and domestic drop-in bobbin machines.
Magnetic hoops are fast becoming one of our favorite add-ons, and if you want to embroider on leather, they are, in my opinion, essential and worth the investment. On a tubular multi-needle machine, the use of a magnetic hoop gives you the ability to embroider finished leather goods. These include jackets, bags, and even shoes and small items using some optional magnetic hoops.
4) Choice Of Stabilizer
For leather, I prefer to use a piece of medium-weight Cut-Away stabilizer. The Cut-Away will ensure that the stitches have a safe surface for laying and will reduce the possibility of cutting the design leather completely.
I have seen "dense" designs embroidered on leather that has punctured holes that completely separate the design from the leather, giving the word "cutwork" a whole new meaning in embroidery.
With regard to vinyl, it has been used mostly for simple in-the-hoop projects such as key fobs, luggage tags, various holders, and other modern items. The same general principles apply to the use of low-density designs. However, the stabilizer used is different from leather.
Since marine vinyl is usually baked and contains a fob or tag-like item, and two pieces of vinyl are used in the process, I recommend using a medium-weight Tear Away as compared to the Cut-Away.
Tear-Away will suffice for embroidery and will reduce the time it takes to complete the hoop project. Generally, these projects require only the stabilizer to the hoop, not the vanilla inside the hoop. Running sewing outlines are embroidered directly on the stabilizer, which shows the space for laying your vinyl, it works well and it reduces material waste. I recommend you if you want to learn more about embroidery stabilizers
5) Design Created For Leather & Vinyl
The next question is whether the "standard" design for running vinyl or leather can be edited or modified? The answer, in most cases, is this; not so easily! With the digitization process, the density of both satin and full stitches needs to be reduced.
For example, the standard density of a satin stitch can be .4mm, for leather that will vary from .45mm to .6mm, depending on how many layers of embroidered stitches there are. With the filling stitches, the standard density is also .4 mm, on the leather, it will be .6 mm, and if the leather looks appropriate or stretched in it, I can increase the sewing length on the fill.
Then when we run the stitches, the length of the stitches is usually more than the standard of 2-2.5 mm, and you need to be very careful not to make small stitches. Also, all sub-values vary from type to sewing length and spacing. Lastly, the bridge is less expensive than standard fabrics because the leather does not move as the fabric does.
Using Hatch Embroidery Software
According to my opinion, this is an important reason why Wilcom (the creator of Hatch) has been a global business leader in the industry for decades. Because Wilcom's EMB embroidery file is based on objects, features can be changed with the click of a button using the Fabric Assist tool. This means that without a decade of experience one can get better quality results because in that case, the "leather" synthesis can be chosen, and with all the features that I mentioned above The design of embroidery will change automatically. 
The tool was previously only available on Wilcoms commercial platforms but is now accessible to the home industry at a much cheaper price with Hatch Embroidery Software. Access to these tools opens up a whole new world for amateurs and home embroiderers, as we can now get quality commercial results for a fraction of the price. If you don't know how to digitize, don't worry we can do it for you. check our more detail about digitizing services
Best Needle To Use For Embroidery
There are three types of needles usually used for embellishing fabric: crewel, chenille, and tapestry.


Do I need a special needle to embroider? The general rule is to use a larger needle for heavier fabric such as canvas and a smaller for lighter material such as batiste. Small letters would require a smaller needle with a sharp point. Embroidering on dense fabric such as leather or suede would require a sharp titanium needle.
Conclusion
As you have already learned, there are many factors to consider when embroidering leather and vinyl. Needle size, thread, stabilizer, hopping technique, and your design pattern are all important factors to consider.
After using your knowledge of how to apply these factors correctly, you should see improvement in your embroidery results. If you are interested in digitizing your design for the use of leather and vinyl or adjusting existing designs using Wilcom's popular Fabric Assist tool.