Brother SE1900 is one of the most feature-rich Brother embroidery machines you can buy without having to track down a dealer. It is also a very versatile machine with excellent stitch quality whether you are sewing or embroidering. So, if you're interested in this nifty machine, my Brother SE1900 review will detail its features, provide usage tips, answer common questions, and discuss the pros and cons.
Embroidery Digitizing Services
If you are looking for embroidery digitizing services, EM digitizing is one of the 
best embroidery digitizing
 company. Providing all types of embroidery digitizing. I recommend you test digitizing services.
Brother SE1900 Overview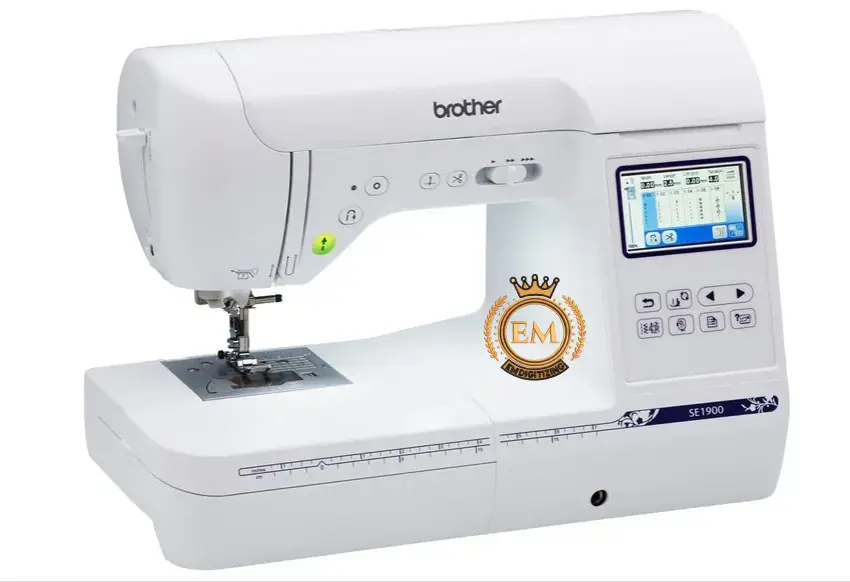 The Brothers SE1900 is undoubtedly an outstanding embroidery and sewing machine. It is one of the best embroidery machines that provides you with many features along with quality. It is a versatile and multi-skilled machine that can perform many tasks related to embroidery and sewing. It always gives high-quality stitches in embroidery and stitching.
He created 5×7 embroidery designs with an embroidery field. Giving you a smooth feed of fabric, this incredible and versatile machine can perform multiple tasks at once. It is a nifty machine that can be combined with the computerized version used for small businesses.
What Comes With The Box?

Machine unit, power cord, and foot controller

Sewing accessories: 7 sewing machine presser feet, knee lifter

Embroidery accessories: embroidery arm, embroidery foot, a spool of embroidery bobbin thread (60 weight, white), embroidery foot, and 5″x7″ embroidery hoop: One twin needle (size 2/11), 2 75/11 needles, 2 90/14 needles, and 2 90/14 ballpoint needles.

Grid sheet set

Manual, quick reference guide, embroidery design guide, a free pattern coupon for iBroidery.com, and warranty information very hoop

Tools and Accessories: 4 bobbins, 4 spool caps, extra spool pin for twin needle sewing, spool net, scissors, 3 screwdrivers, cleaning brush, seam ripper, and eyelet punch.
I thought it might come with a dust cover as my SE625 did, so I was a little bummed that it didn't. I was also hoping it would include a small hoop, but it didn't.
The Brother SE625 hoops are not compatible with the Brother SE1900, so I bought a set of 4 extra hoops from Amazon.
To start embroidering right away, you will need to purchase several other items such as a stabilizer and embroidery thread. Check out my list of embroidery machine supplies to decide what must-haves for your embroidery desires!
Features Of Brother SE1900
If you're thinking about taking the leap and investing in an embroidery machine, what should you be looking for?
Here are some important features.
Built-In Designs
The main difference between an embroidery machine and an all-purpose sewing machine with an embroidery flavor is the design. Most computerized sewing machines have embroidery stitches. However, letters and large, multi-colored images are the provinces of machine embroidery.
Find an embroidery machine with a substantial library of embroidery designs that you can modify and add to.
On-Machine Editing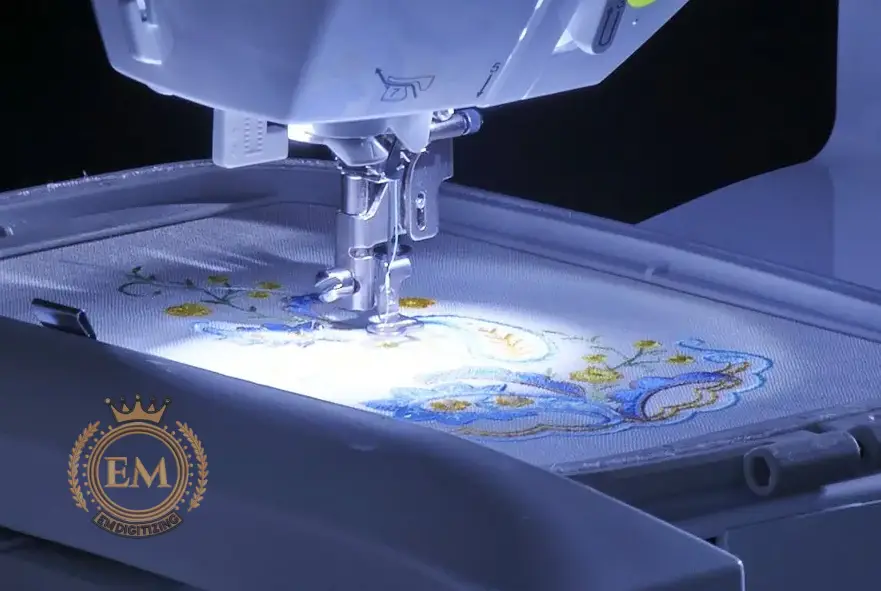 You're likely ready used to edit stitch length and width. But a real embroidery machine will allow you to do more advanced types of editing, including:
Flip the image 360 ​​degrees

Shrink or enlarge an image

Change color

Add or subtract design elements

To move an image to a different location in the embroidery area
Professional grade embroidery machines can also allow you to take photos from your phone camera, transfer them to your embroidery machine, and add colors, textures, patterns, etc.
Memory
If you've gone through all the trouble of stitching, arranging stitches, or creating or customizing designs, wouldn't you want to save them for future use? Most embroidery machines allow you to save your creations to the machine's memory.
Design Transfer
After a particular point, you may start to feel determined by your machine's library of built-in embroidery designs. Wouldn't it be great to be able to purchase designs from other vendors, or even create and use your own designs?
Many embroidery machines allow you to transfer designs from your computer to your sewing machine. Older models can use cards and card readers like floppy disks. Newer machines will have USB connectivity, or can even connect to your Wi-Fi for easy transfer from your phone or computer.
Colour Touch Screen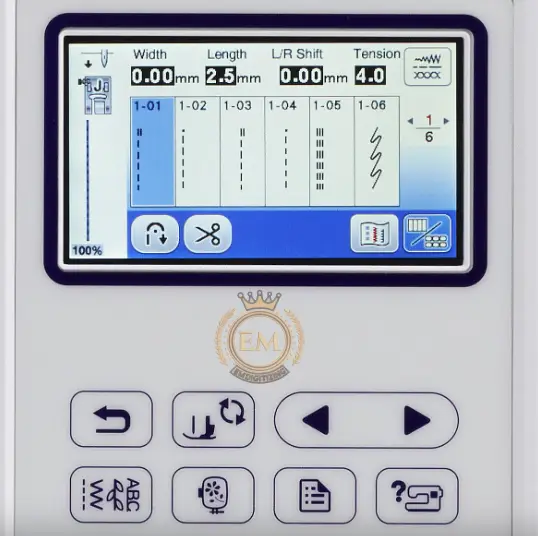 There's no doubt about it: touchscreens make the operation of any equipment easier and more intuitive. Color is especially important for machine embroidery, as it allows you to easily visualize your project and make adjustments as needed.
Many machines have an intermediate touch screen, with push button controls. Others will have a fully functional touchscreen where you can make fine design adjustments with a stylus.
Hoops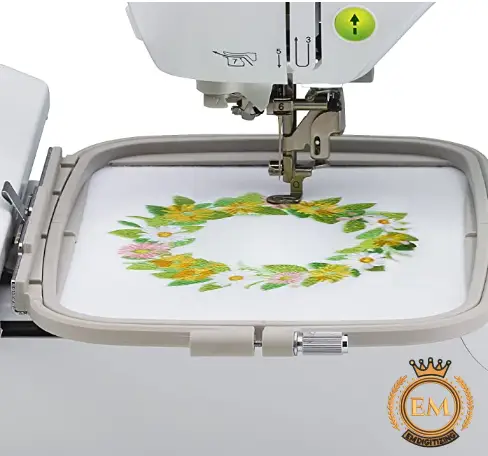 Machine embroidery hoops hold your fabric firmly in place while sewing. Some embroidery machines come with one hoop, while others may come with a variety of different sizes.
Colour LCD Touch Screen
The Brother SE1900's touchscreen doesn't allow you to make precise adjustments, but it does give you a reasonably accurate idea of ​​your design before you start sewing.
Automatic Thread Cutter
When most of us finish sewing a row, we cut the threads with a small blade on the side of the machine, or a pair of slits. But the Brother SE1900 has push-button thread cutting, which is really handy, especially when working with multiple embroidery threads.
Sideways Sewing
Sideways stitching is exactly what it sounds like. Instead of just sewing forwards and backward, this machine can also sew sideways. This is an essential function of embroidery. But it also comes in handy when sewing in tight corners or around oddly shaped pieces.
Pros And Cons Of Brother SE1900 Embroidery Machine
Pros:
Price: Mostly embroidery machines can easily cost more than $7,000, but the Brother SE1900 doesn't come close to that price. This is an affordable embroidery machine that is good for beginners to intermediates.
Ease of use:

You would not need to attend several classes or watch dozens of videos to learn how to use this machine. The touch screen display is easy to use and guides you through the embroidery process.

Performance:

Bhai continuously improves its products to stay ahead of the competition. The Brother SE1900 is an upgraded version of the late SE1800 model.

25-Year Limited Warranty:

If anything goes wrong with your machine, Brother will fix it.

Online and Phone Support:

All Brother products with free online and phone support. For any questions, visit

www.brother.com

or call 1-877-BROTHER.

Embroidery Speed:

Brother SE1900 machine can do 650 stitches per minute!

Room under the arm:

You need plenty of room under the arm of your sewing machine to embroider, but this feature also makes the SE1900 a good machine for quilting.

USB Port: You don't need to place your machine right next to your computer to import embroidery designs with a cord. You can simply put them on a USB drive and plug them into the SE1900 to transfer your designs.
Cons:
Available Languages:

This machine comes with instructions in English and Spanish only.

5″x7″ Embroidery Area:

Most people find the embroidery area on the SE1900 large enough for what they want to do, but there are embroidery machines with larger embroidery areas. Of course, you have to pay 10 times more for them.

Broken needles at high speed:

This machine is fast, but if you're sewing with thick fabric to avoid breaking your needle, you'll need to slow down.
Customer Reviews
I just got this machine. I'm still learning. stage about this machine. The machine is really nice it has so many features. The reason I gave it 4 stars is it has no instructional video. I guess you have to learn it on your own. Other than that I have no issues so far. Hope this is helpful. (

Laila Irqsusi

)

I bought this 9 months ago and have been regularly using it as my primary sewing machine and as an embroidery machine. I was replacing a 25+ yr old Kenmore Elite (which got heavy sewing use by me) and looking to start getting into embroidery. I didn't want to pay for 2 machines, so I sought out a sewing/embroidery combo machine. (

Reb_Murphy

)

The machine sews nice, overall easy to use, manual threading needs to be easier to understand. Having issues with the thread cutter. Doesn't always cut. Leaves top thread uncut. The bobbin is easy to the thread once you understand how. Needle for threader is not easy to do sometimes it takes several tries. When embroidering top spool thread breaks and I am using new embroidery thread made for Janome machines. Best to embroider on something separate from an item of clothing and then applique it on so that way if thread breaks and messes up your project it doesn't ruin your item of clothing. Found out the hard way on this. (

Kathy Harper

)
Conclusion
The Brother SE1900 Sewing and Embroidery Machine is a great all-purpose machine that will do sewing, quilting, and embroidery. This machine is easy to use, has a large selection of built-in stitches and designs, and will thrive with beginners and experienced sewists alike!