Embroidery accessories made embroidery easier, and the process became shorter after the development of embroidery machines. At the top end of this market are various machine embroidery accessories that are cost-effective and make the process smooth.
People use many embroidery accessories to make the process less time-consuming, but some machine embroidery accessories are the best in the market and perform important functions during the process. These accessories will make your work extraordinary. If you're starting an embroidery business or already have one, invest in these machine embroidery accessories, and you won't regret your decision.
Embroidery Digitizing Services
If you are looking for embroidery digitizing services, EM digitizing is one of the 
best embroidery digitizing
 company. Providing all types of embroidery digitizing. I recommend you test digitizing services.
A list of the eight best machine embroidery accessories
Nippers

Gen2 cap frame

Mighty Hoops

Thread tension gauges

8-in-1 hoop set

Madeira embroidery thread

Robot Frame

Hoopmaster
Nippers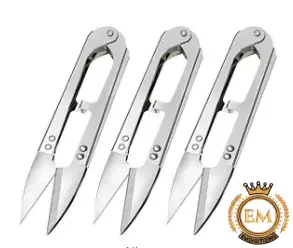 Among the best machine embroidery accessories, nippers are very useful and frequently used by all embroiderers. So you can have an idea about the importance of nippers, also known as snaps.
The nippers are very sharp and sharp and cut the threads that adhere closely to the material. They are the best machine embroidery accessories as they work wonders by accurately trimming the ends of excess threads without compromising the quality of the garment. If you start a business, you should buy this nipper to make your work smooth and shiny.
Gen2 Cap Frame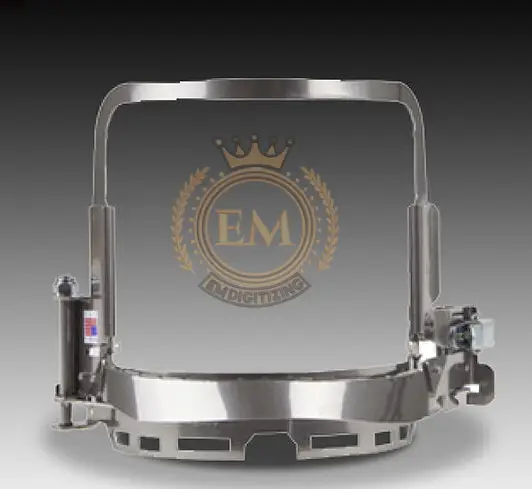 If you are working on Hat embroidery, the Gen2 Cap Frame is the best choice for you. This is the best thing when you look for machine embroidery accessories for hats. It works more effectively than traditional frames to hold caps with clips, which have a stabilizer when hooping.
The hoops in the gen2 cap frame enable you to get closer to the bill without having to deal with thread breakage or needle breakage. Machine embroidery accessories have made the work easier for every embroiderer. It helps improve the design with its access to stitching. Visors can be easily sewn using the gen2 cap frame.
It works on all types of hats, low profile, the structured, pre-curved, full crown, fitted, and military styles. Gen2 cap frames are among the best accessories for caps.
Mighty Hoops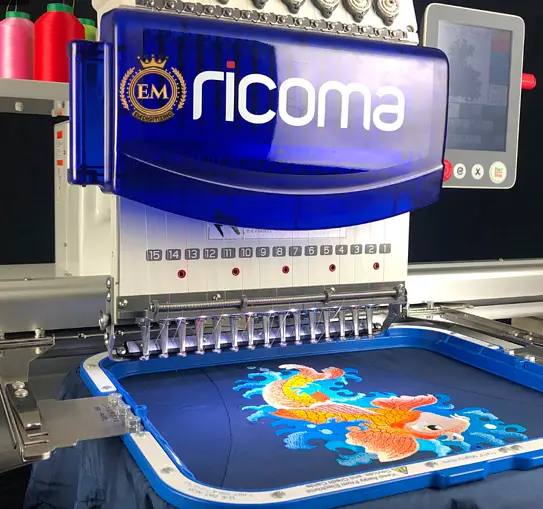 Coming in a very close second are Mighty Hoops. As the name suggests, these hoops are very powerful! If you own these mighty hoops, you'd probably argue that they deserve the number one spot.
The perfect solution for embroidering thicker materials, these powerful hoops work like regular hoops, except they snap together immediately when they meet.
This eliminates any stress on your hands and reduces the chance of hoop burn (the marks left behind on your fabric from traditional hoops). In fact, they practically hollow out the material themselves.
Available in a wide range of sizes, these hoops will make your work much easier if you plan to embroider thick and delicate materials, such as:
And much more!
Since this type of material is more prone to hoop burn, Mighty Hoops saves you a lot of time getting rid of hoop marks.
Thread Tension Gauges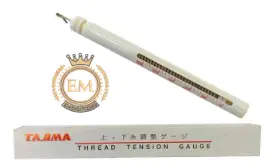 Thread tension gauges are among the most useful machine embroidery accessories that should be part of every embroidery kit. They help to adjust the tension on the threads by avoiding wrong ways.
Gauges are readily available at any machine accessory store. They are used to decrease tension in the upper and bobbin case. These are the best machine embroidery accessories that give accurate measurements that help in embroidery.
Thread tension gauges are cost-effective and are commonly used for both quilting and embroidery machines, while on the other hand, bobbin case gauges are only favorable when the machines have adjustable bobbin cases. Thread tension gauges make embroidery patterns neat and consistent.
8-in-1 Hoop Set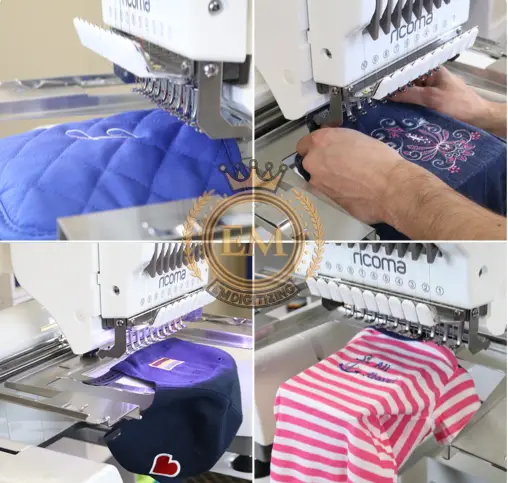 The number one absolute must in every machine embroiderer's arsenal. While we couldn't live without pretty much everything on this list, you'll get the most "bang for your buck" with the 8-in-1 Hoop Set. This set consists of a master bracket and eight special hoops of different sizes, allowing you to embroider on a wide list of items.
These hoops are a lifesaver because you can "float" the material on the hoop using an adhesive stabilizer instead of the traditional hoop application. This allows you to easily embroider hard-to-hoop items and areas with limited space, e.g
The pocket

Sleeve

Cuff

Children's clothes
The set also includes embroidery hoops that allow you to embroider the back and sides of hats. However, when you float your material using the 8-in-1 hoop, you are able to maintain the original properties of the material to ensure the best quality embroidery.
Madeira Embroidery Thread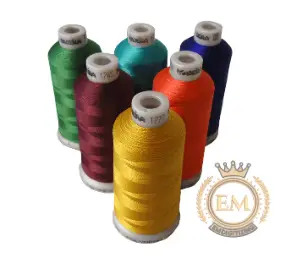 Madeira embroidery thread is one of the best machine embroidery accessories that every embroiderer loves. This thread is high quality and imported from Germany for its best quality.
If you want to make your embroidery designs look beautiful then you should buy Madeira embroidery thread. Classic rayon and poly nylon polyester are often used because they have a shiny, glossy look, which brings whole embroidery patterns to life.
The cord runs smoothly on every machine without much wear and tear. Madeira thread is the most important among other embroidery accessories as the entire embroidery design runs on it.
Robot Frame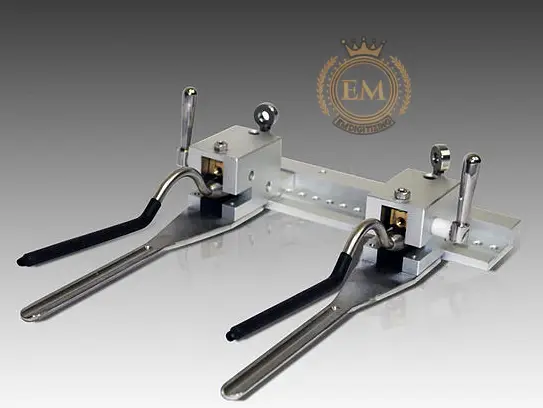 Shoe embroidery can be difficult, if not impossible, without this special tool. That's why Robot Frame has earned a place on this list. The robot frame consists of two adjustable clamps that are able to get a firm grip on irregularly shaped items during the embroidery process. Although this device is the most expensive on this list, it is a necessary investment if you plan to offer professional shoe embroidery.
While the robot frame is great for holding tight to very thick shoes like cleats, those who plan to sew on other types of shoes like sneakers or canvas shoes can opt for a manual robot frame. The frame consists of a lever that closes the material to embroider all kinds of items such as shoes, bags, and boots at less than half the cost.
Hoopmaster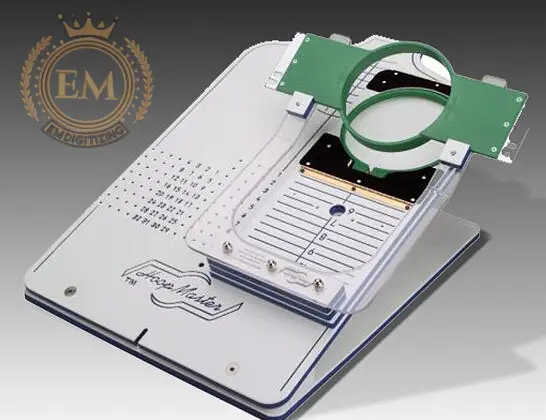 Hoopmaster is perfect for those who struggle with design space and need to consistently crank out bulk uniform orders. Embroiderers use Hoopmaster's placement guides to know where to place their designs based on the size of the shirt and hoop.
If you're looking for quick and easy design placement and hooping, Hoopmaster is sure to reduce the time it takes to complete bulk orders and keep your production moving. This device is custom-made for your hoops and can be purchased with standard hoops or Mighty Hoops, depending on the hoop you plan to use the most.
Conclusion
Machine embroidery accessories reduce production time and help produce a neat embroidery pattern. There are a wide variety of machine embroidery accessories in the market, but the accessories mentioned above are the best and help in bringing out the best embroidery designs. They are easily available and cheap. So if you are a beginner, you should buy these essentials to run a smooth business.
Embroidery Basics: 7 Essential Supplies
Stabilizer. You must have at least one cut-away, one tear-away, and one wash-away stabilizer plus a water-soluble topping.

Temporary adhesive spray.

The needles.

Embroidery thread

Bobbin thread

Small scissors or scissors.

A housekeeper and personal chef.
 "Machine embroidery is no more difficult than any other specialized skill that you are willing to spend hours and hours and weeks and weeks learning." "It is a skill that requires learning how to use a technical machine and learning techniques for each step of the process. It also requires problem-solving for various challenges.
The stabilizer is the foundation of your embroidery and needs to support your fabric and thread. Without using the proper stabilizer, the design may stop registering, you may have puckering, and your fabric may distort. Your selected stabilizer can "make or break" your stitch.