The Brother PE550D Embroidery Machine is an affordable and easy-to-use embroidery machine with some standard features that help you create stunning features such as a 4″ x 4″ embroidery field with a grid sheet and an inbuilt alignment tool. Which sets your position. Needle with your design so it can be applied perfectly to your fabric.
Embroidery Digitizing Services
If you are looking for embroidery digitizing services, EM digitizing is one of the 
best embroidery digitizing
 company. Providing all types of embroidery digitizing. I recommend you test digitizing services.
Brother PE550D Overview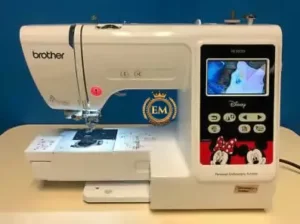 Brother PE550D Embroidery Machine is an embroidery machine that is very affordable, efficient, and easy to handle. This amazing embroidery machine will embroider Disney characters and other designs with absolute perfection. This machine includes 125 built-in designs for embroidery, including 45 Disney character designs. He has also created 9 fonts, 6 are in English, and the remaining 3 are in Japanese.
The Brother PE550D 4 x 4-inch embroidery machine comes with a 3.2-inch touch screen display through which you can see the design with colors. The inbuilt color range allows you to change the thread shade before embroidering the product. Comes with automatic and advanced needle threading features, which makes threading the machine easy. You can also decorate the product with designs of Mickey Mouse and his companions, which are all children's favorites.
Features Of Brother PE550D
Brother PE550D embroidery machine has many features that make it a perfect machine. Read on to know more.
Large, color LCD touchscreen display screen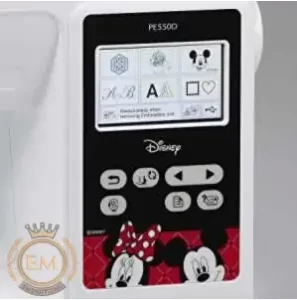 This machine comes with a Sew Smart color LCD touch screen display that is as large as 3.2″. This allows you to see your embroidery design in full color before you start sewing. You can also easily change the thread colors of the embroidery design using the inbuilt color palette to help you preview the first.
4″ X 4″ Embroidery Field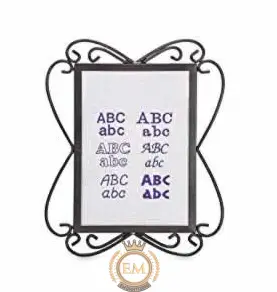 The most popular embroidery field size for most embroiderers is the 4″ x 4″ embroidery design. Brother PE550D embroidery machine comes with a 4″ x 4″ embroidery field. It also includes built-in alignment tools and a grid sheet to help you align the needle position with your design, so you can position it perfectly on the fabric you're sewing. have been.
It also has 125 built-in embroidery designs for you to choose from. 45 of these 125 designs feature Disney characters, so you can relive the Disney magic. There are other designs for you like floral, borders, kids, holiday, and alphabet designs.
Brother PE550D Embroidery Machine Features and Description
Automatic Needle Threader: Threading on the Brother PE550D machine, like many other Brother machines, is extremely easy. The machine has an automatic needle threader that does the threading for you with just the touch of a lever. This is important for you if you have to change threads multiple times for your embroidery design.
LCD Touch Screen:

This LCD display allows you to see your designs before you start sewing.

4″ x 4″ embroidery field
125 embroidery designs including 45 of your favorite Disney and Disney-Pixar characters, and other designs such as holiday, decorative, alphabet, border designs, and more.
A USB port for you to import designs: With this embroidery machine, you can import your favorite .pes embroidery design files using the inbuilt USB port. This means you can always increase the amount of embroidery design options available on the machine by adding more with the USB port.
Embroidery Lettering Fonts:

The PE550D allows you to personalize your creation with a wide selection of embroidery lettering fonts, up to 9. 6 fonts are English and the remaining 3 are Japanese. You can also choose between capital or lower case, and different numeric and symbolic characters. You also have an option on font size, choosing between large, medium, and small font sizes.

Tools and Supplies: This machine comes with many of the tools and supplies you need for this machine, including a 4″x4″ embroidery hoop, embroidery arm, and R embroidery foot. Other accessories include 4 bobbins, 3 of which are pre-wound with embroidery bobbin thread, a disc-shaped screwdriver, 3-piece needle set, 4 spool caps, a large screwdriver, suture wrapper, scissors, and a cleaning brush. spool net, power cord, and machine dust cover.
A Bilingual User Manual:

This machine has a quick start guide and operation manual that comes in both English and Spanish. The manual is very easy to understand and is your first port of call for any issues with the machine.
Pros And Cons Of Brother PE550D Embroidery Machine
Like all other sewing machines made by Bhai, this machine has all the features that it stands for and lives up to its promises. The setup is easy and it is also very easy to use to create beautiful designs on your clothes. This machine is so easy to use that even a child can learn embroidery with it.
The unlimited choice of designs it offers makes it an interesting machine, especially when you can add more using the USB port.
But like other machines, it also has advantages and disadvantages which are mentioned below.
Pros:
The Brother PE550D is user-friendly and easy to operate and configure.

It comes with multiple design options, with 125 embroidery designs built into the machine.

Disney designs are very high quality and very subtle on the machine.

The LCD display allows you to choose your design and make the adjustments you want. This important feature of the screen is also very easy to use.

It usually comes with a box that contains a number of useful tools and accessories already listed in the paragraph above.

You can upload a number of additional designs already included with the machine to use the machine's USB port feature, increasing your options.

A bilingual operations manual can help with language and communication barriers.

The machine is small, compact, and lightweight and this helps in its portability. It is very easy to carry from one place to another.

It is affordable with a price tag of around $350, especially compared to other embroidery machines. This makes it a budget-friendly option for embroidery.

It is tough and comes with a 25-year warranty and Brother support for the machine.
Cons:
Single Embroidery Hoop Size: The machine has a 4″ x 4″ embroidery hoop size which limits it a bit.

A machine is basically an embroidery machine, therefore, it is limited and cannot do anything other than embroidery.

It may show you error messages.

The working area is limited.
Customer Reviews
I like the machine a lot for a first-time user new to embroidery! The activation code didn't work I called customer service no answer and no help whatsoever. Waste of money to get the bundle just buy the machine by itself! (

Kiera M

).

It shipped fast and came on time. It was easy to learn to use and set up. I was very impressed with the simplicity of threading it and using it overall. While it doesn't come with everything you could possibly use with it, it most definitely comes with everything you need to begin using it. I took a plain zip-up hoodie I got from Walmart and put a pretty V on it and I didn't need anything but the machine and thread. I look forward to all of the fun projects I am going to make in the future! Definitely worth the money. (

Venus

)

The designs are perfect for my little great grand babies. They look professionally made. Very easy and fun. I did all my Christmas stockings. I bought cheap stockings and dressed them up. (

Sharon Tereshka

)
Conclusion
In summary, the Brother PE550D embroidery machine is another top-rated machine from the Brother brand. It is known for its affordability, durability, portability, convenience, and ease of use. Like many Brother machines, it has an automatic needle threader that makes threading the machine a simple task. It also has many important embroidery features like embroidery designs and embroidery letters of different sizes.
This easy-to-use Brother machine, like many others, comes with free online technical support and free phone support with a 25-year limited warranty. The instruction manual and operation guide are also written in English and Spanish and are written in simple terms that you can understand. So, if you have a problem with the machine, make the manual your friend. One mistake I've seen people make with this machine is wanting to sew with it and being upset that it can only do embroidery. Well, this can be one of the disadvantages of this machine, so, if you want to embroider you just buy one. There are machines that can probably do both.
So, if you want to sew and embroider at the same time, you should get one of these. But this is just an embroidery machine, and it is highly recommended.