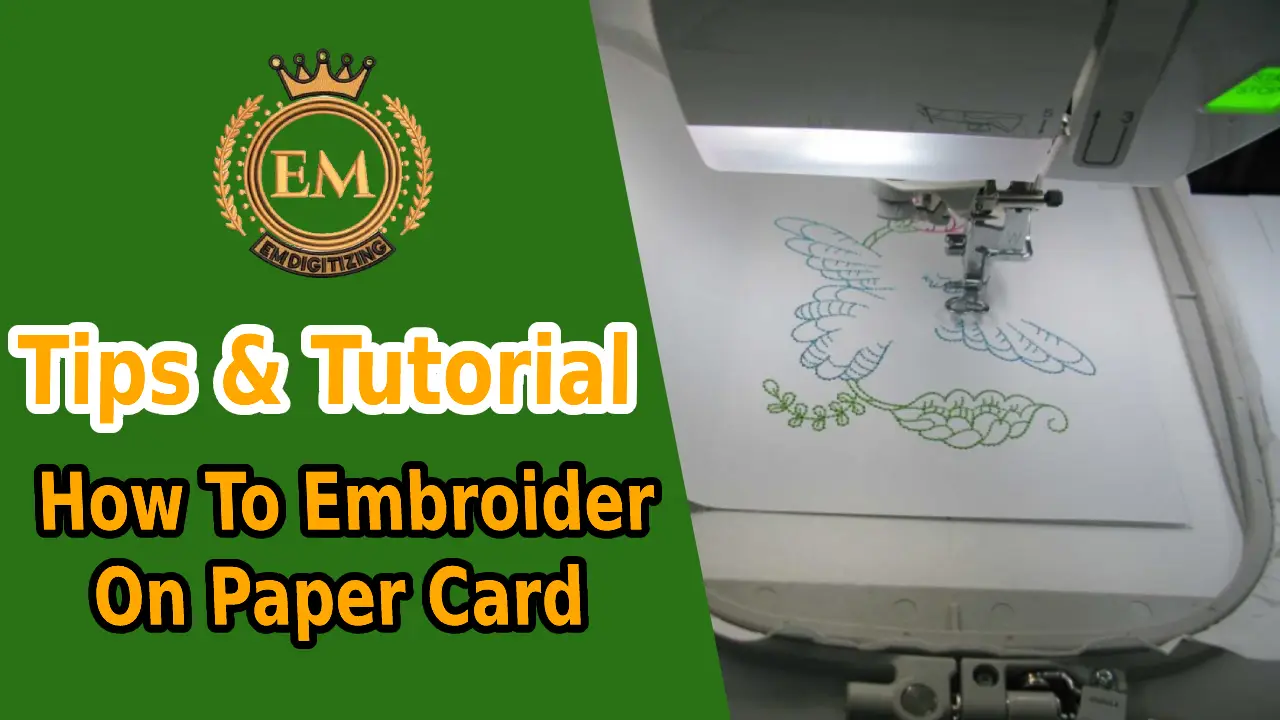 Embroider on paper cards, gift tags, and other fun paper items is a unique way to use your embroidery machine! While choosing the best combination of stabilizer, design, and paper to get the best results with paper embroidery can seem daunting, I have some tips to help you learn how to embroider on Paper Card.
Supplies for machine embroidering on Paper Cards
Embroidery Digitizing Services
If you are looking for embroidery digitizing services, EM digitizing is one of the 
best embroidery digitizing
 company. Providing all types of embroidery digitizing. I recommend you test digitizing services.
Why Embroider on Paper Cards made of watercolor papers?
In our digital era, an embroidered card looks rich, customized, and unique. However, the cost and time to build one are very low. Plus – you can completely customize the card for any recipient. Just load a different design and add a name.
The cards are usually not very large. So if you only have a small embroidery hoop, this is a great project to start with. Embroidery on cards is a great way to get comfortable with your embroidery machine.
What type of Cards Should You Embroider?
There are basically two ways to embroider a card. You can either embroider it on paper and then glue it to the front of a plain note card. Alternatively, you can just embroider on the front of the notecard. Whichever method you choose, you'll need to choose a paper that's durable enough to withstand needle punctures from stitching the embroidery design. Watercolor paper or card stock works well.
Keep in mind that if you sew the embroidery design onto the front of the folded card, the ugly, back side of the embroidery will be on the inside of the card. That's why you cover the inside of the card with a piece of paper.
Best stabilizer for embroidery on paper
As with most paper types, cutaway stabilizer (or PolyMesh) makes excellent greeting cards. It supports stitches well, especially with denser designs and flimsier papers. While you can peel the cutaway stabilizer away from the design after sewing, you will still have one left under the design. This can easily be covered with an additional piece of cardstock.
As much as I'd like to use Tearaway Stabilizer to embellish the back of the design, it doesn't really produce great results.
If you're looking for a fun effect, however, try dense satin stitching on the card with a tear-away stabilizer. You will get a 3D effect like tearing down my fluttering butterfly thanks!
Best needle for embroidery on paper
The bigger your needle makes the bigger the hole.
Thus, while you need a needle thick enough to puncture the paper, you want to choose the smallest size possible to avoid puncturing your paper. Choose a smaller size such as 75/11 or 70/10, but make sure the eye will be large enough for your thread selection. If an embroidery needle doesn't do the trick, go up a size and use a sharp sewing needle to make a neat hole.
For paper embroidery, it's also best to get a fresh, new needle from your pack. Slow needles will only cause problems.
Thread types
Many different kinds of thread will work for paper embroidery. The most important thing is to make sure your thread and needle choices are compatible. Decorative threads, for example, don't work well with a needle with a small eye.
Most embroidery designs are digitized for 40wt thread, but you can choose a different weight. While I tend to err on the side of using my favorite 40wt polyester or rayon thread, here are some other fun thread options for card embroidery:
Machine Embroidery Designs for Paper Card
Choosing a design is key to a perfectly embroidered paper item, especially if you're using thin paper.
The main thing to remember is that dense full-stitch designs and designs with prominent underlay stitches will not look as good as more open, less dense designs with a lower stitch count. While appliques are possible, you need to aim for great stability and a very stable, fibrous paper for them to work well.
Design features that are best suited for embroidery on paper:
Redwork, chain stitch, or outline design

Running Stitch Fonts.

If the underlay is removed and the number of stitches is reduced, fill-stitch design (either by increasing the stitch length or changing the density).

Designs digitized specifically for cardstock (Embroiderydesigns.com, Oma's Place, and SWAK Embroidery are sources of images used in this tutorial.)

Minimize jump stitches if you don't have a machine that automatically trims them for you.
And, since the needle holes are permanent, make sure the needle isn't poking down anywhere and it won't even stitch!
Decorative techniques for making embroider on paper cards
Yes, the types of designs you can stitch onto cards can be a bit limited but there are many techniques you can use to make your embroidered cards truly unique.
Stitch the entire design onto a blue or black card with white thread.

Stitch a design with colorful, glow-in-the-dark, or metallic embroidery thread to add a rainbow of colors.

Enhance your card with a paper punch and ribbon tie

Combine embroidered designs with stamping or decorative writing.
The possibilities are endless.
Tips For How To Embroider on Paper Cards
Sew on high-quality cardstock, watercolor paper, or other heavy paper without decorative elements such as embedded leaves or flowers.

Long grain paper will also work, but test first.

Use a cutaway stabilizer for extra support.

Float your card onto the hooped stabilizer secured with some temporary adhesive spray.

Use a small sharp needle, size 11 or smaller, to avoid large holes.

Consider slowing down your machine.

Add scrapbook paper to cover the back of the stitch.

Consider adding extra embellishments with colored pencils.
How to Embroider on Paper Card Tutorial
I started this project by finding a boring, brown color paper card. It's so dull that I can't imagine what I'd use it for. The embroidery design I used to stitch on the card was one I digitized a while back, a whimsical flower bouquet appliqué.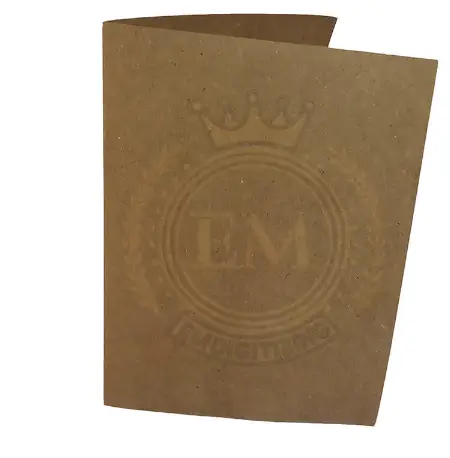 Step 1: Hoop a piece of stabilizer
I think you can really get away with any type of stabilizer for this project. I applied a piece of adhesive-backed tearaway stabilizer, but I've heard of people using regular tearaway or cut-away stabilizer as well. After hooping the stabilizer, mark the center of the hooped stabilizer using a disappearing ink pen and extend the center lines vertically and horizontally.
Step 2: Float the card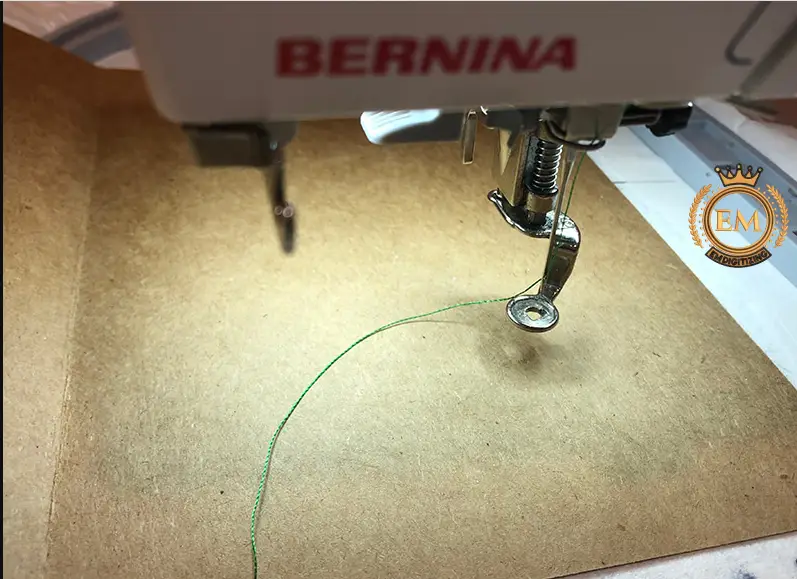 If you are using an adhesive-backed tearaway stabilizer, score the inside edge of the stabilizer with a pin to tear the top layer of paper. Next, peel off the paper to expose the sticky surface. If you are using a regular tearaway or cutaway stabilizer, you will need to spray the stabilizer with a temporary adhesive. Glue the card onto the stabilizer so that the center of the card aligns with the center of the hooped stabilizer.
Step 3: Start sewing on your design
Listening to the needles pierce through the card is very satisfying.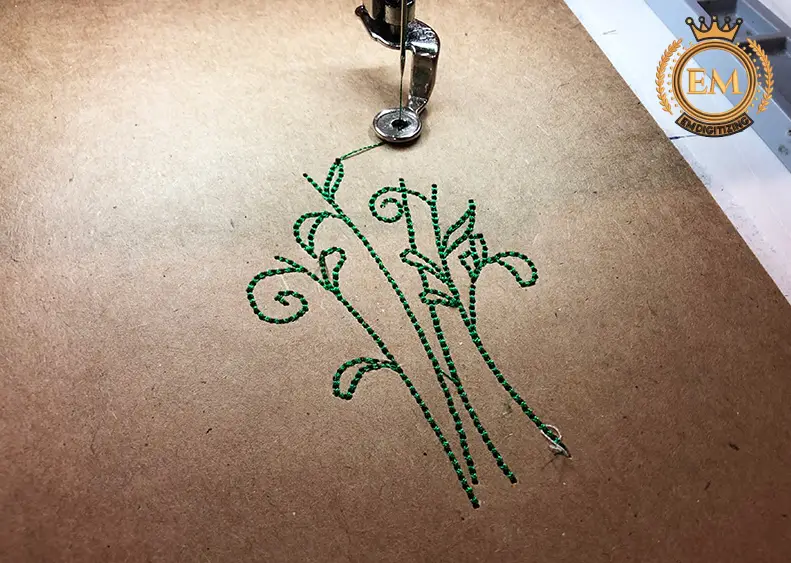 Step 4: Remove the card from the hoop
If you are using a tearaway stabilizer, make sure you tear the stabilizer and not when removing the card from the hoop.
Step 5: Add some finishing touches
Using embroidery nippers, cut your strings from your design. Since the design I made was a raw edge applique design, I also needed to trim my fabric using applique scissors.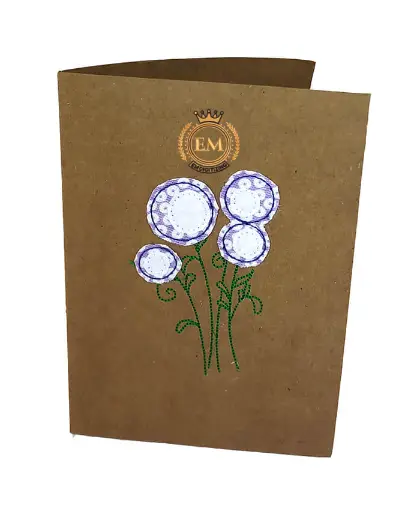 Conclusion
I hope you have now learned a fun new application for your embroidery machine: embroider on paper card!