Screen printing is labor intensive and can be difficult. However, if you are working on medium or large-scale printing and cannot afford the manual printing process on your roof. These machines can be useful for you as they are low cost and can do additional work.
So if you are looking for automatic screen printing machines that work automatically. I can provide you with a list of the five best automatic screen printing machines. These machines are designed in such a way that they can handle large-scale work and large numbers of orders in a short time. These machines can do complex printing and give fast output.
Embroidery Digitizing Services
If you are looking for embroidery digitizing services, EM digitizing is one of the 
best embroidery digitizing
 company. Providing all types of embroidery digitizing. I recommend you test digitizing services.
1. Stryker Automatic Oval Screen Printing Press: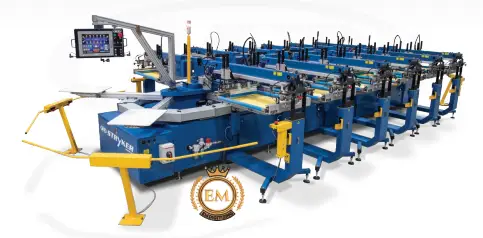 The first automatic screen printing machine is a stryker automatic oval screen printing press. This automatic screen printing machine comes in an oval shape, and it is the specification that the oval shape can take up less space on the floor and make this machine more efficient than others. It is a high-quality and very smooth engine with a servo drive indexer for faster and more accurate printing. It is available in three format sizes which are 16, 28, or 52 for your choice of printing. You can use this machine without any limitations.
As every station on the machine can print, you can leave a station open to not print. It is a fast, smooth working, and accurate printing machine.
Specifications:
Stryker can cover digital image areas of 60 x 84 cm, 70 x 100 cm, and 80 x 110 cm (31.5″ x 43.5″) respectively. Stryker's 10-station format module can be expanded to 6 stations creating 16, 22, 28, 34, 40, 46, and 52 station configurations. Its high-lift format can facilitate screen loading and unloading, part cleaning, and inspection.
It can also afford multiple index configurations, and its laser-based system allows for changes in speed, positioning, and convenience. It can accumulate to 48 colors at a time.
Features:
Modular design allows for custom configuration.

Made of heavy-duty steel and premium components

A large touchscreen display uses icon-based commands for ease of operation.

The automatic pallets preheat mode with a built-in pallet temperature sensor

Electronically adjustable ink recovery system

Tool-free calibrated front and rear stroke length adjustment to maximize printing speed

Warranty:

Two-year or 2,000,000 cycles limited warranty
Pros:
It is soft, fast, reliable, and available in all sizes. The most appealing feature to everyone is that it is a very affordable machine.
Its oval shape is unique, and it takes up less space than others. So it is more productive than others.
Cons:
Try to take a break every 2 to 4 hours to avoid the heating effect. It gives a warranty of 2 years which is really less for a printout machine.
2. Workhorse- The Saber Series:
The Workhorse Saber Series is the most used automatic screen printing machine. It is suitable for any medium-sized to high-end display screen printing industry.
The 14-foot rotating screen printing device comes with 1-9 print-rep functionality built with a touch display panel.
You get real-time production statistics, a computerized index foot pedal, a 6-factor registration device, head and rear micro-registration, foot pedal head, and more.
Specifications:
It comes with an automatic foot pedal index, microprocessor, dual durometer, fully rotating box control, and a missed platen feature. It operates at 220-volt voltage, 16 amp current, and 50 – 60 HZ frequency. It is far from 12 sheds and 14 stations, touch screen printing devices with a print area of ​​20 x 20 inches. Eight stations, electronic display printing devices each measuring 16 x 22 inches.
Features:
Touchscreen display, stroke functions, self-diagnosis, and machine updates.

Zero Latency Double Indexing, Multiple Station Indexing, AC/Electric Indexer.

Plug-n-Go Flash capabilities.

AC/electric powered print heads with independent print/fill speed control on each.
Pros:
It has a foot pedal and a control index system which makes it more reliable to use. The best quality of this machine series is an adjustable screen holder.
It can stack more than 16 colors at a time.
Cons:
It occupies a larger space than other automatic screen printing machines and has few lagging defects.
3. Brown Electra-Print Automatic Textile Printer: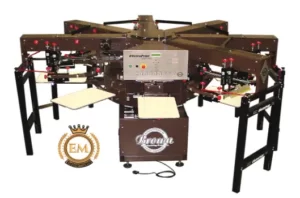 Brown Electra-Print Automatic Textile Printer is also included in the best automatic screen printing machines. Low power consumption is one of the reasons why these machines are fast, easy to operate, and have low system costs.
Airline risk is reduced, and valve contamination is also reduced. This machine is easy to handle and gives high printing consistency. It is an excellent automatic screen printing machine that not only auto starts but also auto shuts off again. It has a print mode on each side and also has flash ports on each side. If some slots are missing, it has a t-shirt skip detector and can even count shirts.
Specifications:
It works on 240 V electrical power and 20 A current and some models also work on 120 V and 20 A current. It has a high-speed motor and a pod mounting system with speakers. The screen size is 23×31 cm, and the platen size is 16×24 cm.
This machine has ten stations and six colors. It weighs 2600.00 lbs.
Features:
Direct Drive Micro Registration System

Independent flood bar and squeegee/squeegee pressure

Independent head-off contact adjustment

Front screen loading

The rigid steel registration system

Electric drive and lift

Electric print heads
Pros:
It features multitasking which is the best quality any automatic screen printing machine has. The speed is fantastic, and all we want to do is save time and get a lot done in less time.
It requires significantly less maintenance and uses very little electricity.
Cons:
The structure is heavy and made of steel so it needs a healthy place. The machine is also quite noisy and is also non-adjustable.
4. Morphon Heat Press Machine: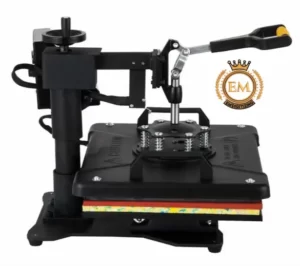 Morphon heat press machine is the most popular automatic screen printing machine. It is basically a 5-in-1 device that can print 5 t-shirts at one station, and it can transfer color designs to many surfaces such as t-shirts and ceramic plates, mugs, flex, nylon, and tiles. Is. etc. It has a multi-spring balance that works really well for many shirts at a time.
Specifications:
It has a 12 x 15-inch heat press machine and can control the temperature 0-400F It is built as a swing-away design and includes a removable silicone pad. Its time control shift is 0-999 seconds.
Features:
Digital temperature and time controller

Swing-away style

Adjustable pressure knob

Adjustable, multi-spring balancer

Number of plates and presses
Pros:
It has a multi-function design 5 in 1, comfortable handle, and 360 swing design. It has a detachable low platform and a 4/5 inch thick board for heating.
Cons:
It is a low power coordinate and gives poor customer service.
5. Power Press Heat Machine: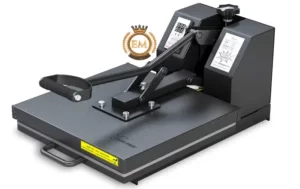 A power press machine is also included in popular automatic screen printing machines. It is a common space-capturing device that works well for printing purposes. It works well with heat transfer in a system that matches the quality of the machine. The heating feature also makes your printouts last longer and work more efficiently.
Specifications:
It works at a voltage of 110 V and 1800 watts of power. It has a temperature range of 0-750F and a time range varying from 0-999 seconds. It takes 10 – 15 times to heat up, and the printing area is 15 x 15.
Features:
A digital timer and temperature display.

An adjustable pressure knob.

A silicon base plate.

A thickened aluminum heat plate.

The heat platen is Teflon coated.

It is built-in with a heavy-duty steel frame.

Replaceable fuse and safe electrical system.

Ability to press nearly flat objects. 3/4 inch thick.
Pros:
It is easy to use and its temperature and heat range are good and efficient. Comes with high efficiency and electronic control. It is reliable and affordable.
Cons:
The previous availability of the press machine and it starts to smell after only a few uses. The temperature range can be better regulated.
Conclusion
Nowadays, the number of fabric printing design choices is increasing rapidly. by that time; New options include screen printing, t-shirt printing, appliqué work, embroidery designs, and the most popular and common direct-to-cloth printing. So the need for automatic screen printing machines is also somewhat different.