Embroidery is hundreds of years old, and although it was made by hand, today most of it is made with the help of machinery. If you are looking for the best commercial embroidery machines in the market, the choice of machines available there can be huge. From the type of embroidery you plan to do with it to the number of default embroidery styles that come with a machine, there are a number of factors to consider when purchasing new commercial embroidery machines.
To make it easier for you to find the best commercial embroidery machines, we decided to review some of the popular models in the market. We have considered the type of machine, the embroidery area, the number of built-in designs, the USB connectivity options, and the warranty to provide you with everything you must need to know before buying this type of commercial embroidery machines.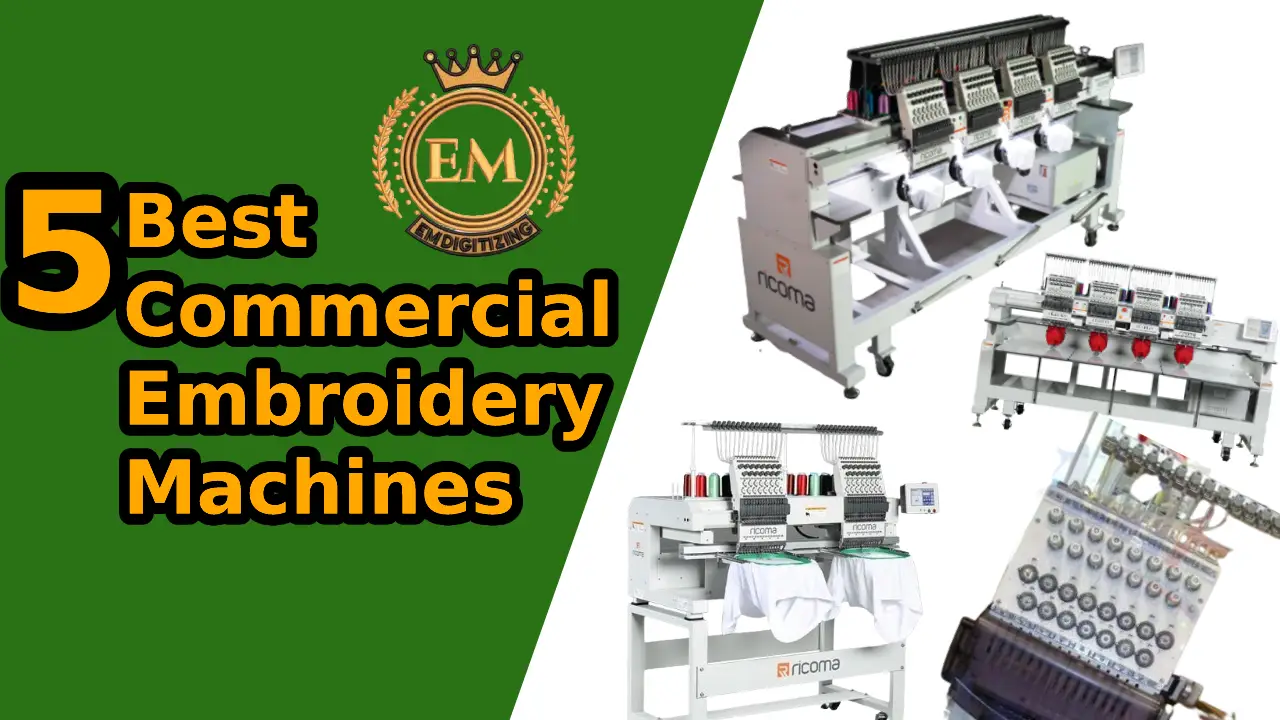 Embroidery Digitizing Services
If you are looking for embroidery digitizing services, EM digitizing is one of the 
best embroidery digitizing
 company. Providing all types of embroidery digitizing. I recommend you test digitizing services.
In this article, a comparison between the 5 best commercial embroidery machines for business projects will be discussed. The embroidery machines are as follows:
1. Ricoma-CHT2 1504-10.4S-W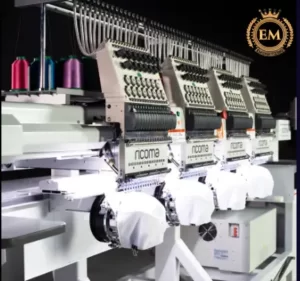 Ricoma is indeed one of the best embroidery machines and we can never underestimate its ability to work. Ricoma has developed many single, dual, and multi-head embroidery machines that have revolutionized the digitizing market for embroidery.
In addition to the capabilities of Ricoma embroidery machines, you also get the 0% financing option, tutorials to start, a starter kit, and a 5-year warranty.
Ricoma CHT2 1504-10.4S-W is a 4 heads embroidery machine that gives you the ability to do exciting work, this embroidery machine has 15 needle sets that give you 1000SPM speed.
You also get different types of hops, so you don't have to worry about running out of options. You can also save 50 million stitches, which is equivalent to about 200 designs.
Large field of embroidery:
With Ricoma CHT2 1504-10.4S-W you get a large field of embroidery which is why you can embroider anything you want, it has 500mm x 400mm which measures 19.7 x 17.7 inches Which ensures that you can have the freedom to work.
Touch screen LCD:
The Ricoma CHT2 1504-10.4S-W features a high-definition True Color 10.4 ″ LCD touch screen, which is even bigger and better in terms of color reception. You can navigate through many options and edit, upload, and interact with your design.
In addition, there are many different options that you can work on LCD panels, such as startup, needle change, frame out, production data, embroidery development, and much more.
Key features at a glance:
4 heads

15 needle sets

10.4 ″ LCD Touch Screen

500mm x 400 Embroidery Field Area

1000SPM speed

Weight 680 kg

Power consumption 0.5KW

50 million sewing capacity (200 designs)

Different types of hops

2 cap rings per head, cape driver, hoop station
2. Happy-HCR3 1506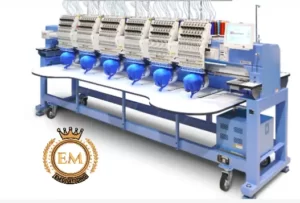 Our last but definitely least embroidery machine is the Happy-HCR3 1506. This is another excellent embroidery machine that can meet your industry standards.
It is the most popular and efficient trading machine that is able to handle your professional project quite easily. It has productive power, not only is it fast but it is also quiet which makes it different from other embroidery machines.
Touch screen LCD:
The Happy-HCR3 1506 has a 10-inch LCD touch screen panel full of features and you can access a variety of things, and settings and navigate through the options.
You can also use the LCD screen to view design placement, sewing information, design traces, and one-touch frame out. And you can also control speed, position, and almost every aspect of your embroidery.
Hoops:
The Happy-HCR3 1506 gives you a complete table set that includes 12 hops of different sizes, (2 hops for each size of the head). You also get hat sewing supplies and toolkits.
Sewing speed:
In terms of machine performance, it gives you 1100 SPM and on the cap, it gives about 1000SPM, and the maximum distance of the needle is 360mm. You also get a stock of 40 million stitches which is acceptable for your industrial projects.
Additional features:
And some additional features included built-in USB networking and USB ports, screen customization with your most used applications, and key sewing information.
Happy-HCR3 1506 uses 410 watts of power which is energy-saving, and it supports a 220-volt single-phase frequency at 50 to 60 Hz.
The machine weighs 1826lbs and also comes with a 5-year warranty which ensures quality for you.
Key features at a glance:
6 heads

15 needle sets

The 10-inch vivid quality touch screen panel

40 million stitches storage

410 watts power consumption

USB networking

12 hoops of different sizes; 12 x 12 cm, 12 x 15 cm, 12 x 18 cm, 12 x 32 cm (2 hoops per head)

1100spm normal, 1000spm hat stitching

Hat sewing equipment

5 years limited warranty

Weight 1826 lbs
3. Ricoma-MT-1502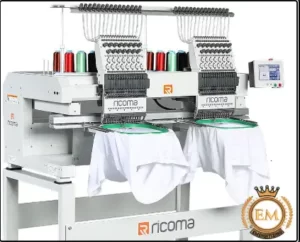 Ricoma MT-1502 is a double head commercial embroidery machine by Ricoma, it is one of the best embroidery machines and is suitable for all embroidery needs.
More that; The best thing about the MT-1502 is that it can embroider on both small and large items, as it has been redesigned to support a wide sewing area, making it difficult to embroider. Can also handle areas.
Since the MT-1502 supports a large variety of hoops, you can be sure that almost anything can be embroidered, it offers you 24 hoops. You get 4 Cape Rings, 2 Cape Drivers, and a Hope Station.
The MT-1502 features a 7 "inch HD LCD panel, the MT-1502 series can save up to 20 million stitches, and you can upload, edit and create custom posts.
Dual head embroidery machines:
Regardless of what you want to embroider, whether it's caps embroidery, flats, or bags, you can do it all with the Ricoma MT-1502 Dual Head Embroidery Machine.
In this dual head embroidery machine, 15 needles are set at 1000spm. Another great thing about the machine is the automatic thread trimmer and automatic color change and thread break detection.
So, you don't have to worry about thread trimming or alteration, or thread breakage, MT-1502 does it all for you.
Key features at a glance:
Double head

15 needle sets

Automatic color change

Automatic thread trimming

Detecting thread breaks

24 hops set

4 caps color, 2 caps driver, and hope station

7-inch LCD touch screen panel

20 million sewing memory (200 designs)

Wide Sewing Field Area (500mm x 360mm)

Weight 190 kg

Built-in universal power supply 220V / 50HZ and 110V / 60H
4. Tajima-TMAR-KC TYPE2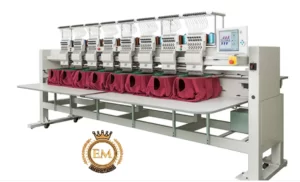 Along with other well-known embroidery machines, Tajima has made quite a name for itself, having developed many embroidery machines for industrial and domestic use.
The TMAR-KC Type 2 is also a well-known embroidery series and there are many models that are worth mentioning.
We are bringing the K1506C under our discussion, it is a great model that gives you reasonably good speed, it has 6 heads and it offers you 15 needles.
Another great thing about the Tajima K1506C is its embroidery space which offers you 450 x 360 which gives ample space for embroidery work.
With the workspace you get a reasonable needle speed, the Tajima KC Type 2 offers you around 1100 rpm.
The K1505C has a power consumption of 470W.
Touch screen LCD:
More that; In addition, Tajima offers you a bright LED option that improves needle vision and improves performance. The Tajima K1505C also has a sharp LCD touch screen panel that you can use to operate with a number of options.
Position marker:
Also, in Tajima embroidery machines you get a position marker that shows you the needle hole which is usually hidden by the fabric, but it is bright for your convenience, and you can see the position of the needle. Determination can be done very easily.
Frame:
With the Tajima K1505C you also get a border frame, cap frame, and pocket frame, so embroidering anything is no problem.
Key features at a glance:
6 heads

15 needle sets

Embroidery space 450 x 360

Head interval 500

Maximum revolution of 1100 rpm

Power consumption 470W

Power supply 3 phase 200 volts and single phase 100/200 volts

Includes border frame, cap frame, and pocket frame.

L. E. D. light

Position marker

Touch screen operational panel
5. CAMFive CFSE-DM1501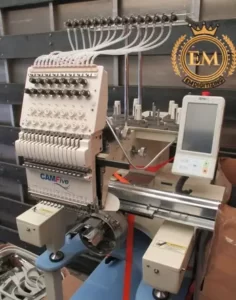 This embroidery business from CAMFive is one of the best commercial embroidery options for those who want to start a business. Embroidering words is incredibly easy. Just type a word in the touch screen panel, choose your font, font size, color, and special effects, and you'll get embroidered clothing in no time.
Key features at a glance:
A multi-task touch screen panel

USB port

Supports .dsb, .dst and .dsz files.

Use 15 needles and 15 colors together.

Large field of embroidery

Flat, tubular, and cap embedding

Built-in memory of up to 16 million stitches

Embroidery up to 1,200 stitches per minute

Automatic thread break sensor

Toolkit included

Financing is available
Conclusion:
So, make sure you know what you are getting before you buy an embroidery machine and look for every feature, advantage, and disadvantage before you buy it so that you can work with it effectively.