Top 12 Affordable Embroidery Patches Supplies
Custom machine embroidery patches are a great way to put your own unique stamp on your favorite garments, bags, and accessories. However, if you're new to embroidery or on a tight budget, you may be thinking about what embroidery patches supplies you need to get started.
The good news is that you don't have to spend a lot of money on materials in order to make embroidery patches. Actually, you only need a few simple things to get started.
So, let's have a look at the basic embroidery patch material: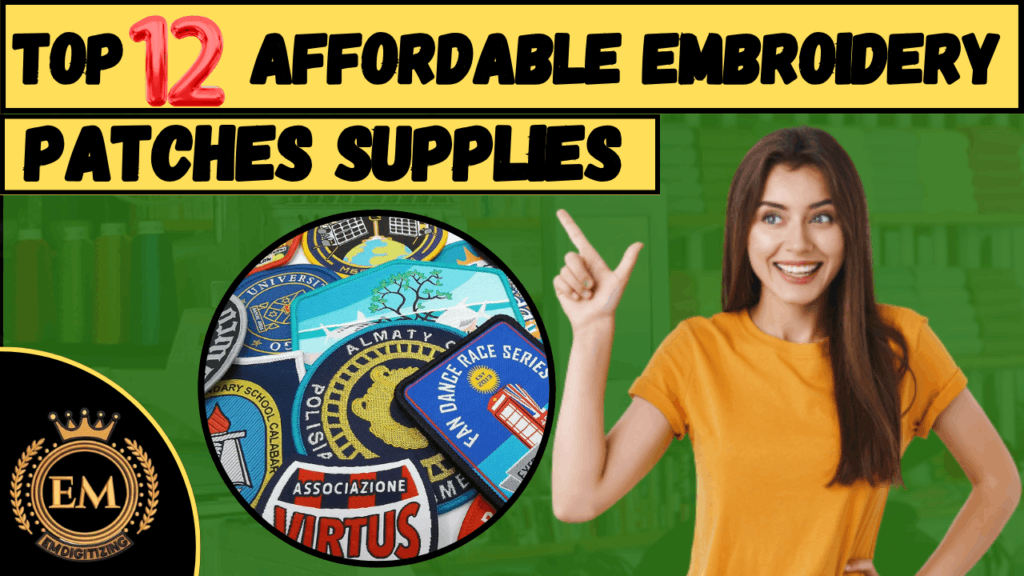 Top 12 Affordable Embroidery Patches Supplies
12 Basic Custom Machine Embroidery Patches Supplies
There are some basic embroidery patch materials you'll need to make one. Let's have a look at all of them one by one.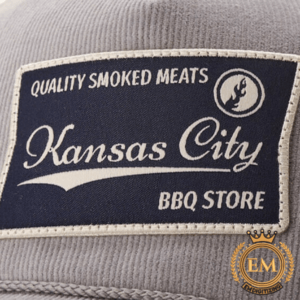 Obviously, an embroidery machine is the most crucial tool for creating embroidered patches. There is a wide price range for embroidery machines, from a few hundred to several thousand dollars.
If you're on a tight budget, don't worry; you can get a high-quality embroidery machine for less than $500. Just make sure you read reviews of different machines to find the best one for your needs before you buy. You can also check our suggestion about best embroidery machines in 2023 by clicking here. 
2- Embroidery Digitizing Software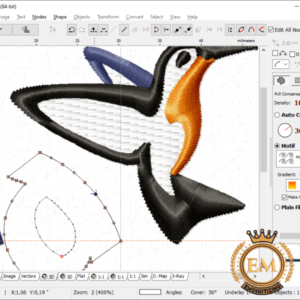 When you finally get your hands on an embroidery machine, you'll need to digitize your designs. You can use embroidery digitizing software to transform your designs into a format that is readable by your embroidery machine.
Several free and commercial options exist for digitizing embroidered designs. You can contact us at EM DIGITIZING for embroidery digitized services at a fast turnaround and affordable cost. So click here and book your seat.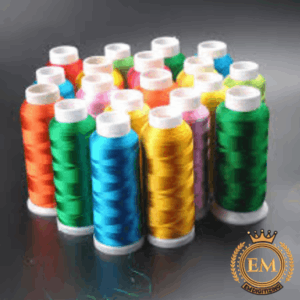 Embroidery thread is also a must-have item. It comes in several colors and thicknesses. Medium-weight thread is ideal for stitching on patches. It's important to pick threads that go well with the fabric and the patch pattern.
Most craft stores provide high-quality embroidery thread at affordable prices. Additionally, you can save money by purchasing embroidery thread online in bulk.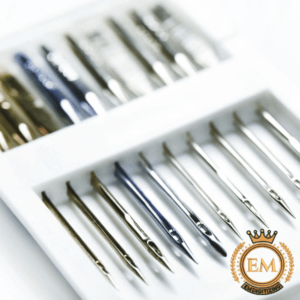 There is a wide range of needle sizes and types available for embroidery. Needles with bigger eyes and sharp tips are best for working with different types of embroidery thread and fabric thicknesses. 
Pro Tip: Be cautious to change your needle often to avoid wearing it out and causing harm to your fabric and thread. 
5- Embroidery Patch Stabilizers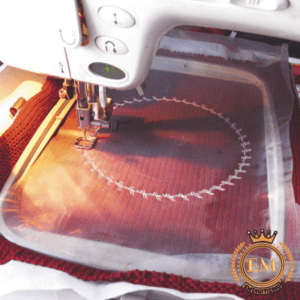 A stabilizer is a backing substance that helps prevent your cloth from puckering and stretching throughout the embroidery process. Various stabilizer types are available, so pick the one that is best for your fabric and design.
We suggest the 2 best embroidery patch stabilizers: Water-soluble stabilizers and tear-away stabilizers.
Water Soluble Stabilizers (Best Option)
Water-soluble stabilizers are embroidery stabilizers that dissolve in water after completing their purpose. They are extremely helpful when working with delicate or elastic materials that could distort or pucker during stitching. 
They are used to provide support for the cloth during the embroidery process. Water-soluble stabilizers can be used as a backing or coating for embroidery projects. They are available in various forms, including film-like and fibrous paper-like materials. 
They work well for producing freestanding lace patterns that maintain their shape after removing the stabilizer. 
Tear-Away Stabilizers (Another Option)
Another choice is a tear-away stabilizer. However, it is not as effective as a water-soluble stabilizer. Once the embroidery design is embroidered, they can be readily removed because they are temporary stabilizers. 
Tear-away stabilizers are excellent for use with stable, non-stretch woven textiles like towels, leather, and vinyl. They restrict the embroidering process from tunneling, distorting, and puckering an embroidery design. 
Tear-away stabilizers exist in various weights, and the weight used is determined by the fabric's thickness and the design's stitch count. Although tear-away stabilizers are not water soluble, they will become softer when in contact with water.
There are 2 main options available in the market, according to EM Digitizing. So, these options are given below:
Tacky Patch Fusible Backing (Best Option)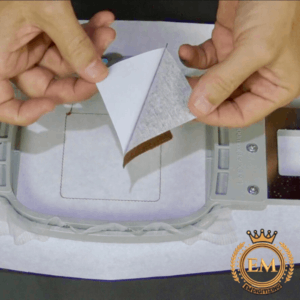 Tacky Patch Fusible Backing is a double-sided adhesive stabilizer that reduces tearing and removes the need for sticky "spray adhesives" during the patch-making process. 
It is heat-pressed onto the desired fabric before being cut out. The patch is then adhered to the stabilizer without using a sticky spray glue once the paper backing is peeled off. 
This product guarantees a non-sticky patch and saves time. Several retailers sell fusible backing, which is a favorite among those who enjoy needlework.
No-Show Mesh Fusible Backing (Another Option)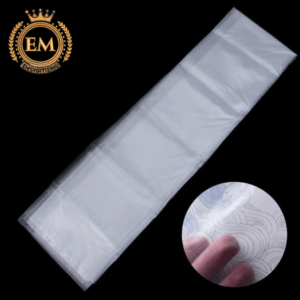 The No-Show Mesh Fusible Backing is a light, soft, thin, and strong sewn cut-away meant to stabilize knit shirts. As the name suggests, this kind of stabilizer doesn't show through light-colored clothes. 
It is commonly found on polo shirts and T-shirts with designs requiring a few stitches. Fusible no-show mesh backing comes in a variety of sizes. Embroiderers can quickly and easily apply and remove it, making it a useful tool for various projects.
If you want digitized designs for polo shirts and t-shirts with few stitches, you can contact us at emdigitizing.com with guaranteed results. 
7- Patch Fabric (Polly Twill)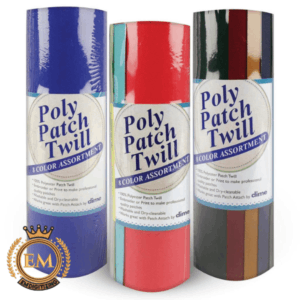 Patch fabric (poly twill) is a type of fabric that is specifically designed for making patches. It's a thick and substantial fabric with a diagonal weave that gives it a strong grip. It has a sturdy, non-woven backing that keeps the cloth from tearing and wrinkling.
Poly twill is often used to make patches because it is strong, doesn't fade, and is simple to work with. It's cheap, too, so it's a fantastic choice for bulk purchases.
There are several ways to use poly twill patch fabric, such as embroidery, screen printing, and heat transfer. Different things, like clothes, hats, bags, and home decor, can be decorated with them.
Scissors are required for cutting the patch fabric and stabilizer. Use scissors that are sharp and made especially for cutting fabric.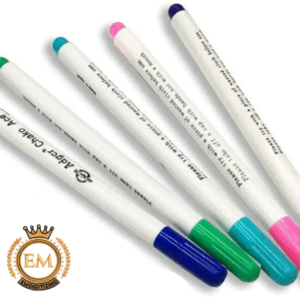 Use water-soluble markers to copy your pattern onto your fabric easily. Once you've completed stitching, you can easily wash them away because they don't leave any permanent stains. This will make sure that your patch stays clean.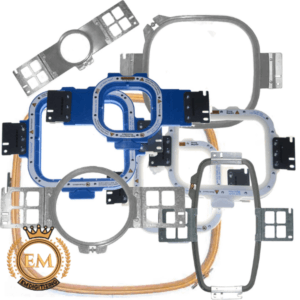 Most importantly, embroidery hoops give you the stability you need. They maintain a taut fabric surface, which is necessary for producing even and tidy stitches. You may get hoops in a variety of sizes and materials, including plastic and wood, that are inexpensive and versatile.
For machine embroidery, the adhesive spray is helpful because it can help keep slippery fabrics in place and make a temporary bond for sewing and embroidery. It's essential to keep the distance advised in the directions so that the spray doesn't get unevenly applied to the fabric and cause stains you don't want. 
If using sensitive materials, test the spray's quality on a small piece before using it. 
A heat press is not a type of glue spray. Instead, it is a machine that transfers design to different materials using heat and pressure. They play a crucial role in the printing and clothing industries, allowing for the safe and precise customization of designs on various textiles and rigid substrates.
 A variety of heat press machines are available for making personalized promotional things.
Other Embroidery Patches Supplies Needed For Amazing Results
1- Mylar Embroidery Magic Sheets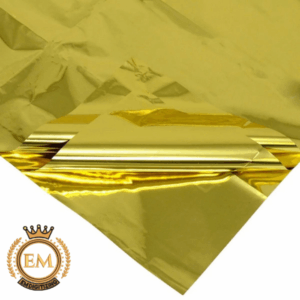 If you want to add a touch of shimmer without using metallic thread, then Mylar Embroidery Magic Sheet is the way to go. To give the embroidery design a glittering appearance, these sheets are made of a thin polyester film positioned underneath it. 
They come in a variety of colors and finishes, making them a valuable tool for any embroidery lovers. Mylar Sheets are easy to use just cut the sheet to the right size and affix it underneath the embroidery pattern before embroidering.
2- Post Patch Seal On Iron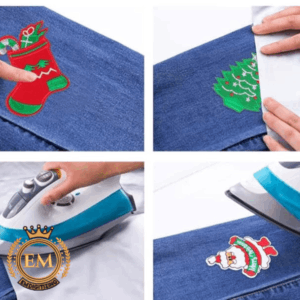 Post Patch Seal On Iron is a double-sided heat-activated seal that is put to the back of your finished patch to get a polished look. This product hides all of your patch jumps and trims, which is especially useful if you're using embroidered designs that have numerous colors or weren't likely to have been well digitized. 
It also gives your patch a polished appearance on the side that isn't finished. If applying a patch directly to clothing, it is advised first to heat seal the patch before embroidering it to the clothing with a home sewing machine. This will guarantee the durability of washed items. 
3- Ready-Made Embroidery Patches
If you want to add a little embroidery to your clothing or accessories without the trouble of producing your own patches, ready-made embroidery patches are a wonderful solution. 
They are a flexible tool for any embroidery enthusiast because they come in a range of sizes, colors, and shapes. You may show your creativity and personality by using them to decorate clothes. 
They are simple to sew or iron onto and come in various designs. Ready-made embroidery patches are an excellent alternative for people on a budget or those who are new to embroidery because they are inexpensive and simple to find.
Final Thoughts: Best Embroidery Patches Supplies
In conclusion, making embroidery patches from scratch is fun and inexpensive. These 12 inexpensive embroidery patch supplies will give you everything you need to make your creative ideas come to life. Always invest in high-quality supplies if you want your embroidery patches to look professional.
Now that you have the basics go ahead and let your imagination run wild!
EMDigitizing is an experienced and reputable company offering full digitizing and vector art services to clients all around the world for their embroidery design needs.
If you need anything digitized quickly and with high quality, EMDigitizing is a fantastic option. We offer first-time customers a 50% discount on all of our services, plus a free quote that is generated in less than 5 minutes. 
You can ask any question about this article in the comments, and don't forget to share it with people you think might find it useful. 
Thank you for reading, and good luck!