The Brother SE625 Embroidery Machine will be a reliable, feature-rich addition to your craft room. I love keeping it to myself! The Brother SE625 functions as both a computerized sewing machine and an embroidery or monogramming machine. Although the 4″x4″ embroidery area is small for dedicated embroidery enthusiasts and the sewing speed is a bit slow, most Brother SE625 reviews praise this 2-in-1 sewing and Stickmaschine. I';ve had it for several months now, and it';s great for sewing and embroidery.
If you';re wondering if the Brother SE625 is best for your sewing needs, this Brother SE625 review can help! I';ll start by giving you more information about its features, answering common questions, and finally detailing the pros and cons.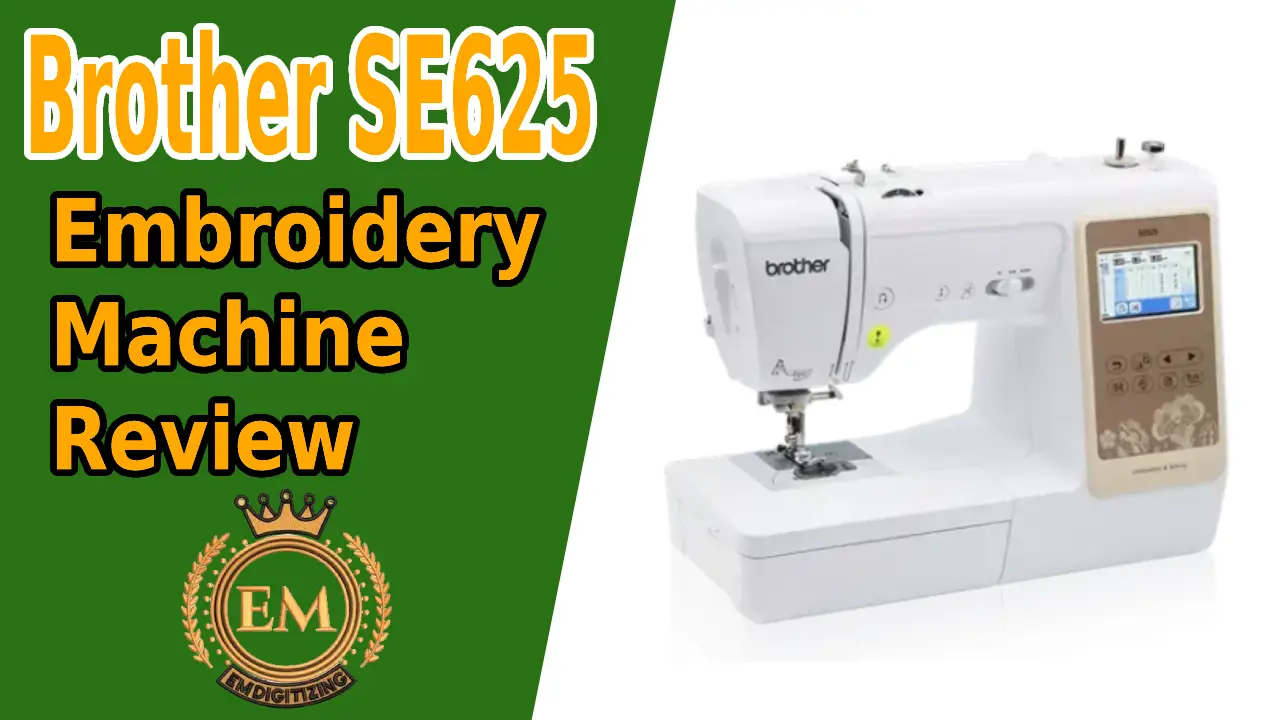 Digitalisierungsdienste für Stickereien
Wenn Sie nach Digitalisierungsdiensten für Stickereien suchen, EM-Digitalisierung ist eine der
beste Stickerei digitalisieren
Gesellschaft. Bereitstellung aller Arten der Digitalisierung von Stickereien. Ich empfehle Ihnen, Digitalisierungsdienste zu testen.
Brother SE625 Overview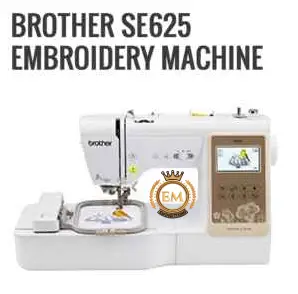 The Brother SE625 is two-in-one sewing and 4″ x 4″ embroidery unit. Thanks to the wide color touch LCD panel, more colors, more patterns, more fonts, more Entwürfe, and advanced sewing functionality. Adjust specific thread colors, insert characters in an arc, change the Entwurf on the touch screen monitor with the tap of a finger, and many more are included in the new embroidery pattern editing functionality.
When you come across a collection model, obwohl, one thing always comes to mind. Which of the two works more effectively? Does her sewing ability suffer due to her embroidery abilities, and vice versa? Multifunctional units can make anyone naturally cautious. But this machine works well and can be used effectively for both purposes.
Features Of Brother SE625
I';m assuming you want to do embroidery because if you just want a sewing machine you don';t need a Brother SE625. Es gibt viele andere Nähmaschinen zur Auswahl, und Sie erhalten mehr Wert für Ihr Geld, wenn Sie eine bestimmte Nähmaschine kaufen. So I';ll cover the embroidery features first and get to the machine embroidery side in a minute.
Now that we';ve covered how you can sew with the Brother SE625, let';s look at embroidery.
Embroidery Area and Hoop Size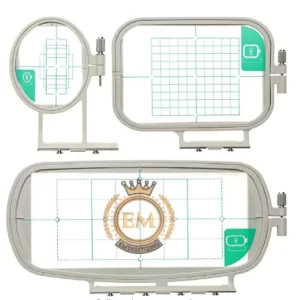 The maximum embroidery area is 4″x4″ and a 4″x4″ hoop is included with purchase. (The hoop itself is larger than that, but I';ll still call it a 4″x4″ hoop because that';s its usable area.) It is the perfect size for Monogramme and most small t-shirt embroidery designs. If you want to embroider something big, you may face problems.
Brother SE625 file format
The Brother SE625 is just suitable with .pes, .phc, and .dst embroidery data files. The preferred and default file format for saving is .pes. Other formats of files may cause your machine to malfunction. So be careful when loading files from unknown sources. For decorative stitches, the .pmx, .pmv, and .pmu stitch data files can be used. Only .pmu or .pmx stitch data files are recoverable. The preferred stitch format and default for saving on the Brother SE625 is .pmv.
Built-in Embroidery Designs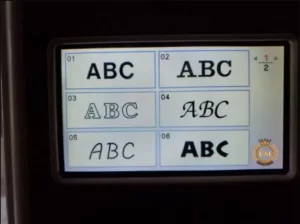 Es gibt 80 eingebaut Stickmotive on the Brother SE625 Embroidery Machine. Additional designs come on an included CD for a total of 280 Entwürfe. I think it';s a bit odd that Bhai built this technologically advanced sewing machine and then provided a CD with the design.
There are also 6 built-in English Stickschriften. You can create upper or lower case letters, Zahlen, and symbols. Each font comes in small, Mittel, or large sizes. Below are 6 English fonts. Large size fonts are about 3-4cm tall (depending on the letter) and you can fit about 3 of them into a 4″x4″ hoop. So if you want to do more than a monogram, you';ll have to hoop again. If you don';t love the 280 Stickmotive that come with the Brother SE625, you can import more designs using the built-in USB port. There';s no need to plug the machine into your computer to transfer files, which is a nice improvement over the brother SE400!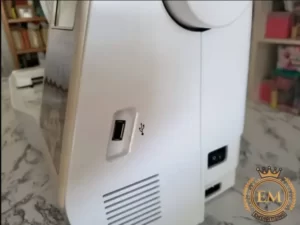 Embroidery Patterns
Use the LCD screen and corresponding buttons to select the pattern. You can choose from 80 built-in patterns or import your own from your computer (or the included 200-pattern CD) on a USB drive. After selecting a pattern, you can adjust the pattern in the pattern editing frame. With the touch of your finger, you can move the pattern around the area, resize it, and even change the thread colors. These adjustments are displayed on the color LCD screen, so you know what your changes look like.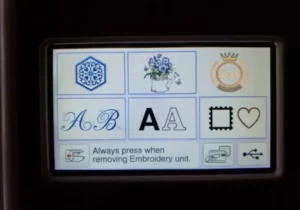 If you are planning to use Monogramme or letters, you can also edit them by typing your letters. A fun aspect of the Brother SE625 is that letters can be placed on an arc! After you finalize your pattern, be sure to preview it in your area. Double-checking prevents you from having to laboriously remove all those tiny, misplaced stitches later.
If you have chosen a color design, note that the Brother SE625 only sews one thread color at a time. After the first thread color is sewn, the machine will prompt you to set up the next color. You will need to re-thread the machine with the new color, so some automatic features like needle threading are helpful!
Setting Up The Machine to Embroider
Embroidery or monogramming requires a little more setup than basic sewing. To set up, you must connect the embroidery foot and embroidery unit to the Brother SE625 unit. The finished fabric (mit Stabilisator) then goes into the embroidery hoop, which is attached to the embroidery unit. Choosing the right needle size and thread type is important, so check your manual for tips!
Pros And Cons Of Brother SE625 Embroidery Machine
Vorteile
LCD screen available
This allows you to adjust thread colors and other aspects of your

Entwurf.

Automated functions can help you save a lot of time

.

It only requires pressing a button in such advanced models

.
The price is reasonable
You often have to pay a few hundred bucks extra for a computer with automatic features. Just about every budget should be able to accommodate this.
For night owls

,

LED bulbs are fine

Unlike some other Brother versions, there is no need to purchase additional lighting. It makes the job easier.
Nachteile
Hoop size is limited to 4×4 inches

.

On this computer

,

embroiderers who need to tackle more important

Entwürfe

will be unable to do so

.

Plastic is used to make most of the components

.

If you break something

,

trying to replace it can be a nightmare

.
Kundenbewertungen
I like this machine because it's easy to use

.

I have been sewing for many years and now I'm becoming a more versatile seamstress

.

I've made

2

dresses much faster than on my regular machine

.

I've embroidered many different items and used a flash drive with ease

.

I would tell experienced and novices to buy this machine

. (

Granny MoJac

)

This machine sews and embroiders like a dream and is super simple…

;.

once you'

;

ve read the first ten pages of the manual

.

It isn'

;

t highly intuitive

,

but once you get the hang of it

,

it'

;

s a great machine

.

One person found this helpful

. (

Amazon Customer

)

Wow

!

I love this sewing machine

.

It runs smoothly and is very user-friendly

.

I really appreciate the needle threader

.

It's an improvement on older versions

.

I have not tried the embroidery but I am looking forward to using it

. (

S Puana

)
Fazit
Embroiderers who sew occasionally will enjoy working on the Brother SE625 Sewing Stickmaschine, even with such a large hoop. It provides a sea of ​​options. More importantly, the stitching quality is very smooth and seamless, so you can completely trust it with almost any project.
We have created this article to help you understand the features of the Stickmaschine and provide you with some helpful guides, tricks, and instructions. If you found this article helpful, please share it with your friends. Please post a message in the comment box below. Thank you for reading!!!