Juki Tajima Si 8 Needle embroidery commercial machine Overview!
The Juki Tajima Si 8 Needle Embroidery Commercial Machine combines the reliability and expertise of two renowned brands, Juki and Tajima, to deliver exceptional embroidery capabilities for commercial use. This powerful 8 needle embroidery machine is designed to meet the high demands of professional embroiderers and offers a range of features that enhance productivity and creativity. In this article, we will delve into the features, specifications, pros, and cons of the Juki Tajima Embroidery Machine.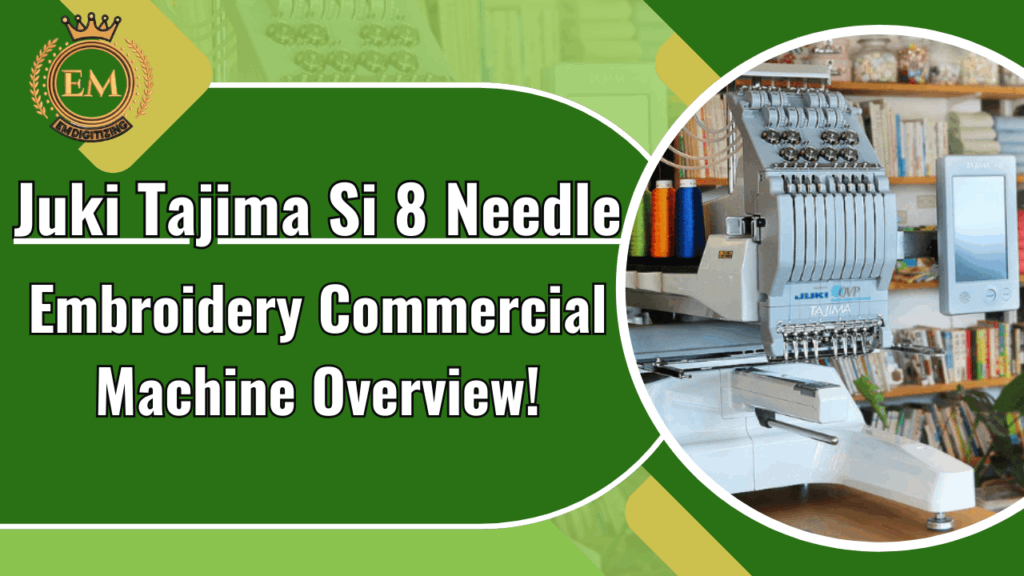 Juki Tajima Si 8 Needle embroidery commercial machine Overview!
Juki Tajima Si 8 Needle Embroidery Commercial Machine Features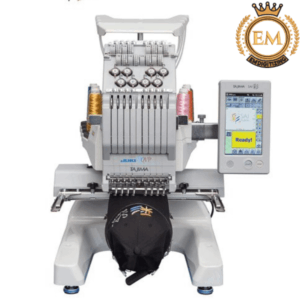 The Tajima sewing machine is equipped with eight needles, allowing for simultaneous multi-color embroidery, reducing the need for thread changes and increasing efficiency.

With a spacious embroidery area, the Juki Tajima Si can accommodate larger designs and projects, providing ample space for creativity.

The tajima machine boasts impressive speed, allowing for quick production and turnaround times, perfect for commercial embroidery businesses.

The automatic thread trimming feature eliminates the need for manual snipping, saving time and ensuring precise, clean cuts.

The Juki Tajima Si 8 head embroidery machine supports various embroidery design formats, providing compatibility with popular software and expanding design possibilities.

The machine is equipped with a Tajima embroidery software and an automatic thread tension adjustment feature, ensuring consistent and precise tension throughout the embroidery process, resulting in high-quality stitching.

The machine has a built-in thread break detection system that immediately pauses the embroidery process and notifies the operator if a thread break or thread run-out occurs, minimizing errors and enhancing efficiency.

This feature allows you to program the machine to automatically trim jump stitches, reducing the need for manual trimming and saving time during embroidery production.

This multi needle embroidery machine for sale offers compatibility with a variety of hoop sizes, allowing for versatility in embroidery projects and accommodating different garment types and sizes.

The Tajima embroidery machines for sale supports USB connectivity, enabling easy and quick transfer of embroidery designs from a computer or external storage device to the machine, streamlining workflow and design management.

The machine provides multi-lingual support, allowing users to choose their preferred language for the control panel and menu options, ensuring ease of use for operators from different language backgrounds.

With the onboard design editing capabilities, you can make adjustments to embroidery designs directly on the machine, such as resizing, rotating, mirroring, or combining elements, providing more flexibility and creativity.

The machine offers a stitch preview function that allows you to visualize the embroidery design before stitching, ensuring accuracy and making it easier to detect any potential design issues.

The Juki Tajima Si comes with built-in memory, allowing you to store and access frequently used embroidery designs, eliminating the need for repeated design transfers.
These features enhance the versatility, convenience, and efficiency of the Juki Tajima Si 8 Needle Embroidery Commercial Machine, making it a top choice for professional embroiderers seeking advanced capabilities and exceptional results.
Juki Tajima Si 8 Needle Embroidery Commercial Machine Specifications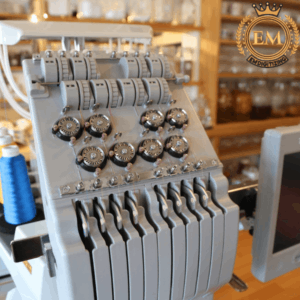 Needle System: 8-Needle

Embroidery Area: Large

Machine Type: Commercial

Speed: High-Speed

Control Panel: LCD Touchscreen

Thread Trimming: Automatic

Design Format Compatibility: Wide Range
Juki Tajima Si 8 Needle Embroidery Commercial Machine Accessories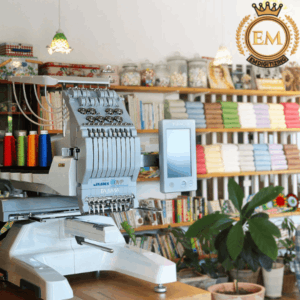 The machine typically comes with a set of embroidery hoops of various sizes to accommodate different embroidery projects and garment sizes. These hoops securely hold the fabric in place during the embroidery process.

The machine requires bobbin cases and bobbins for the bobbin thread. Having extra bobbin cases and bobbins on hand ensures uninterrupted embroidery production.

The machine uses commercial-grade embroidery needles. It's recommended to have a supply of spare needles of various sizes to replace them when needed.

A thread stand or multiple thread stands are essential for organizing and feeding the different colors of embroidery thread tension to the machine. It keeps the threads tangle-free and easily accessible during embroidery.

Stabilizers are used to provide support and prevent fabric distortion during embroidery. Various types of stabilizers are available, such as tear-away, cut-away, and water-soluble stabilizers, depending on the fabric and embroidery design.

These tools are handy for trimming excess thread or jump stitches during the embroidery process.

Depending on the machine's capabilities, design software may be necessary for creating or editing embroidery designs. It allows for customization and manipulation of designs before transferring them to the machine.
Having these accessories readily available helps optimize the performance and versatility of the Juki Tajima Si 8 Needle Embroidery Commercial Machine, allowing embroiderers to achieve professional results and efficiently handle a wide range of embroidery projects.
Juki Tajima Si 8 Needle Embroidery Commercial Machine Pros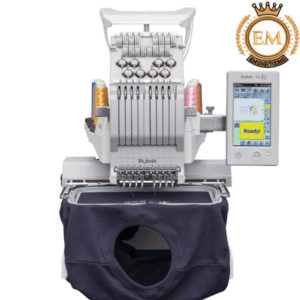 The eight-needle system enables the simultaneous use of multiple thread colors, enhancing productivity and reducing thread changeovers.

The spacious embroidery area accommodates larger designs, allowing for creativity and flexibility in embroidery projects.

The machine's fast stitching speed ensures quick production, making it ideal for meeting deadlines and handling high-volume orders.

The intuitive control panel and touchscreen simplify operation and make it easy to access and adjust settings.
Juki Tajima Si 8 Needle Embroidery Commercial Machine Cons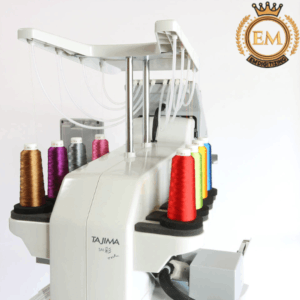 As a commercial-grade machine with advanced features, the Juki Tajima Si comes at a higher price point, which may be a consideration for small-scale businesses or those on a tight budget.

Mastering the machine's capabilities and understanding its features may require some initial learning and training, particularly for users new to commercial embroidery machines.
Juki Tajima Si 8 Needle Embroidery Commercial Machine Prices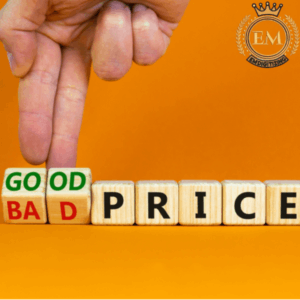 The price of the Juki Tajima Si 8 Needle Embroidery Commercial Machine can vary depending on factors such as the machine's condition, additional features, and the seller. The price range for a new Juki Tajima Si 8 Needle Embroidery Commercial Machine typically starts from around $30,000 and can go up to $60,000 or more, depending on the specific configuration and options chosen.
It's important to note that prices may vary over time and can be influenced by market demand and other factors. It's advisable to research and compare prices from reputable dealers or manufacturers to get an accurate and up-to-date understanding of the cost of the Juki Tajima Si 8 Needle Embroidery Commercial Machine. Additionally, considering factors such as warranty, customer support, and training opportunities can help determine the overall value and investment in this advanced embroidery machine.
In conclusion, the Juki Tajima Si 8 Needle Embroidery Commercial Machine is a powerful and efficient tool that brings together the expertise of Juki and Tajima. Also, Tajima embroidery machine price vary on the seller. With its advanced features, large embroidery area, and high-speed performance, this machine is designed to meet the demands of professional embroiderers. While it may come with a higher price tag and require some learning, the benefits it offers in terms of productivity and creativity make it an excellent investment for businesses in the embroidery industry.
If you want to customize embroidery logo digitizing, EM DIGITIZING will be your best choice. At EM DIGITIZING, we deliver the best embroidery logo digitizing services with the best quality.  We offer 50% off on all our services to our potential customers on their first order. So, get a free quote now and we will get in touch with you.
Hope this article will be helpful for you guys!
If there's any question related to this article feel free to comment to us. And, thanks for reading!