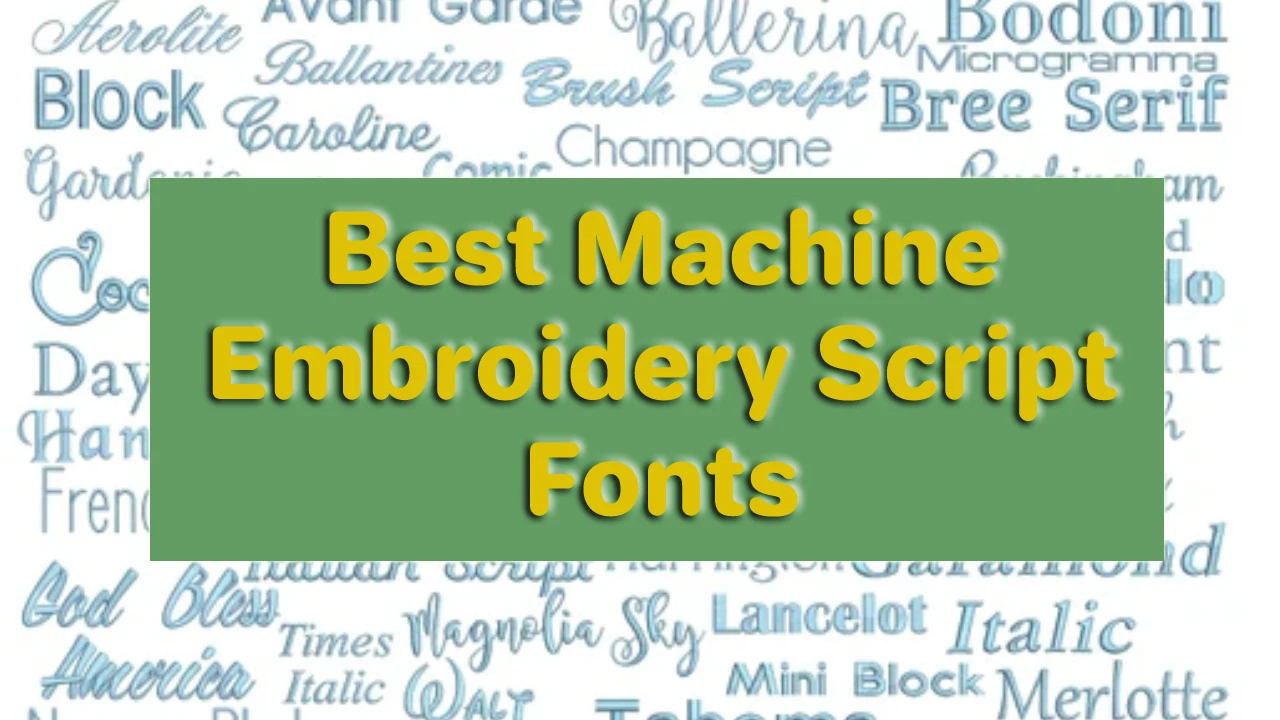 When I start looking at fonts, I can really go down the rabbit hole. There are just so many options, it can be challenging to choose. Script fonts are complicated because they have an incredible variety and each style offers a unique and distinctive look. Also, some script fonts work really well in certain contexts, but not so much in others. So, let's take a closer look at some of these best machine embroidery script fonts and determine which ones are best suited for a group of different scenarios.
Selection of Embroidery Script Fonts
Before we take a closer look at specific embroidery fonts, you may be wondering why some script fonts may be more suitable for some projects than others. Let me give you some examples.
Sometimes the material you are sewing requires a thicker font, such as a towel. A towel has a lot of naps, and only a thick typeface will touch the nap and be visible after sewing. So, if you want to sew a name or phrase on a towel using script fonts, you have to find one that weighs more.
Another factor to consider is the role of the typeface. Specific script-type faces can be very formal, which can look strange on children's casual wear. Or, for example, the script may read too feminine to look appropriate on a boy's outfit. Yeah, I know that boys and girls should not be pigeonholed into traditional gender stereotypes. I'm just saying that some typefaces look more feminine than others which may or may not be in your eyes.
Finally, another factor to consider is size. For example, if you are sewing a long message on a handkerchief, you want to make sure that you have chosen a typeface that is available and readable in a very small size.
File Formats of Embroidery Font
Many digitizers offer their embroidery fonts in all common machine embroidery file formats. Every letter is exported as a separate embroidery design. Therefore, when you create a word or monogram, you need to combine all the different characters together to create a final file.
Programs like SewWhat-Pro allow you to map each letter on your keyboard with individual letter embroidery files. Once you have mapped, you can type verbatim with embroidered letters, which makes it really easy to create a monogram with a name, phrase, or embroidery typing fee.
Some digitizer machines offer embroidery fonts in BX format. The beauty of the BX format is that it can be imported into the accessible version of Embrilliance Essentials and can easily create names, monograms, sentences, etc.
Embroidery Digitizing Services
If you are looking for embroidery digitizing services, EM digitizing is one of the 
best embroidery digitizing
 company. Providing all types of embroidery digitizing. I recommend you test digitizing services.
The Best Machine Embroidery Script Fonts
Etsy is a great place to buy embroidered fonts because you can buy from a group of different digitizers with just one purchase. Different digitizers have very different styles so you will find a lot of diversity in one shopping platform. And, just because they're selling on Etsy doesn't mean the digitizer isn't experienced. Many well-known embroidery digitizers have their own sites as well as Etsy stores, simply because many people go to Etsy in search of embroidery typefaces.
Small and formal embroidery script fonts
Small and formal embroidered script fonts are often used to sew long messages, such as emotional messages on handkerchiefs at weddings. The script makes the writing more handwritten and formal. However, not every formal script font can be sewn well into small sizes.
The following small and formal embroidery script fonts are best for such a project.
Slim Elegant by Digitizing
The Slim Elegant Script font is aptly named because it is both slim and elegant. It is perfect for setting a delicate look for a formal affair.
Slim Elegant Script Embroidery Font Formats bx (which converts to 17 machine formats), + pes, size 0.25 (1/4), 0.50 (1/2), 1, 1.5 and 2 ".
The BX format allows you to use this embroidered font as a keyboard font in any Embrilliace software program, even with a free software program called Embrilliance.
Elegant Script by Digitizing
Elegant Script font looks more round for this. It's a little more playful and informal than its thin counterpart.
This embroidery font formats bx (which converts to 17 machine formats), + pes, size 0.25 (1/4), 0.50 (1/2), 1, 1.5, and 2. Professionally built with Wellcome Embroidery Software, BX. Files are mapped with Embryology software.
The BX format allows you to use this embroidered font as a keyboard font in any Embrilliance software program, even with a free software program called Embrilliance.
Mini Ballet Script by Rivermill
Mini ballet scripts are slanted and are more formal than some other small script fonts. It is also quite compressed which makes it a good choice for sewing a long word or phrase in a small space. Belle Script Embroidery Fonts also come in large sizes.
Comes with set upper and lower case letters and numbers 0-9.
Downloads include the following formats: PES, DST, EXP, HUS, JEF, VP3, VIP, and XXX.
Mini Ballet script also includes the.BX format that works with Embrilliance Essentials, AlphaTricks, and Designers Gallery EmbroideryWorks that will allow you to use the characters as keyboard fonts.
Buckingham by Digitizing
The Buckingham script font is very straight up and down and a little more round than the beautiful font. It is also. Highly compressed allows you to fit a long order sentence in a small space.
This embroidery font formats .bx (which converts to 17 machine formats), + pes, size 0.25 (1/4), 0.50 (1/2), 1, 1.5 and 2. Professionally built with Welcome embroidery software, BX files mapped with Embrilliance software.
The BX format allows you to use this embroidered font as a keyboard font in any Embrilliance software program, even with a free software program called Embrilliance. To download click here 
Chain Stitch Script Fonts
A series of sewing fonts looks like a word sewn together with a continuous stitch. They are sometimes called redwork or bean stitching. Because they only contain moving stitches, they sew faster! They are also very light so they will not work well with any pile on nappy cloths like towels and blankets.
Gracie Hand Stitch font by Herrington Artistry
This script-type fee is perfect for sewing a child's name on someone. At 1.5 height – this is a perfect size and fairly gender-neutral.
This is a fairly straightforward font. It doesn't look as whimsical and youthful as some other fonts. Well, it would definitely be used to sit on a pretty smart dress in the name of little girls if it is also a good choice for sewing on the name on the gift for an adult.
Melanie Bean Stitch by Rivermill
If you are looking for a Chian Stitch font with a bit more eccentricity – check out the Melanie Bean Stitch font.
There is a big difference in the size of the letters which makes it look more playful. They also have this satin sewing version.
Scarlett Script by The Classic Appliqué
The Scarlett Script font is much more looper than the Street Forward Gracie May China sewing font.
It is a digital embroidery design available for instant download, intended for use with embroidery/applique machines. There is no iron on the patch.
This file includes a vintage sewing script and handwritten cursive font. Under U.S. copyright law, this file cannot be sold, traded, shared, gifted, emailed, or claimed as your own work under any circumstances.
Resources:
The most minor text character we can embroider with any accuracy is about 5mm in hieght. We can make adjustments to your design to compensate for slight variations. Typically, a single line of text can only include about 20 characters and spaces before it requires the text to be split into two lines.
BX fonts have essentially allowed digitizers to take their created stitch file fonts and assign a keystroke to each letter so they can be easily typed out within a proprietary software program. Read more about Embroidery Fonts