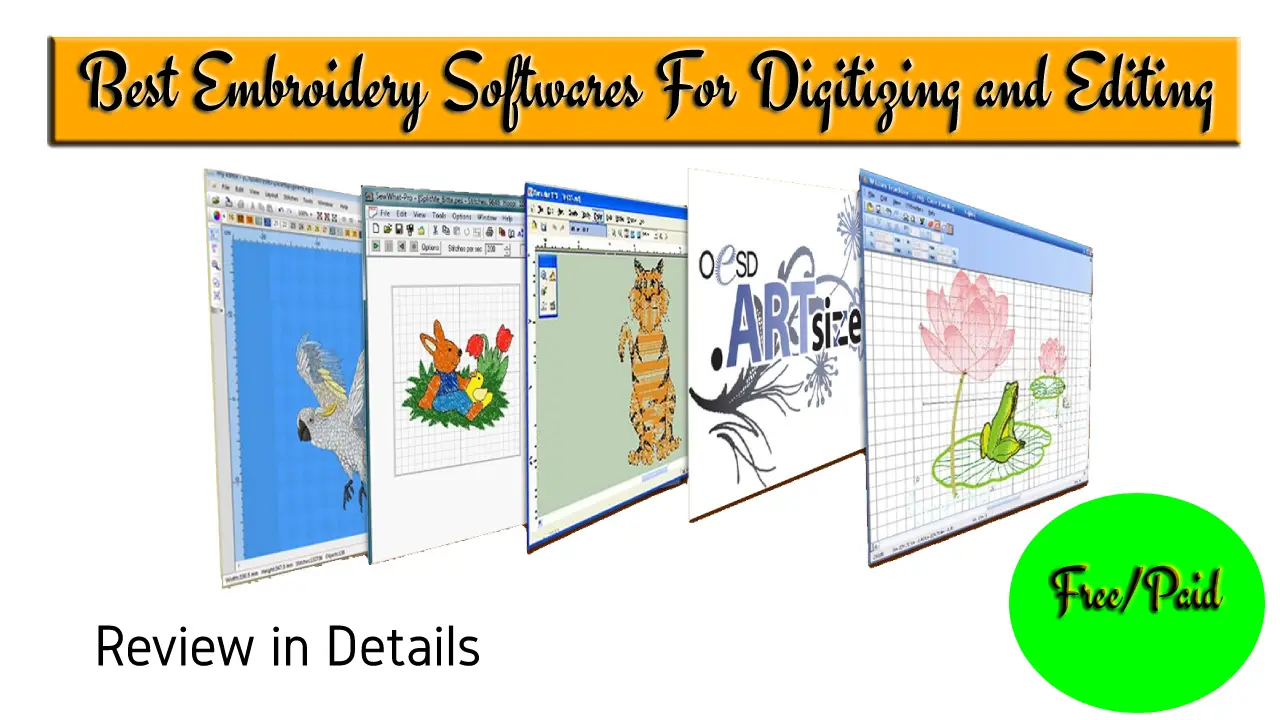 Embroidery Digitizing Services
If you are looking for embroidery digitizing services, EM digitizing is one of the 
best embroidery digitizing
 company. Providing all types of embroidery digitizing. I recommend you test digitizing services.
In this article Discover the best embroidery software free and paid: options for digitizing, editing, and customizing embroidery machine designs for personal and business use.
What is Embroidery Software?
"Embroidery software is software that helps users create embroidery designs. While the vast majority of embroidery software machines are dedicated to embroidery, some software can be used with hand embroidery, such as cross-stitch."
Types of Embroidery Software
Embroidery Digitizing Software
Embroidery Editing Software
Embroidery Digitizing Software
Embroidery digitizing software provides tools for creating unique embroidery designs. It turns clip art, photos, or sketches into a digital format that translates into stitches. Most embroidery digitizing software offers stitch selection, and stitch count options as well.
Embroidery Editing Software
Other types of embroidery software include embroidery editing software that allows you to make minor edits to machine embroidery designs and organize software that allows you to help you manage your embroidery design collection.
There are two categories of embroidery software:
Free Embroidery Software
Paid/Premium Embroidery Software
Best Free Embroidery Software for Digitizing & Editing
Here are some of the best embroidery software that are free tools that beginners and even some advanced users will appreciate.
Bernina Artlink 8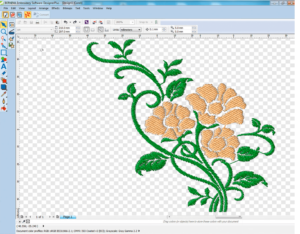 Bernina is an excellent software for making some of the world's most stylish sewing and embroidery machines, so naturally, the company also provides high-end embroidery design software! Artlink 8 serves as the free, limited type of this software, and Artlink lets you perform fairly advanced editing of designs.
You can rotate or image designs, integrate designs, and adapt colors. It also provides a train converter. Again, you can't produce a design in this limited free interpretation, however. The program is meant to make you want to buy the complete package of Bernina Software, 
after all! If you have a Bernina machine, you may well find it worthwhile to check out the free sample software for many weeks as you decide whether or not to shell out the big bucks for the paid interpretation.  To download Bernina Artilink 8 click here.
Pros
Easy hoop selection
Slow re-draw displays
Easy-to-adjust thread colors
Embroidery preview
Cons
No picture digitization
No text option
Inkscape with Ink Stitch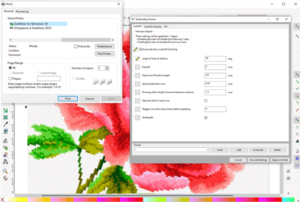 Inkscape is undoubtedly the best-known open-source design program in the world. Everyone from videotape game fashioners to t-shirt screen printers can find ways to use this unique, completely free software. More importantly for over-and-coming knitters, this program now offers an add-on focused on creating embroidery designs. 
This program is called Essay Sew. Essay Sew comes with multiple advantages. It gets modernized regularly, has a wide network of online customers who like to trade tips and ways, and offers a train motor and design tools. It also has some cons, however. Like Inkscape, Ink Sew is vector design software that has enough steep literacy wind. Numerous precious paid software will automate the way you have to complete yourself when using this program. To download Ink/Stitch – Automated installation of Inkscape palettes: click here.
Pros and Cons Inkscape software
Pros
Intuitive
Cross-platform
Batch export option
Animated stitch-out preview
Cons
My Editor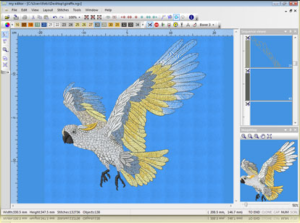 My Editor offers a limited range of features doubtless stylishly suited to a freshman. Occasionally simplicity makes learning a new skill a lot easier, so there's nothing wrong with starting with just the basics! With this software, you can convert multiple train types to make them compatible with your machine. 
You can also edit an uploaded design by altering colors, adapting sizing, or rotating rudiments of the image. You can't produce your own design with this free software, and you also won't find a huge library of pre-made designs to choose from.  To download My Editor free embroidery software: click here.
Pros and Cons My Editor Embroidery Software
Pros
Various macros and templates
Allows previewing embroidery designs in 3D
Exports files into PNG, JPEG, BMP and TIFF format
Cons
Impossible to create new designs
DIME Embroidery
DIME offers a software program called embroidery. You can download the toolshed for free and experience demonstrations of numerous functions. You do have to buy more advanced features within the software to enter numerous of the tools. DIME has multiple features similar to applique tools, lace-making tools, and symbol and digital design transformer tools. You do have to dive into the free toolshed to find out how important you can get for free yet. 
You may also like the following articles
Best Paid Embroidery Software for digitizing
Many paid softwares offer a free trial you can check out to make sure that you like the software before making a buy. However, you should consider buying paid software, If you plan to launch a small business or position up your design experience.
Hatch by Wilcom Embroidery Software
Hatch is a top contender for the best- embroidery-software award! Produced by the well-known sewing company Wilcom, Hatch has a lot to offer. It provides digitizing tools rich with multiple special editing features.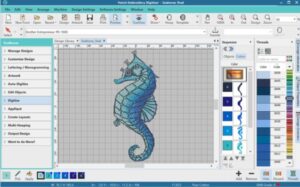 Hatch also comes loaded with numerous package options. You can buy an interpretation that specializes in train organizing. You can also choose a musician option that focuses on designing your embroidery. However, you can go for an individualized option if you prefer to edit pre-made designs.
Hatch offers a unique literacy tool called Hatch Academy to get beginners up to speed! Numerous sewing artists and small business possessors use Hatch as a design tool and to run the business end of effects. The only real strike of this option is its price label. Hatch software costs anywhere from$ 149 to$ 1000, depending on what position you decide to buy. 
Feature of Hatch by Wilcom Embroidery software
Powerful object editing
Resize designs accurately
Match your thread brand
Resize designs accurately
Multi-hooping in just one click
Edit and optimize design colors
Stabilizer recommendation wizard
Use TrueType and OpenType fonts
Search and manage designs easily
Auto-digitize your artwork creative emb
Convert to the most popular file formats
385 Ornaments and 79 Borders included
State-of-the-art creativity and layout tools
63 professionally digitized fonts for lettering
Combine multiple objects into one with Weld
108 professionally digitized fonts for lettering
Redwork for creating simple artistic embroidery
85 professionally designed monogram templates
True manual digitizing with professional quality results
Auto-Fabric adjusts underlay, pull-compensation and density
Turn photos into memorable embroidery with Color PhotoStitch
Embird Embroidery Software
Embird embroidery software is the embroidery software of fame, and this has been being used for a long time, especially among the professionals who have to deal with specific tools similar as resizing designs, splitting in order to have large stitching designs in small loops, and you can indeed see your sewing designs in 3D mode.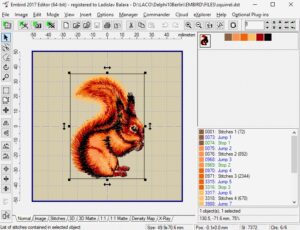 Also, Embird Embroidery software is notorious for carrying out introductory tasks fleetly and fluently, similar to putting mirroring effect, gyration, and flip; you can use Embird software in two different modes: Director and Editor Modes independently.
Embird Embroidery software is completely loaded and functional with colorful draw- sways that give you full control over your cross sew, designing, digitizing, scribbling, and much more. If you're looking for fully functional stylish Embroidery software, also it's one of the stylish embroidery software indeed. 
Features of Embird Embroidery Software
3D preview of designs
3D simulation of sewing
Various hoop types and sizes
Amazon and Azure cloud storage
File Commander for file management
Processing in ZIP and RAR archives
Supports 20 embroidery machine brands
Display in 1:1 scale and other scales
70+ embroidery and quilting file formats
Free-hand splitting and automatic splitting
Display and sort images – digital photos (.JPG, .TIF, etc.)
Design documentation types like animated.GIFs and screen saver
Brother PE-Design
Brother PE-Design is worth mentioning. It is also one of the modern embroidery software for those who want to turn their own vector graphics, similar to using the brother embroidery software for favorite pics and canvases, into digitized embroidery.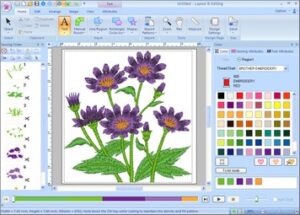 Brother PE-Design has multiple features to help you out in doing so; it features a Flip-Pal scanner option that lets you examine whatever you want to convert into digitized embroidery. It scans your pics and converts them into digitized designs. Brother PE-Design offers you multiple editing features, and also it has more than 130 made-up-in sources with purifiers, more than enough in single embroidery software.
Brother PE-Design offers you an expansive library of assembled-in designs. That's 1000; you would not run out of designs any sooner. Also, it offers you the auto digitizing option, which is helpful for beginning designs. Brother PE-Design ensures you get Advance layout and editing features, one of the stylish effects of this design is that you get to have practice before you get into stitching.  Here's the free embroidery software download for Brother PE-Design 11 if you want to try it out.
Features of Brother Embroidery Software
Alpha Mapping
Scatter Design Tool
Drop Shadow for Fonts
Multi-Colored Lettering
840+ Embroidery Designs
Combine multiple designs
Follow Path Tool to arrange words
Match Projects to Fabrics & Stabilizers 
Built-in recipes for the built-in lettering designs
199 Pre-Digitized fonts for personalized embroidery
Even spacing with horizontal & vertical Distribute Tools
Monograms or text segments with Text Connector Designs
Decorative or fun frames for monograms and other designs
Embrilliance Embroidery Software
Embrilliance is one of the most popular embroidery software available now. Multiple stitchers and small business holders consider Embrilliance and Hatch the best of the best! Later in this essay, you can check out the comparison section to compare these two bestsellers.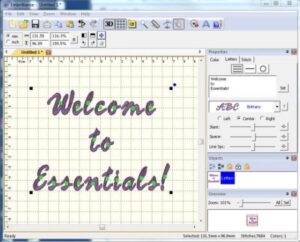 So, what exactly does Embrilliance embroidery software offer? Relatively much every editing characteristic you could imagine. On top of that, it offers thousands of different embroidery sources for scripts or symbols. Embrilliance can work with multiple different column types, making it a solid choice no matter what brand of embroidery machine you command.
You can buy all the basics in a package called Embrilliance Essentials for just$ 149. For the more advanced professional-grade software, you do have to shell out$ 649. This largely advanced software package does present a literacy wind, especially if you're new to design software! You can balance out the difficulty with the multiple literacy coffers that come with the software. Click here to download embrilliance embroidery software, if you want to try.
Features of Embrilliance Essentials
It helps with stitch recalculation
Provides scalable embroidery fonts
Three types of free design libraries
You can resize embroidery designs
Allows colorizing of embroidery designs
No limit to the number of installations on different systems
Conclusion
The best embroidery digitizing software allows you to turn images or manuals into digital files. This file tells your embroidery machine what colors, sew counts, and design to use as it creates a stretched image. Multiple advanced embroidery software also comes with a rich array of design and editing tools that allow you to manipulate images. 
Maximum embroidery software costs relatively a lot due to its technical function and narrow demand. You can find many free options like Ink Sew, but these may need advanced design knowledge. 
All embroidery digitizing software requires technical education, How to use embroidery software to create a perfect design? It may be expensive and time-consuming to learn and buy digitizing software if you're business is small or starting.  In my opinion, hire a digitizer or digitizing agency to digitize your logo. If you are looking for digitizing services feel free to contact us or get a free quote for digitizing.