How to Use Wilcom Thread Color Chart | Complete Guide
In this article, we will provide a complete guide on how to use the Wilcom thread color chart. The Wilcom thread color chart is a tool that is commonly used in the embroidery industry to identify and select the appropriate color of thread for particular embroidery designs. It is a comprehensive chart that features a wide range of thread colors and shades, allowing users to choose from a vast selection of thread options.
Using a Wilcom thread color chart can help ensure that your embroidery projects turn out perfectly, as selecting the wrong color of thread can significantly impact the overall look and feel of your embroidery designs. Whether you are new to embroidery or a seasoned pro, understanding how to use a Wilcom thread color chart can help you achieve the best results possible.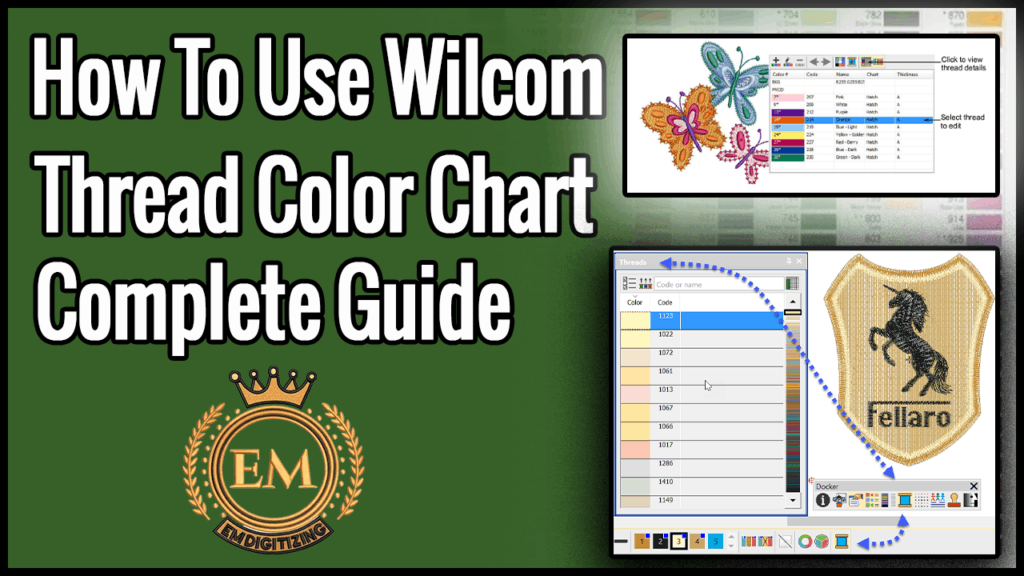 How to Use Wilcom Thread Color Chart | Complete Guide​
Detailed Guide On How To Use The Wilcom Thread Color Chart: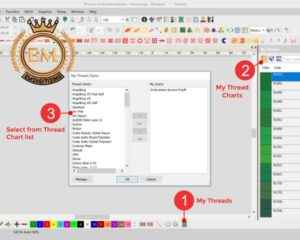 Let's cover the basics of using a Wilcom thread color chart, including how to read and interpret the chart, how to choose the right thread color, and tips for using the chart effectively. So let's dive in and explore the world of Wilcom thread color charts!
Understanding the Wilcom Thread Color Chart: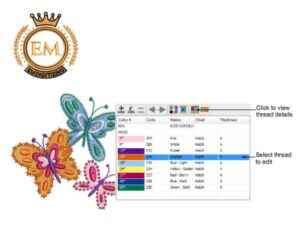 The chart for Wilcom Thread Colors is typically organized in rows and columns, with each color swatch representing a specific thread color. The colors are arranged in a specific order, often by color family or hue, such as blues, greens, yellows, reds, etc.
The Wilcom Thread Color Chart may also include additional information, such as the thread number or code, which is essential for identifying and ordering the correct thread. Some charts may also include a description of the color, such as "light blue" or "deep red."
Reading the Wilcom Thread Color Chart: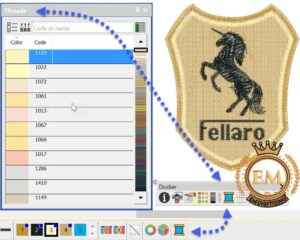 To read the Wilcom thread color chart, you need to identify the color swatch that represents the color you want to use in your embroidery designs. You can do this by scanning the chart to find the color family or hue you are looking for and then locating the specific color swatch.
Once you have identified the swatch, you can use the thread number or code listed on the chart to order the corresponding thread. The thread number or code is essential for ensuring that you order the correct thread, as thread colors can vary significantly between different brands and manufacturers.
Choosing the Right Thread Color: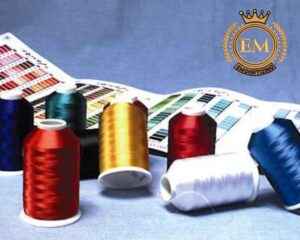 Choosing the right thread color is crucial to ensure that your embroidery project turns out perfectly. Here are some additional tips to help you choose the right thread color using the Wilcom thread color chart:
Consider the Thread Type:
When selecting a thread color, consider the type of thread you will be using. Different thread types, such as polyester, cotton, or rayon, can affect the appearance of the color. For example, polyester threads may appear brighter or more vivid than cotton threads.
View the Swatches in Natural Light:
It's essential to examine the color swatches in natural light to get an accurate representation of the thread color. Artificial lighting can alter the color of the thread swatches and lead to a poor color match. Natural light provides the most accurate representation of the thread color, so try to view the swatches in a well-lit room or outside in daylight.
Use a Color Card:
If you frequently work with a particular brand or type of thread, consider investing in a color card. A color card is a physical reference tool that contains actual thread samples, allowing you to compare thread colors directly to your fabric and embroidery designs.
Tips for Using the Wilcom Thread Color Chart: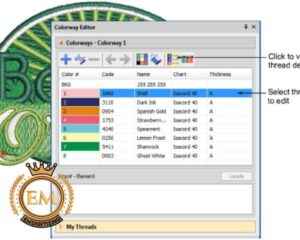 Here are some tips to help you use the Wilcom thread color chart effectively:
Keep the Chart Updated:
Thread manufacturers may update their thread colors over time, so it's essential to keep your Wilcom thread color chart up to date. Check for updates periodically and replace your chart as necessary to ensure you have the most current information.
Use a Thread Organizer:
If you have a large collection of threads, it's a good idea to use a thread organizer to keep them organized. You can organize your threads by color family or by thread number to make it easier to find the right thread for your project. A thread organizer can also help you keep track of which threads you have and which ones you need to order.
Use Online Resources:
There are many online resources available that can help you select the right thread color. Some embroidery software programs include thread charts, and there are also websites that provide thread conversion charts to help you match colors across different brands of threads. These resources can be particularly helpful if you are working with threads from multiple manufacturers or if you need to match a specific color.
Choose The Right Thread Type: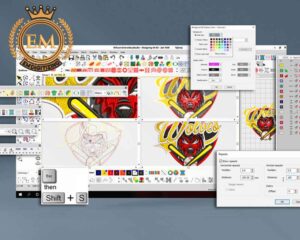 Different thread types are suitable for different embroidery projects. Polyester thread is versatile and durable, while the cotton thread is soft and natural-looking. Metallic thread adds sparkle, and rayon thread is great for adding shine.
Match The Thread Weight To The Fabric:
Different fabrics require different thread weights. Use a lighter thread weight for lightweight fabrics like silk or organza, and a heavier thread weight for thicker fabrics like denim or canvas.
Use High-Quality Thread:
High-quality embroidery thread will be less likely to break or fray during stitching, and will also provide a better finish.
Store Your Thread Properly:
Keep your embroidery thread in a cool, dry place away from direct sunlight. This will help prevent the thread from fading or becoming brittle.
Test Your Thread On A Scrap Fabric:
Always test your thread on a small piece of fabric before stitching on your actual project. This will help you ensure that you have the right thread color and weight, and will also allow you to adjust your stitch tension if necessary.
Keep track of your thread colors:
Make note of the thread colors you use for each project so that you can easily recreate the same look in the future. You can also use color-coding systems or organize your thread by color family to make it easier to find the colors you need.
The Wilcom thread color chart is an essential tool for anyone involved in the embroidery industry. By understanding how to use the chart and following these tips, you can choose the right thread color for your embroidery project and achieve the best results possible.
We hope you liked this article. If you need customized embroidery logo digitizing, EM DIGITIZING is the ideal choice for you. We provide top-quality embroidery logo digitizing services and offer a 50% discount to new customers on their first order. You can request a free quote from us, and we'll be in touch promptly.
We trust that this article has been useful to you. If you have any questions or queries regarding this article or our services, please feel free to leave a comment below.