If you';re looking to buy a table for your Stickmaschine but are looking for special sewing and embroidery tables at your local shop that is a bit pricey, you might be looking in the wrong place. A good embroidery machine table is essential, but it doesn';t have to be expensive.
Not just any surface will do for embroidering—above all, you want a table that';s sturdy because a slight station can spell disaster when embroidering. Although not essential, a table with a large surface area is helpful for cutting fabrics, etc. Being able to lower the machine for a flat embroidering surface is quite handy. Und, plenty of drawers and storage space can be helpful if you want to keep a close eye on needles, Faden, and other notions while you work. Na sicher, your needs depend on your available space as well as your embroidering preferences and experience.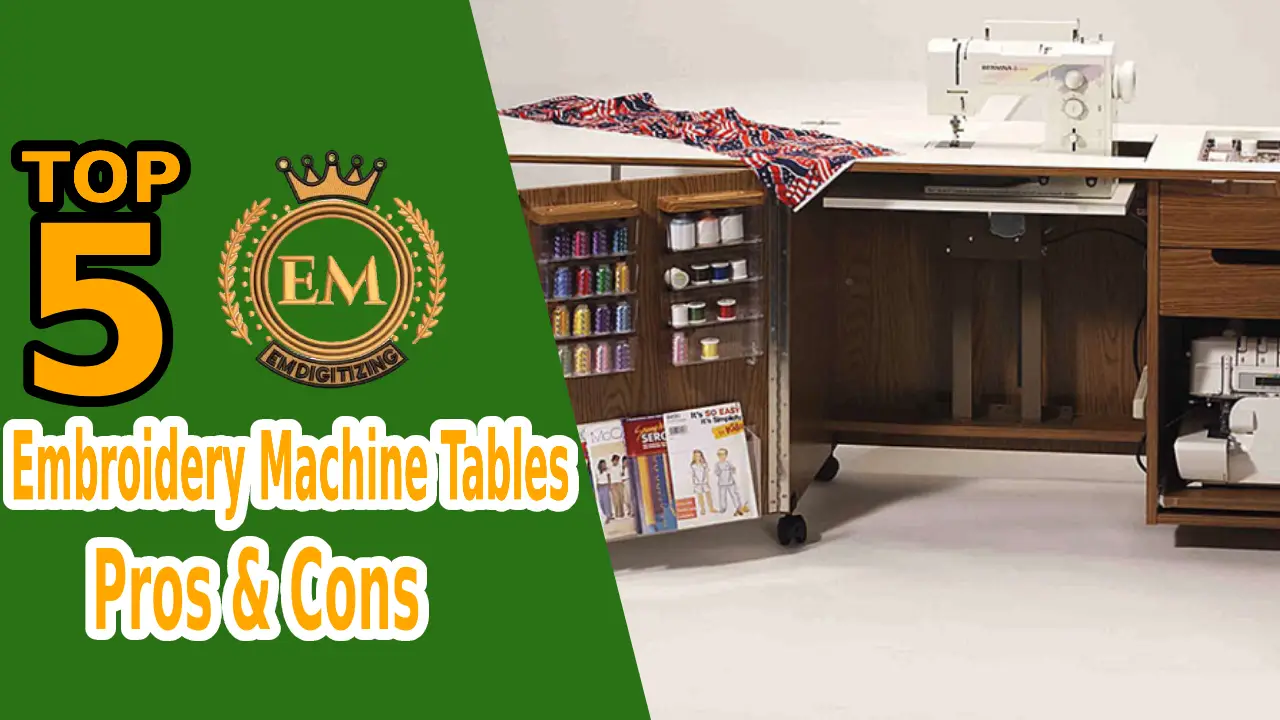 Digitalisierungsdienste für Stickereien
Wenn Sie nach Digitalisierungsdiensten für Stickereien suchen, EM-Digitalisierung ist eine der
beste Stickerei digitalisieren
Gesellschaft. Bereitstellung aller Arten der Digitalisierung von Stickereien. Ich empfehle Ihnen, Digitalisierungsdienste zu testen.
Here are some great, albeit slightly unconventional table solutions for embroidery machines.
Different Types Of Embroidery Machines Require Different Tables
The type of table that is suitable for an embroidery machine depends on the type of embroidery machine you have. If you have a single needle embroidery machine, it makes sense to have the embroidery machine at table height. If the embroidery machine is a scroll embroidery/sewing machine, you may want to place it on a desk surface so that you can sit at the machine but also use it for embroidery. Aber, even if your home embroidery machine is strictly for embroidery, you';ll want to keep it at table height. I find that I often sew while tending to my embroidery machine babies so it';s nice to have them at the same height where I can see my embroidery machine running.
When it comes to commercial multi-needle embroidery machines, they usually have a slightly higher position. Reason? You won';t be sewing on the machine so it doesn';t need to be at desk height to allow you to operate the pedal. Und, keeping it at shoulder height allows you to stand up straight when you';re turning the machine on and off.
Qualities Of Best Embroidery Machine Table
Surface Area

:

An embroidery machine table should have at least enough surface area to accommodate an embroidery machine. Good Stickmaschine tables usually have some extra space for the user to do their pinning, basting, ironing, and cutting as well. If you are planning to do all these things on your embroidery machine table, it is recommended that you get a table with a large surface area to make your embroidery experience even easier.
Usability
Get an Stickmaschine table that gives you enough space to measure your clothes and make patterns. It is always useful to have a table with a gridded surface and the edge of a tape measure.
Portability
Portable embroidery machine tables definitely come in handy. Prefer a table that comes with locking and rolling casters as they free you from the need to secure a fixed spot in your home.
Stability
Unlike computer tables or writing desks, Stickmaschine tables need to be more stable. When the embroidery machine runs at high speed, unstable tables start to vibrate. So get a table that is strong and stable.
Storage Space
Manche Stickmaschine tables are very basic because they have a lot of space underneath. Stattdessen, it is recommended to get a table where this empty space is used intelligently and converted into cupboards and drawers where you can store your threads and other embroidery accessories.
Airlift Procedure
The airlift mechanism allows you to adjust the height for easy operation of a flatbed or free-arm embroidery machine. Using this feature you can even store your machine under a table top when it is not in use. If you can afford it, buy an embroidery machine table with an airlift mechanism.
Assembly
Don';t get an embroidery machine table that is already assembled. It is also recommended to avoid a table that takes forever to accumulate. You should find one that assembles easily within a few hours at most.
Best Embroidery Machine Table –

;

Pros &amp

; Nachteile
1.
Martelli Advantage &amp

;

Martelli Elite Workstation Kit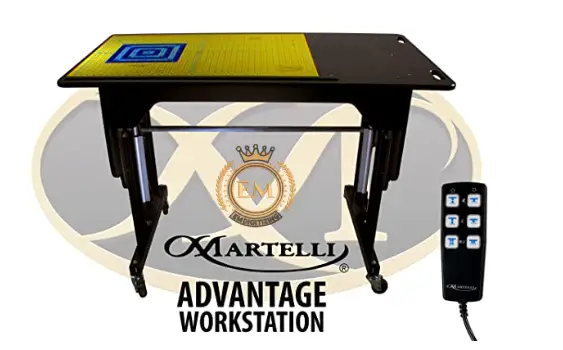 The Martelli Workstation is undoubtedly the best embroidery machine table for quilts on the market. Its heavy-duty aluminum reinforced frame makes it one of the sturdiest tables you';ll ever find.
This adjustable height embroidery machine table comes with electric motorized leg lifts that operate smoothly and quietly.
The workstation is available in two models: Advantage and Elite. The Elite version is longer and wider, providing a larger work surface, on which you can cut, embroider, Eisen, und mehr.
These tables are made in the USA and the quality is exceptional.
Merkmale:
Maße: 28

″ x 55″ Tabletop

(

Advantage

)

and 35″ x 72″ Tabletop

(

Elite

)
Materialien:

Aluminum and Polyethylene

Adjustable height from 30″ to 46″

Electric motorized leg lifts

.
Vorteile:
Large working surface

Motorized adjustable height

Good value accessories package
Nachteile:
The heaviest tables on this list
2.
Kangaroo Kabinets K8605 Aussie Large Embroidery Cabinet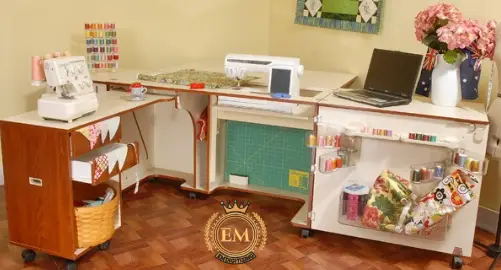 If you need a high-quality large Stickmaschine table and cabinet that is easy to move, the Kangaroo Cabinet is what you are looking for.
These wheeled cabinets offer plenty of storage for all the tools, Stoffe, and materials you need for your quilting and embroidery projects.
The Kangaroo embroidery machine cabinet is extremely versatile and can be used as a table and as a cabinet for a variety of projects.
It has a quilting leaf foldable extension that can be used to extend your workspace while you are quilting and therefore prevents heavy quilts from falling or sliding on the floor.
Merkmale:
Open Dimensions

: 99.5

″ x 45.5″ x 29″

Closed Dimensions

: 49.75

″ x 22″ x 30″

Materialien:

Composite and wood grain melamine laminate

EZ-Lift gas strut mechanism

Unterstützt 51

lbs machine

.
Vorteile:
Easy to move around

Lots of storage rooms

High-quality content
Nachteile:
Difficult to understand assembly instructions
3.
Southern Enterprises Expandable Rolling Embroidery Machine Table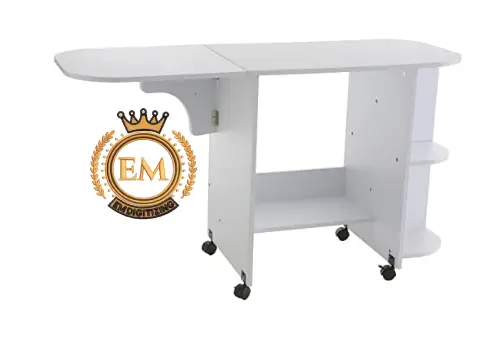 If embroidery is your hobby but you';re worried that it takes up too much space, this compact embroidery machine table is just what you need.
The Eaton Rolling Craft Station is a small embroidery machine table, but it packs a punch. It offers a large work surface that provides bottom and shelf space to store your embroidery machine when it';s not in use and your other embroidery tools.
This white embroidery machine table is compact and can be easily moved as it has 4 wheels. Stability is not an issue, as the casters are lockable and the table does not move or shake once the wheels are locked.
Merkmale:
Maße: 31.5″ (W)

x 19″

(D)

x 29.5″

(H)
Material:

MDF and melamine paper

30 Pfund. (

above

), 20 Pfund. (

folding top

), 15 Pfund. (

each shelf

)

supports

Space saving folds down the leaf

.
Vorteile:
Perfect work surface

Easy to assemble

Suitable price
Nachteile:
4.
Sauder Easy Rolling Embroidery and Craft Table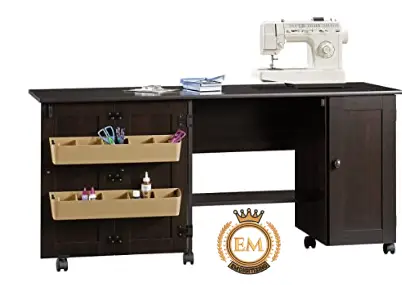 The Souder Embroidery and Craft Table stands out as one of the most beautiful and productive embroidery machine tables available today. It';s Cinnamon Cherry Finishing is stunning and the design is stunning.
It has many drawers and racks where you can store all your tools and really put them to work. When extended, the desk provides plenty of space to work and is very comfortable.
This is definitely the best embroidery machine cabinet for small spaces as it offers plenty of storage space. The Sauder table comes with a 5-year warranty and its surface is heat, stain, and scratch resistant!
Merkmale:
Maße: 19.45″ (W)

x 40.08″

(D)

x 28.50″

(H)
Materialien:

Engineered wood construction

Comes with drop leaves

,

storage bins

,

and convenient roll casters

.
Vorteile:
Beautiful design

Can be closed to save space

Affordable value
Nachteile:
Assembling is somewhat difficult
5.
South Shore Crea Embroidery Craft Table on Wheel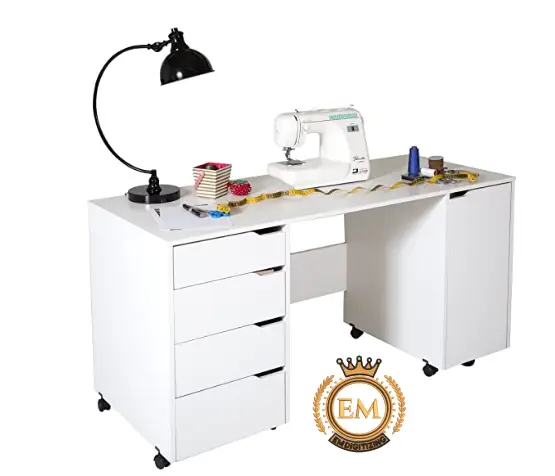 If you';re looking for an eco-friendly and affordable embroidery machine table on wheels, the Craft Table is your answer!
The Craycraft table is made in North America and meets all US standards. It offers a large surface area, two sliding shelves, and three large drawers for storage.
This craft table with storage has a sturdy water-resistant work surface and is easy to maneuver: it rests on four wheels and can be easily moved around.
It can also be used as a computer desk or as a table for other crafts such as scrapbooking or jewelry making.
Merkmale:
Maße: 58″ (W)

x 23.5″

(D)

x 29.5″

(H)
Material:

Non-toxic laminated particle board

Scratch-proof and water-resistant surface
Vorteile:
Massive storage options

Durable and strong

Fair price

5-

year warranty
Nachteile:
Fazit
Finding the perfect embroidery machine table or the perfect embroidery cabinet can sometimes be a daunting task, especially if you are new to embroidery. There are many options on the market and it can be difficult to see which type of desk best fits our needs.
Once we ask ourselves what our needs are, choosing an option is very easy. We hope this guide has helped you identify your needs and choose your new table for your embroidery room accordingly. Viel Spaß beim Sticken!