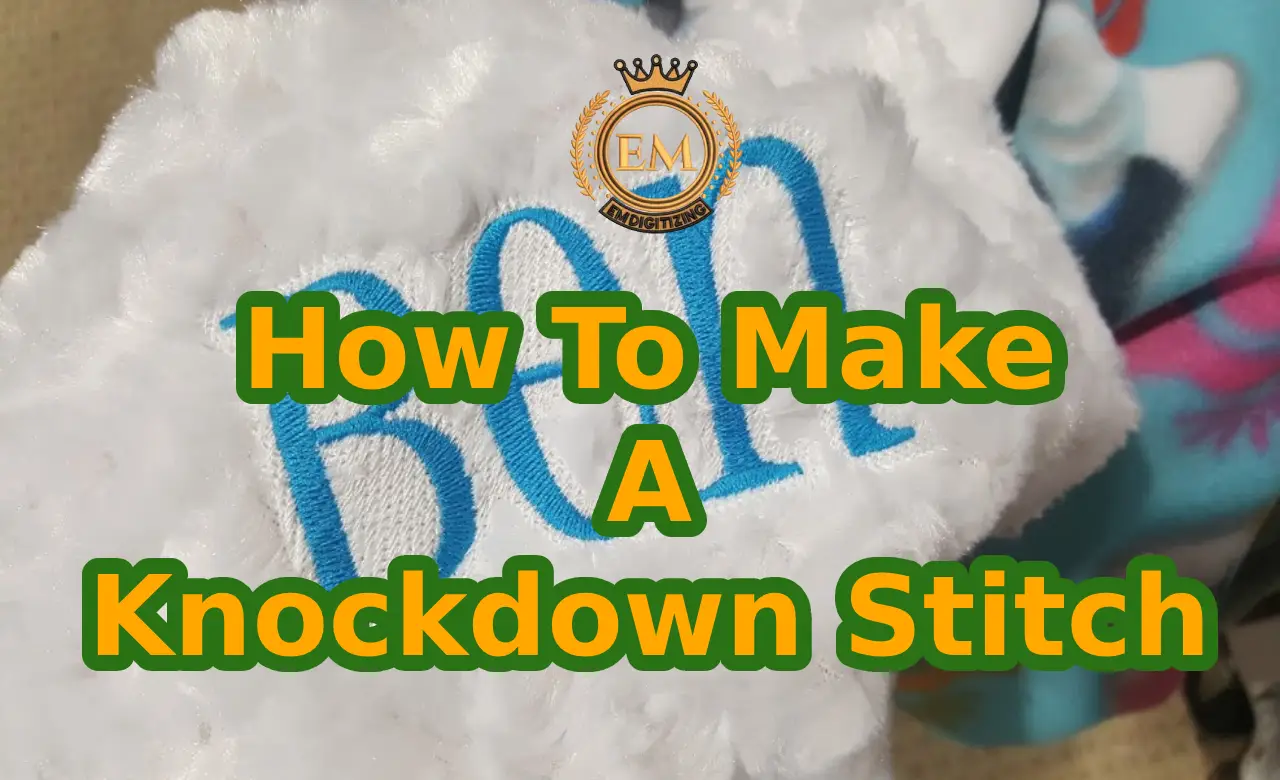 When sewing with loops and naps on terry or any fabric, a topping stabilizer is usually used. These can be helpful, but they have a limitation: they do not stop the nap after the actual sewing, which means that the sketch may be lost in the surrounding fabric. Using knockdown stitch you can create a universal underlay for the whole design. The underlay extends a few millimeters from the edge of the design, which contributes to the overall effect.
What is a Knockdown stitch

?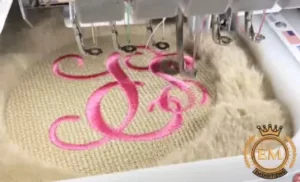 A knockdown stitch machine is a basic layer of sewing that is designed to go under the name, Monogramm, or embroidery design. Its function is to hold the nappy fabric to make the basic embroidery design more prominent.
Types of Knockdown Stitches
Knockdown stitching is usually done in a basic shape such as a circle, square, quarter file, etc. Zum Beispiel, a round monogram can be sewn over a circular knockdown stitch section.
It can also be in the form of embroidery designs that aim to go up. Some software will look at the overall shape of the embroidery design and create a knockdown stitch that is slightly larger than the design but in the same general shape.
Digitalisierungsdienste für Stickereien
Wenn Sie nach Digitalisierungsdiensten für Stickereien suchen, EM-Digitalisierung ist eine der
beste Stickerei digitalisieren
Gesellschaft. Bereitstellung aller Arten der Digitalisierung von Stickereien. Ich empfehle Ihnen, Digitalisierungsdienste zu testen.
Designing your knockdown stitch area
Knock-down stitching areas are usually done in thread color to match the material below. Jedoch, there is no hard and fast rule that says it should be done that way.
You can also sew in a thread color that contrasts with the color of the material and/or the Monogramm unter. It';s an effect that looks really sharp.
Stitches in a knockdown stitch
The area inside the knockdown stitch is not 100% dense. This is more or less a light sewing matrix.
The lightness of this first layer of sewing makes it possible for you to sew the basic design from the top, as long as the area is not too tight with many layers of sewing.
Use the Knockdown Stitch Area
You may have heard that the water-soluble stabilizer nappy is the best solution for keeping clothes under the embroidery design.
True, jedoch, the water-soluble Stabilisator will wash off! The long fibers of the fabric can hide the design elements of the embroidery.
You can see this effect in the example below. The same embroidery design was sewn on two different towels.
The first was done with a water-soluble topper, the second with a knockdown stitch. It does not same design! The version on the right is much better against the texture of the nappy towel! Because the Stickerei-Design has so much detail and thin lines, the version on the left is lost inside the towel nap.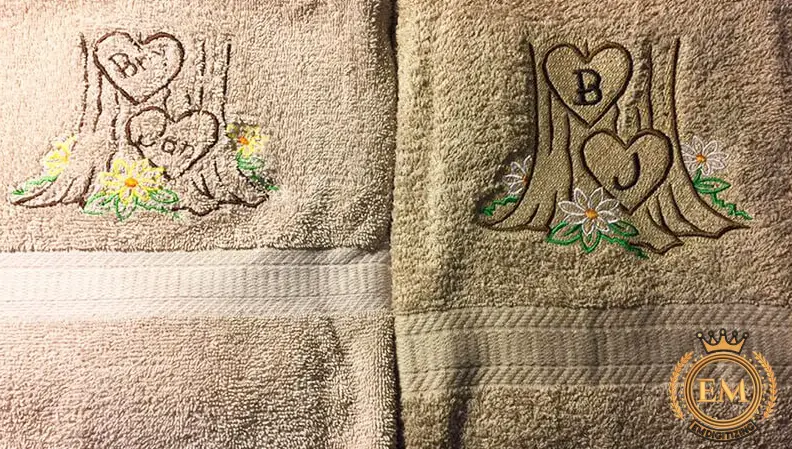 Lessons here? Whenever you have a design, name, or monogram that has important details or too many fine strokes, and you want to sew it on a very textured fabric, you should definitely use a knockdown stitch.
The second lesson? You may like the shape of the knockdown stitch. Some people use them as a decorative element even when the design or the lines themselves remain intact.
How to Make a Knockdown Stitch
There are two ways to make a knockdown stitch. You can either buy it as a file or create it yourself if you have the necessary Digitalisierungssoftware to do so.
File purchase
Buying a knockdown stitch file is like buying any Stickerei-Design Datei. They are available in many shapes and sizes, all you have to do is find one that suits the design, name, or monogram you are sewing. Zum Beispiel, if you are sewing a monogram with a capital letter 3 ″ long, das 3.5 ″ –; 4 ″ knockdown shape would be the right size to use in the background.
There are many digitizers that offer knockdown sewing files in a variety of sizes and styles.
Bunny Cup offers a set of

28

different shapes in a variety of embroidered sizes

.

There is a large range of satin stitching in each shape to keep the area clean

.

The Embroider Times offers a very basic set without satin stitching borders

.

If you prefer to purchase individual files

,

check out the offers on Creative Appliqués

.

You can buy about any shape you can imagine

.
When you purchase one of these files to work with your embroidery design, you have two different options for sewing it. You can either sew the two files separately, or you can combine the files in a program like SewWhat-Pro and then download the composite file.
The advantage of having both designs in the software is that you can see how they look together. This can assure you that the design of your embroidery will not exceed the boundaries of knockdown stitching.
Create it yourself
Creating yourself is not really rocket science. You just have to have some cheap software to help you do that.
Both SewArt and SewWhat-Pro allow you to create knockdown stitches but do so in different ways. The software you choose should depend on the format you are trying to get.
If you are trying to create a basic format, I would suggest using SewArt. There is no specific ";knockdown"; setting. You can easily create the shape you want (rectangle, circle, usw.), and then convert it into a fill with a very light fill. The type of fill you should choose is X Stitch Fill with Sep-10.
In SewWhat-Pro, there is a special tool for creating knockdown stitches to work with any design. This feature is located at the bottom of the Tools menu, called ";KnapTech";. The advantage of creating a Naptech Stitch Area in SewWhat-Pro is that you can configure it to follow the contours of your main embroidery design.
The ability to create a knock is also a feature in Embrilliance Enthusiast. You can find features in the Enthusiast under the utility tab.
Nähkunst, SewWhat-Pro, and Embrilliance Enthusiast are three of the different embroidery editing or Digitalisierung programs, but most of them will have this feature. I mention only three of them because of their low cost and ease of use.
Additional Tips
When you embroider on very nappy materials, such as the wrong fur, sometimes a knockdown stitch is not enough to cover all the fur so that you can embroider on top.
You may be tempted to sew it twice, but it';s probably not a good idea because the sewing area will be too tight.
For a little extra help, you can put a thin layer of bundles under all the stitches. Extra tools will tear easily. Und, if you combine it with the fabric below, it will hardly be noticeable.
Fazit
I';Ich bin mir sicher! I saw something amazing thrown at the marshals the other day. And using the knockdown area under the monogram, I';m sure it would look great.
Fun and happy Embroidering!