STAMPA SERIGRAFICA CMYK Suggerimenti per i principianti
Screen printing is a popular method for transferring designs onto various surfaces, comprese le magliette, using different ink colors. One of the key techniques used in screen printing is CMYK (Cyan, Magenta, Yellow, Nero) stampa. CMYK SCREEN PRINTING process involves layering these four colors to create a wide range of hues and shades. Whether you';re starting a screen printing at home business or exploring CMYK screen printing as a hobby, understanding the process and following some tips can help you achieve better results. In questo articolo, we';ll provide valuable tips and insights for beginners in CMYK printing process.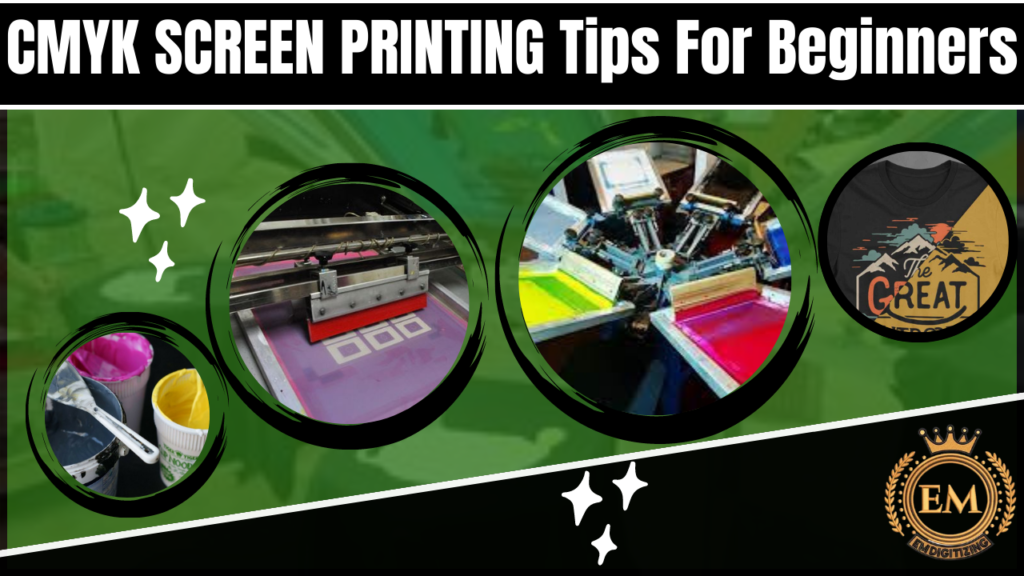 STAMPA SERIGRAFICA CMYK Suggerimenti per i principianti
Tips And Insights For Beginners In CMYK T Shirt Printing
Let's have a look at some screen printing cmyk tips: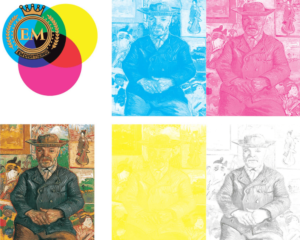 CMYK screen printing order requires a thorough understanding of color separations. Each color in the design is separated into individual layers, and screens are created accordingly. This allows for precise registration and alignment of colors during the printing process.
Prepare High-Quality Artwork

: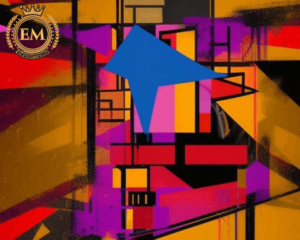 To achieve optimal results, ensure that your artwork is high-quality and suitable for cmyk silk serigrafia. Use professional design software like Adobe Photoshop or Illustrator to create or edit your designs. Set the color mode to CMYK and work at a high resolution to preserve detail and color accuracy.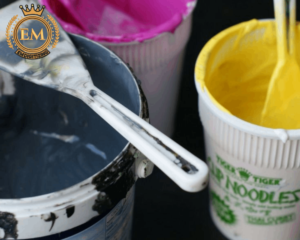 Choosing the right mesh count for your screens is crucial in CMYK printing process. Lower mesh counts allow for thicker ink deposits, while higher mesh counts provide finer details. Experiment with different mesh counts to find the one that suits your design and desired outcome.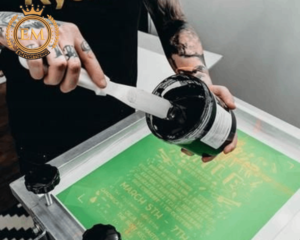 Before printing a large batch, always perform test prints to check the color accuracy, registration, and overall quality. Make necessary adjustments to ink formulations, screen tension, and printing technique to achieve the desired results.
Consider Color Calibration

: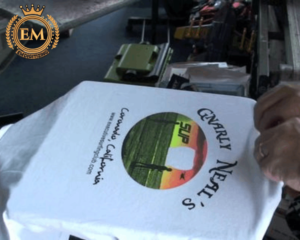 To ensure consistent and accurate color reproduction, consider calibrating your monitor, printer, e inchiostri. Color calibration tools and software can help you achieve better color matching between the digital design and the printed output.
Master the Registration Process

: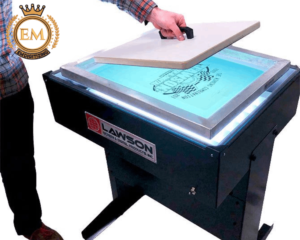 Achieving precise registration is crucial in CMYK screen printing. Proper alignment of screens and careful adjustment of off-contact and screen tension are essential. Invest in a quality registration system or use registration marks to ensure accurate positioning of each color layer.
Optimize Ink Formulations

: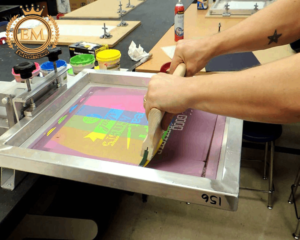 Creating the right screen printing ink formulations is a skill that comes with experience. Experiment with different ink brands, pigments, and additives to achieve the desired color vibrancy, opacity, and drying time.
Practice Proper Printing Techniques

: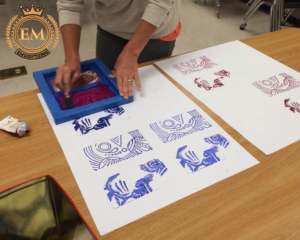 Mastering proper printing techniques is vital for obtaining clean and consistent prints. Maintain consistent pressure while flooding and printing each color layer. Use smooth, even strokes and avoid excessive ink buildup on the screens. Proper cleanup and maintenance of screens and tools are also important for long-lasting performance.
Consider Discharge or Water-Based Inks

: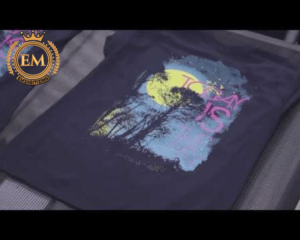 In CMYK process, using screen printing discharge ink or water-based inks can yield softer, more vibrant results. These inks have lower opacity and work well on lighter-colored fabrics. Tuttavia, they may require additional considerations such as pretreatment or proper curing techniques.
Explore Simulated Process Printing

: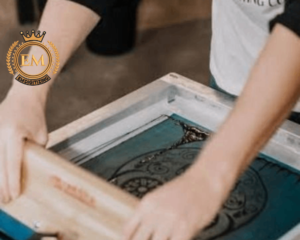 Simulated process color separations printing is an alternative to traditional CMYK printing, especially for designs with a limited color palette or complex gradients. This technique uses spot colors to simulate the look of full-color prints, offering more control and vibrant results.
Invest in Quality Equipment

:

Using reliable equipment is essential for consistent and professional CMYK printing procedure. Invest in a quality screen printing press, exposure unit, and drying system. Ensure that your screens are properly tensioned and maintained for optimal results.
Embrace Continuous Learning

:

CMYK screen printing is a skill that can always be refined and improved. Stay updated with the latest techniques, tendenze, and innovations in the industry. Partecipa ai workshop, seek guidance from experienced printers, and experiment with new methods to enhance your skills.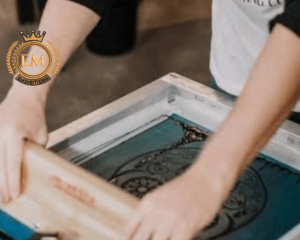 When printing on dark-colored garments, using an underbase is crucial to ensure vibrant and opaque colors. Apply a white underbase before printing the CMYK color separation to create a solid foundation and prevent the garment color from interfering with the disegno del ricamo.
Consider Halftone Printing

: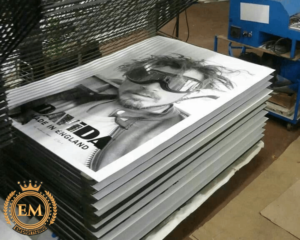 Halftone printing is a technique that uses dots of varying sizes to create the illusion of different shades and gradients. Experiment with halftone patterns to achieve smooth transitions and gradients in your CMYK prints.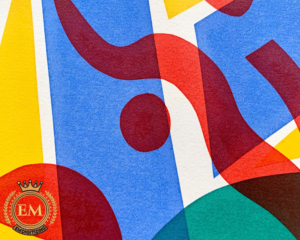 Understanding color theory and the principles of color mixing is essential for achieving accurate color reproduction in CMYK screen printing. Learn how different percentages of each color affect the final output and practice mixing inks to achieve the desired hues.
Pay Attention to Ink Curing

: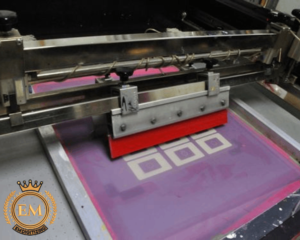 Properly curing the ink is vital to ensure its durability and wash-fastness. Follow the manufacturer';s instructions for curing times and temperatures, and invest in a reliable heat curing system or conveyor dryer for consistent and thorough ink curing.
Test Different Fabrics

:

Different fabrics react differently to inks and printing techniques. Experiment with various fabric types and blends to understand how they interact with CMYK screen printing colour separation. This will help you determine the best printing parameters and produce high-quality prints on different materials.
Stay Consistent with Color Management

: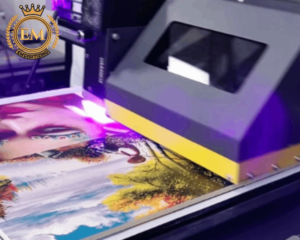 Consistency is key in CMYK screen printing. Establish a color management system that ensures consistency across different print runs. Monitor and calibrate your equipment regularly, and keep detailed records of ink formulations, screen settings, and printing parameters for future reference.
Offer Customization Options

: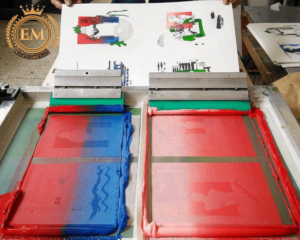 To attract a wider range of customers, consider offering customization options such as personalized names, numeri, or graphics. This allows you to cater to individual preferences and expand your market reach.
Build Strong Relationships

:

Nurture relationships with suppliers, customers, and fellow screen printers. Collaborate with designers, artists, and local businesses to create unique collaborations and expand your network. Building strong relationships can lead to valuable opportunities and word-of-mouth referrals.
Develop a Strong Online Presence

:

In today';È l'era digitale, having a strong online presence is crucial for business success. Create a professional website, utilize social media platforms, and showcase your CMYK screen-printed products. Engage with your audience, share behind-the-scenes content, and actively promote your business online.
Focus on Quality Control

:

Implement strict quality control measures to ensure that every print meets your standards. Inspect each print for clarity, color accuracy, and registration. This attention to detail will enhance customer satisfaction and build a reputation for delivering top-notch CMYK t shirt screen-printed products.

Ricorda, practice and experimentation are key to mastering CMYK color separations screen printing. Don';t be afraid to try new techniques, explore creative ideas, and learn from both successes and failures. With dedication and a commitment to continuous improvement, you can excel in the world of CMYK screen printing and create stunning, eye-catching prints.
Insomma, CMYK screen printing offers endless possibilities for creating vibrant, multi-color mikey designs & silkscreen on various surfaces. By understanding the fundamentals, practicing proper techniques, and embracing continuous learning, beginners can master the art of CMYK screen printing and achieve impressive results. Whether you';re starting a home-based business or pursuing it as a hobby, following these tips will help you unlock the full potential of screen printing color separation and create stunning prints.
Se desideri personalizzare la digitalizzazione del logo del ricamo, EM DIGITALIZZAZIONE sarà la scelta migliore. In DIGITALIZZAZIONE EM, forniamo il miglior logo da ricamo servizi di digitalizzazione con la migliore qualità. Noi offriamo 50% di sconto su tutti i nostri servizi ai nostri potenziali clienti al loro primo ordine. Così, richiedi subito un preventivo gratuito e ci metteremo in contatto con te.
Spero che questo articolo sia utile per voi ragazzi!
Se ci sono domande relative a questo articolo, non esitare a commentarci. E, grazie per aver letto!