5 I migliori tipi di forbici da ricamo a macchina che devi conoscere
Il ricamo a macchina è un hobby bello e soddisfacente, ma può anche essere difficile da padroneggiare. A good pair of scissors is one of the most important things each machine embroiderer needs. When you use embroidery scissors, you can cut thread and tessuto exactly without damaging the stitches or materials around them.
Whether you';re just getting started with machine embroidery or looking to upgrade your scissors, finding the right pair of scissors can be a challenge. Embroidery scissors come in a wide variety, each with its own set of advantages and disadvantages.
Qui, you';ll learn about the five most useful kinds of machine embroidery scissors on the market today. We also have an interesting offer for embroidery lovers, so keep reading until the end.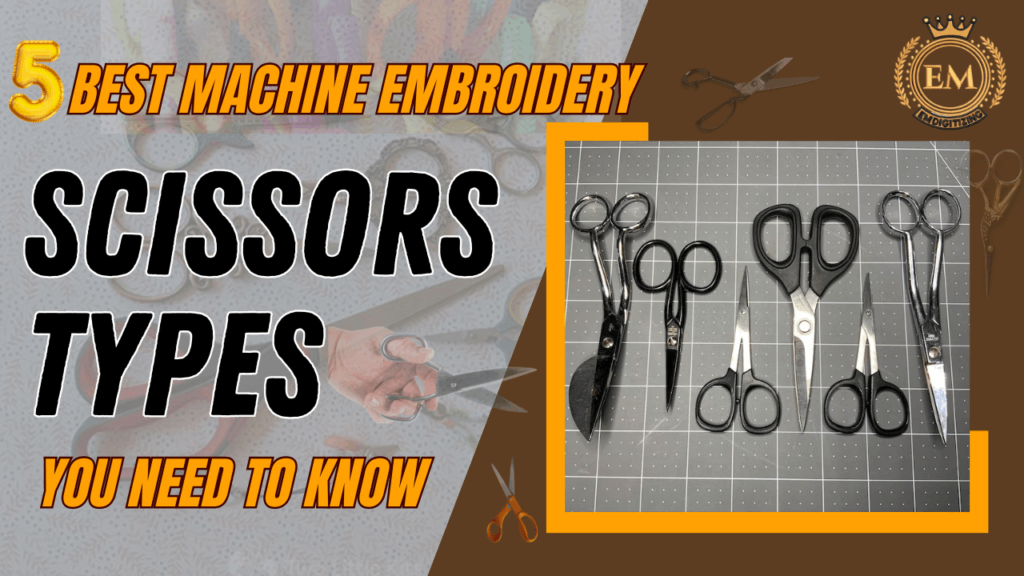 5 I migliori tipi di forbici da ricamo a macchina che devi conoscere
What's The Difference Between Sewing And Embroidery Scissors

?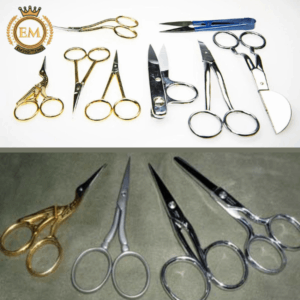 Both embroidery and sewing scissors are used for cutting and stitching craft materials. Tuttavia, some characteristics set them apart. Here are some key distinctions between sewing and embroidery scissors:
Sewing Scissors

Forbici da ricamo

Typically bigger and heavier than standard embroidery scissors

.

Longer blades than embroidery scissors

.

It works best for cutting cloth

.

Cuts through multiple layers of fabric with ease

.

More compact and lightweight than sewing scissors

.

Blade that is exceptionally sharp and thin

.

Available in a wide range of shapes

,

including both straight and curved variants

.

Ideal for trimming little pieces of cloth or thread

.

Can be used for detailed work like cutting back fabric close to stitching lines to turn

,

notch collars

,

or make a seam less bulky

.
5
Types of Scissors Are Used For Embroidery
Let's have a look at the best embroidery scissors types:
1.
Standard Embroidery Scissors
Tipicamente, when you think of embroidery scissor, a classic 4-inch pair of scissors comes to mind. These multipurpose shears can be used to trim both hand and machine embroidery threads easily and precisely.
Infatti, you can find these with your macchina da ricamo. They are symmetrical, so both right- and left-handed embroider can use them comfortably. We recommend purchasing these from Gingher, Fiskars, and Singer brands.
They aren';t really the best option for any embroidered job, but they do a great job of eliminating excess thread from finished edges.
2.
Embroidery Applique Scissors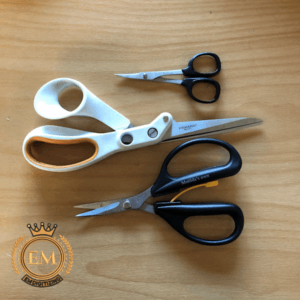 Have you ever cut your embroidery blank while trimming applique fabric or stabilizer? If yes, then applique scissors are your best friend. It is also known as Duckbill or pelican scissors.
These 6-inch-long scissors feature two sides. One looks like a half-moon or duck';s bill, and the other side looks like standard embroidery scissors. This will help you to trim fabric extremely close to stitch lines without fear of damaging your design.
Exciting News: You can get your digitalizzazione del ricamo services from us at an affordable price without compromising the quality. We also offer vector art services and convert your low-quality image to high-quality, which can be seen clearly on large screens like billboards. So get in touch at EMdigitizing right now and bring your design to life.
Duckbill scissors are available in a range of sizes, from small to large, to suit your needs. It is vital to remember that duckbill scissors cannot be used in the same way as you use your regular scissors.
They are supposed to be used in combination with tailor';s point scissors for particular jobs rather than to replace them completely. Parlando in generale, duckbill scissors are a helpful addition to any embroidery toolbox, especially for those who like macchina per applicazioni.
3.
Curved Embroidery Scissors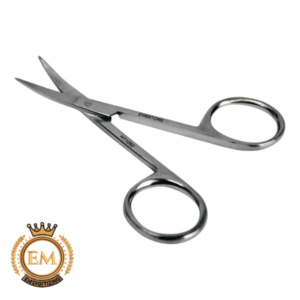 Curved embroidery scissors are comparable to ordinary scissors in size, but they have a curved tip at the end of the blade. They are ideal for trimming complex appliqué fabrics and in-the-hoop projects because of their design, which enables precise and controlled cutting.
These are available in various lengths, from 3 ¾ to 6 pollici. They are constructed of stainless steel and feature extremely sharp and pointed points. They are compact enough to fit in any storage space and functional enough to perform all tasks that normal scissors can do.
When you use curved embroidery scissor, you've to hold the fabric up and away from the embroidery blank with one hand while using the other hand to cut the fabric with the scissors carefully. The smooth curve of the tip lifts the fabric up and lowers the chance of accidentally cutting the base fabric.
4.
Double-Curved Embroidery Scissors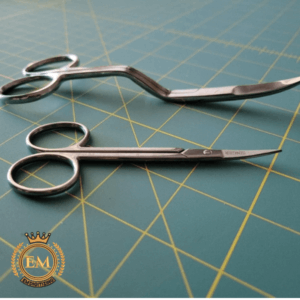 The handle of double-curved embroidery scissors has an additional bend or curve in comparison to curved embroidery scissor. These scissors have a length of about 6 pollici, which gives them a longer reach and enables them to clear the embroidery machine head and hoop frame senza sforzo.
They are made specifically for machine embroiderers and are essential for reducing jump stitches without having to remove the hoop from the machine. Most of the embroiders prefer single-curved scissors due to their accuracy and usability, even though they perform well in some situations.
5.
Thread Snips

(Tronchesi)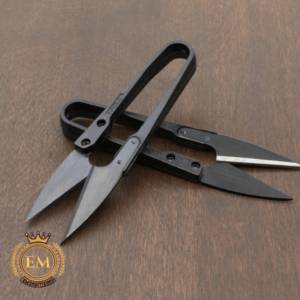 Thread snips are sometimes referred to as thread nippers, thread clippers, and thread cutters. They are tiny scissors that are helpful for trimming and cutting lightweight fabrics and fili da ricamo.
They might be spring-loaded and larger, like the above-mentioned scissors, or elegant and simple, like the instruments used in surgery. They are made to give the user better control while trimming.
These nippers are perfect for their intended purpose. But we don't recommend using them often because they leave the edge rough. Così, for clean cuts, use your standard trusted scissors.
What To Look For When Choosing Embroidery Scissors

?
We';ve discussed a variety of scissors, but which ones do you actually need, and how do you choose which ones to purchase?
Never select scissors based on what works for others. It all depends on what suits you the best!
We discuss the factors that can affect your decision, such as your particular needs, tastes, and hand size.
Before we proceed, we';d like to tell you about something exciting. EMdigitizing provides embroidery digitizing services with a fast turnaround. If you need embroidery designs, puoi contattarci. We manually digitize your design according to your needs and save it in a formato del file that your machine can read easily.
Adesso, let's dive in!
Our Special Recommendation

:

Embroidery Scissors For Arthritis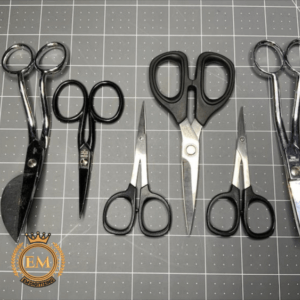 If you have arthritis, it can be difficult to use normal scissors for embroidery or sewing. Per fortuna, there are scissors made especially for those with arthritis or weaker hands.
Here are some suggestions to assist you in selecting the best embroidery scissor for arthritis:
Scissors made of aluminum are lighter and easier to use than their heavier competitors

,

but they need to be sharpened more frequently

.

Select scissors with an ergonomic handle to fit easily in your hand and put less stress on your fingers and wrists

.

Some scissors include comfortable

,

non-slip

,

soft-grip handles that make them easy to hold

.

People with arthritis may find that spring-action scissors are a suitable choice because they are easier to open and close

.
Pro Tip: It is crucial to remember that everyone has a unique form of arthritis, so what works for one person may not work for another. To determine which embroidery scissors are the most convenient and comfortable for you to use, it is a good idea to test out a few different pairs.
Care Tips For Embroidery Scissors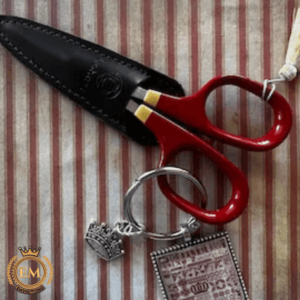 Properly maintaining your embroidery scissors once you';ve selected a pair is crucial. This will help to increase their longevity and keep them sharp. The following tips will help you maintain your embroidery scissors:
Do not cut anything other than fabric with your embroidery scissors

,

such as paper or thread

.

This might damage the scissors and dull the blades

.

You should quickly dry off your embroidery scissor if they become wet

.

Keep them dry because rust may form quickly

.

If you won'

;

t be using your embroidery scissor for a long

,

store them somewhere dry

.

This will help to avoid corrosion

.

Keep your scissors sharp by getting them sharpened on a regular basis by a professional

. Inoltre,

you can use a sharpening tool such as a stone to do it at home

.
The scissors you use can have a big impact on the quality and precision of your embroidered work. By selecting the right type of scissors and handling them correctly, you may increase their lifespan and produce results that are accurate and appear professional.
We really hope that you find our explanation of machine embroidery scissors to be useful. Please share your favourite scissors and tips in the comments section below to help our growing community of embroidery fans.
Announcing Exciting Offer!
Need your embroidery design digitized quickly and with high quality?
EMDigitalizzazione is the perfect solution!
It is a reliable embroidery digitizing and vector art company that provides high-quality services to clients worldwide. We are known for our fast turnaround times, high-quality work, and affordable prices.
We offer a wide range of digitizing services, from simple logos to complex designs. Più, we offer first-time customers a 50% discount!
Get a free quote in under 5 minuti!
So contact us right now!
Infine, grazie per aver letto.