Cómo encontrar la talla de tu camiseta:
Use This Calculator & Chart
Finding the right t-shirt size is essential for a comfortable and flattering fit. Sin embargo, with variations in sizing among different brands and regions, it can sometimes be confusing to determine your correct size. To help you out, we';ve put together a comprehensive guide on how to find your t-shirt size using a calculator and shirt size chart. Let';s dive in!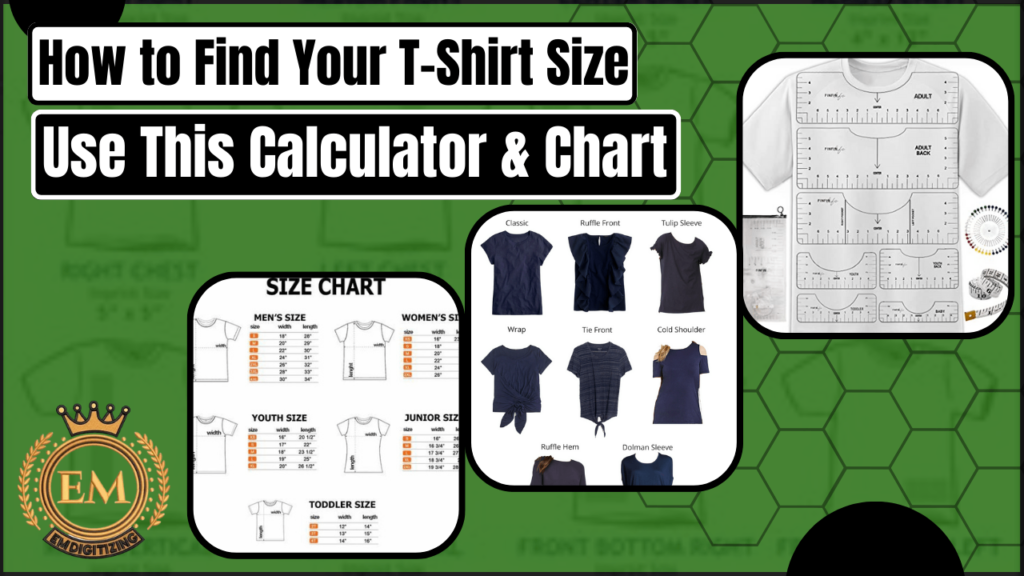 Cómo encontrar la talla de tu camiseta:
Use This Calculator & Chart
A size chart shirts refers to the standardized measurement system used to categorize the fit and dimensions of shirts for both men and women. It helps individuals select the most appropriate size based on their body measurements. Size chart of shirts typically take into account measurements such as chest circumference, sleeve length, and sometimes neck size or body length, depending on the specific type of shirt.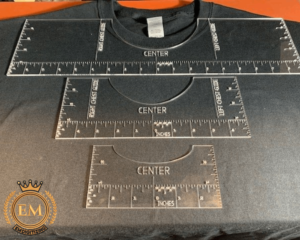 How Do I Know My T-Shirt Size

?
To determine what size is your t-shirt size, sigue estos pasos:
Measure Your Chest

:

Use a flexible tape measure to measure the circumference around the fullest part of your chest, typically just under your armpits.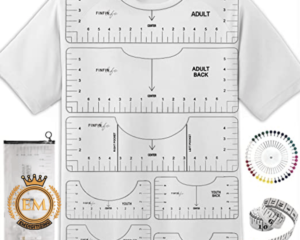 Different brands and retailers may have their own size charts, so it';s essential to check the specific brand';s size chart for accurate measurements. Look for the size chart on their website or product listings.
Compare Your Measurements

:
Locate your chest measurement on the size chart and find the corresponding size. Keep in mind that t-shirt sizes are typically based on chest measurements, but additional measurements like length or sleeve length may also be provided on the size chart.
Consider Your Preferences

:
Consider your personal style and how you prefer your t-shirts to fit. Some individuals prefer a more fitted look, while others prefer a looser or oversized fit.
If you';re unsure about the fit of a particular brand or style, read customer reviews or look for feedback online. Customers often share their experiences with sizing, which can provide valuable insights into how the t-shirt fits.
Si es posible, try on different sizes in person. Visit a store and experiment with different sizes to see which one fits you best. Pay attention to how the t-shirt feels across the shoulders, chest, y longitud. Move around, stretch your arms, and ensure you have freedom of movement.
Take Note of Brand Variations

:
Keep in mind that sizing can vary between brands, so your size may differ depending on the brand you choose. Be open to trying different brands and adjusting your size accordingly.
Remember that finding the right t-shirt size may require some trial and error, especially when exploring new brands or styles. If you';re purchasing online and unsure about the size, check the brand';s return policy to ensure you can exchange or return the t-shirt if it doesn';t fit as expected.
To know how to measure chest size accurately, refer to tshirt fit size charts, considering your preferences, and being open to adjustments, you can increase your chances of finding the right t-shirt size for a comfortable and flattering fit.
Here';s a properly formatted adult shirt size chart based on chest measurements: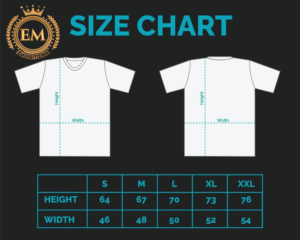 Women's Shirt Size Chart

:
Here';s a size chart for Gildan, a popular brand known for its t-shirts: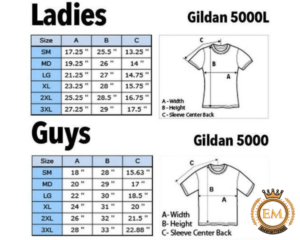 Men's T-Shirt Size Chart

:
Women's T-Shirt Size Chart

:
Sizing Chart For Youth Shirts
Here';s a youth shirt size chart to help you find the right fit for children and teenagers:
These were the sizing chart for shirts. We have cover everything from adults to youth small size chart to youth medium size chart to large and extra-large.
What Sizes Are Youth T-Shirts

?
Youth t-shirts typically come in a range of sizes youth large suitable for children and teenagers. The specific sizing may vary slightly between brands, but here is a general guideline for youth t-shirt sizes: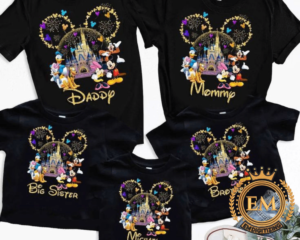 Generally fits children aged 4-5 años. Chest measurements can range from 22 a 24 pulgadas (56-61 cm).
Typically sizes youth small fits children aged 6-8 años. The chest measurement for this size usually falls between 26 y 28 pulgadas (66-71 cm).
Designed for children aged 10-12 años. The chest measurement for this size is typically around 30 a 32 pulgadas (76-81 cm).
Suitable for children aged 14-16 años. Chest measurements for this size generally range from 34 a 36 pulgadas (86-91 cm).
Generally fits teenagers aged 18-20 años. The chest measurement for this size is usually between 38 y 40 pulgadas (97-102 cm).
What is the Difference Between Men &amp

;

Women Shirts

?
The main differences between men';s and women';s t shirt fits lie in their design, fit, y corte. Here are some key distinctions: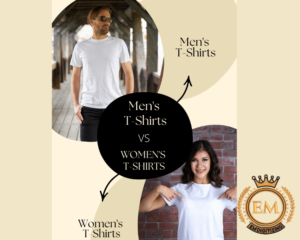 Men';s shirts are typically designed with a broader shoulder width and a straighter torso shape to accommodate the male body structure. They are generally looser and more relaxed in t shirt fitting. Women';s shirts, por otra parte, are tailored to fit the contours of the female body, with narrower shoulders, a tapered waist, and more room around the bust area for a feminine silhouette.
Men';s shirts commonly feature a wider and more open neckline, often with a traditional collar style such as a pointed collar or button-down collar. Women';s shirts may have a variety of neckline styles, including round neck, V-neck, scoop neck, boat neck, or other more intricate designs.
Men';s shirts typically have longer sleeves, reaching to the wrist or slightly above, and may include options for cuff buttons. Women';s shirts can have a range of sleeve lengths, including short sleeves, cap sleeves, three-quarter sleeves, or long sleeves. Women';s shirt sleeves also tend to be more fitted and tailored.
On men';s shirts, the buttons are typically placed on the right side, while women';s shirts often have buttons on the left side. This convention dates back to historical traditions and has carried over into modern shirt designs.
Fabric and Print Choices

:
Men';s shirts often feature more neutral colors, classic patterns (such as stripes or checks), and solid designs. Women';s shirts, por otra parte, offer a wider range of color options, patrones (such as floral or abstract prints), and embellishments (such as lace, ruffles, or embroidery).
How to Measure a T-Shirt

?
Measuring a t-shirt is a straightforward process that requires a few basic measurements. Follow these steps to accurately measure a t-shirt: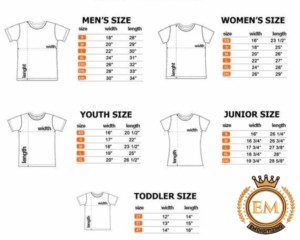 Lay the t-shirt flat on a surface.
Locate the widest part of the chest area

.

Using a measuring tape

,

measure the width of the t-shirt from underarm to underarm

.

Make sure the tape is straight and parallel to the ground

.

Note down the measurement

.
Start at the highest point of the shoulder, where the shoulder meets the neck seam.
Place the measuring tape vertically along the front side of the t-shirt

.

Measure down to the desired length

,

such as the bottom hem or desired shirt length

.

Ensure the tape is straight and follows the contour of the t-shirt

.

Record the measurement

.
Sleeve Length Measurement

:
Locate the shoulder seam where the sleeve is attached to the t-shirt

.

Place the measuring tape at the shoulder seam

.

Extend the tape down the sleeve

,

following the natural curve

,

to the end of the sleeve

.

Take note of the measurement

.
Additional Measurements

(

Optional

):
Neckline: Measure the circumference of the neck opening by wrapping the tape around the base of the neck, where the collar sits.
Waist: Measure the width of the t-shirt at the narrowest point, typically around the waist area.
Hem Width: Measure the width of the t-shirt at the bottom hem.
When measuring, ensure the t-shirt is laid flat and not stretched or wrinkled. It';s also helpful to measure multiple t-shirts of the same size to get an average measurement for accuracy.
By taking these measurements, you can compare them to a size chart provided by the brand or retailer to determine the best size for your t-shirt.
What Are the Different Types of T-Shirts

?
T-shirts come in various styles and designs to suit different preferences and occasions. Here are some of the most common types of t-shirts: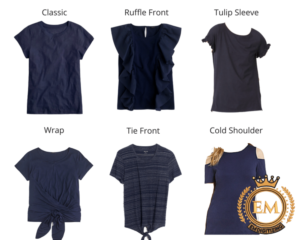 Also known as a round neck, the crew neck t-shirt features a circular neckline that sits close to the base of the neck. It';s a classic and versatile style that works well for both casual and dressier looks.
The V-neck t-shirt has a neckline that forms a V-shape, plunging down from the shoulders. This style is considered more casual and can create a visually elongating effect on the upper body.
Henley t-shirts have a buttoned placket at the neckline, typically with two or three buttons. They offer a more relaxed and casual look, often with a slightly looser fit.
Polo shirts feature a collar and a placket with buttons, similar to a dress shirt. They are usually made of a more structured fabric and are associated with a sporty or preppy style. Polo shirts are often used in semi-formal or business-casual settings.
Raglan sleeve t-shirts have sleeves that extend diagonally from the collar to the underarm, creating a unique look. This style is characterized by a contrasting color or fabric along the shoulder line.
Baseball tees draw inspiration from the traditional baseball uniform. They have three-quarter-length sleeves in a contrasting color to the body of the shirt, providing a sporty and retro aesthetic.
Graphic tees feature various printed diseños de bordado, including logos, obra de arte, slogans, or images. They allow for self-expression and are available in a wide range of styles, from vintage-inspired to modern and quirky designs.
Long sleeve t-shirts provide additional coverage and warmth. They can come in various neck styles, including crew neck and V-neck, and are ideal for layering or cooler weather.
Tank tops, also known as sleeveless shirts or vests, have no sleeves and expose the shoulders and arms. They are perfect for hot weather or active pursuits and can be worn on their own or as an undershirt.
En conclusión, t-shirts are a staple in everyone';s wardrobe due to their comfort, versatility, and style. Understanding the different types of t-shirts available allows you to make informed choices based on your preferences and the occasion.
From classic crew neck and V-neck styles to the sporty appeal of raglan sleeves and baseball tees, there is a t-shirt for every taste and fashion statement. Whether you prefer a casual look or a more polished appearance, there is a t-shirt style to suit your needs.
Si desea personalizar la digitalización del logotipo del bordado, EM DIGITIZING será tu mejor opción. A DIGITALIZACIÓN EM, entregamos el mejor logotipo de bordado servicios de digitalización con la mejor calidad. Ofrecemos 50% de descuento en todos nuestros servicios a nuestros clientes potenciales en su primer pedido. Asi que, obtenga una cotización gratis ahora y nos pondremos en contacto con usted.
Espero que este artículo sea útil para ustedes.!
Si hay alguna pregunta relacionada con este artículo, no dude en comentarnos.. Y, gracias por leer!
También te puede interesar