oben 10
Brother Embroidery Machines

:
Let's discuss some of the amazing models of brother embroidery machines in 2023.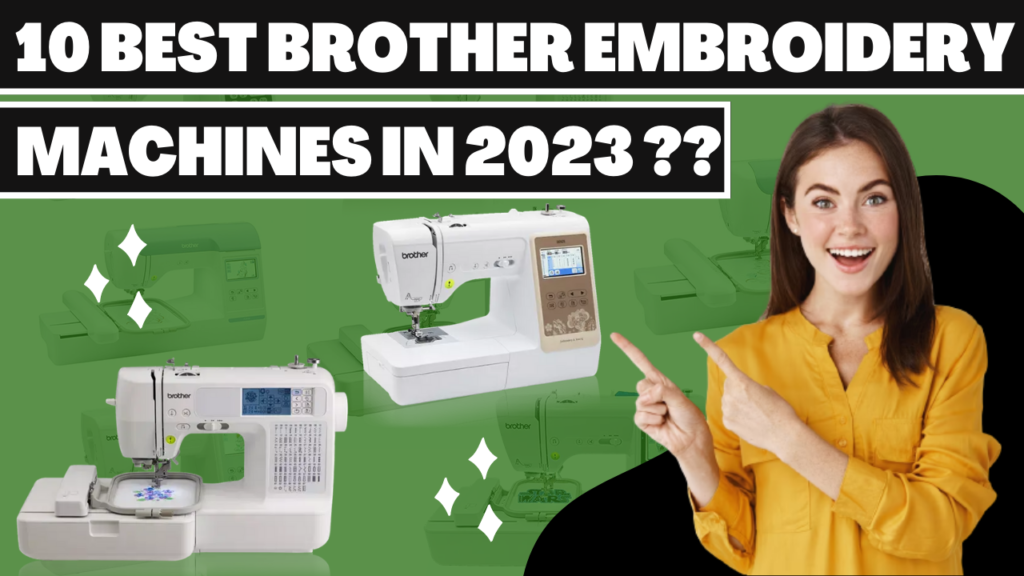 1. Brother PE800 Stickmaschine: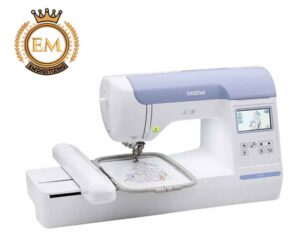 Brother PE800 is a professional, strong, and competent machine that will let you make amazing embroidery designs within no time. Brother is a commercial-grade embroidery machine that comes jam-packed with a high number of built-in designs and monogramming fonts. Ebenfalls, it is very easy to use and can produce exceptional results.
Brother PE800 has a loop area of 5×;7. It is the perfect size for your hats. You could rapidly move this machine with its light body weight wherever you wish.
It features 138 eingebaute Designs, mit 10 bezel designs and eleven letters. Somit, you could get sufficient items to sort a hat event.
Brother PE800 also has a large color touch screen through which you can preview your embroidery designs and as well edit them by mirror-imaging, rotierend, and increasing or decreasing the size before the final stitching. You can also select different thread colors from the built-in color palette.
The brother PE800 embroidery machine has a simple and easy bobbin winding system so that those who are new to this field can get going with their embroidery project instantly without any hassle.
Vorteile:
5

×

;7 Stickbereich

USB connection for transferring new designs

Colored LCD touchscreen
Nachteile:
Embroidery-only machine
2.
Brother SE625 Embroidery Machine

: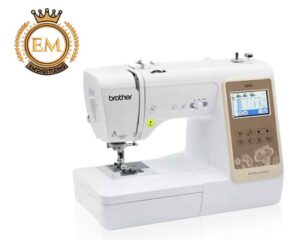 Doesn't matter if you are a beginner or a veteran in the embroidery field, you would find SE625 an amazingly valuable machine because of its multiple custom embroidery functions. It is an extremely popular machine that is ideal for small to medium-level projects. Ebenfalls, it is comparatively simple to use and maintain. This model of brother is as well one of the cheapest models.
Außerdem, this machine features a 4×;4 embroidery area which is perfect for designing small to average projects.
There are also built-in alignment tools and a grid sheet included for aligning the position of the needle as required.
You would have to choose to select from eighty built-in embroidery designs. The embroidery designs include modern-day options such as floral, Grenzen, Ferien, Kinder, und Alphabetdesigns. Ebenfalls, there are a lot of built-in embroidery lettering fonts that come in different sizes i.e. groß, Mittel, and small along with different characters and cases.
Endlich, this machine is amazing and will surely exceed all your expectations.
Vorteile:
80 Stickmotive

25-

year

Garantie

710 Stiche pro Minute

Amazing value for money

Built-in USB port
Nachteile:
Needle-breaking issues
3.
Brother PE550D Embroidery Machine

: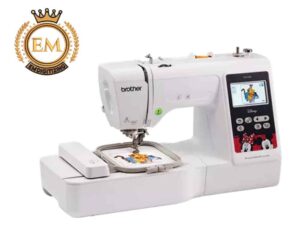 Danach, we have Brother PE550D embroidery machine that is cheap and simple to use. It is an extremely popular machine for Disney lovers as it has some amazing Disney embroidery designs installed in it. Jedoch, being a cheap machine, it is in no way a limited embroidery machine. It has got some amazing functions that will amaze most embroidery lovers.
It has a full-color 3.2 inches LCD Touchscreen. The LCD screen is sharp and provides the smallest of details of each design.
It lets you preview, change, and combine embroidery designs before you stitch them. Ebenfalls, the screen allows you to change the thread color by using its color palette.
You will also get 125 built-in high-quality, professional embroidery designs,s 45 of these designs are Pixar and Disney characters. You can also download more designs from the internet through a USB connection. Some of the remaining embroidery designs include borders, Alphabete, florals, and kids'; und Urlaubsdesigns.
As far as the stitch speed is concerned, the machine provides 400 Stiche pro Minute. This means it is not fast but sufficient enough to finish a project in average time.
So, if you are in search of a comparatively cheap machine for small embroidery projects then this machine is the perfect piece for you.
Vorteile:
1.125

built-in high-quality designs

Reasonable and durable

Simple to use

Provides amazing value for money
Nachteile:
Slow stitching speed
4.
Brother SE600 Embroidery Machine

: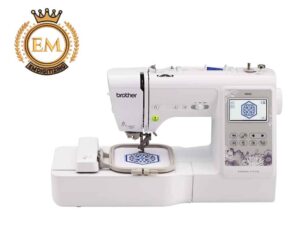 If you want a feature-rich computerized sewing machine that does not cost you your whole year';s expense then this Brother SE600 machine is an outstanding option. It is the most common brother machine that will meet your every need and requirement so that you can show your creativity.
It has a 4×;4 embroidery area which is the best size for small projects but not good enough for bigger embroidery designs.
You can design bigger projects but you would have to break them up into more than two or three sections.
This machine also has a smart LCD touch screen and it provides eighty built-in embroidery designs and six letterings. Außerdem, there are 103 built-in sewing stitches to select from. Ebenfalls, it has an outstanding needle-to-arm length/height for sewing on heavier clothes such as jeans or denim and for doing small quilting. So, if you want a cheap machine this brother SE600 will be your best choice.
Vorteile:
Best for embroidery and sewing lovers

Amazing stitch quality

Full-color touch screen

Less Noise
Nachteile:
Not beginner-friendly
5. Brother SE1900 Stickmaschine:
This brother machine is packed with a number of built-in stitches, an extra big embroidery area, and a high number of embroidery designs to make your embroidery and sewing work very efficient.
You would be using the big Touchscreen display on this machine. The best thing is that you would never have to recall design numbers.
This machine provides a 5×;7 Stickereibereich, which makes it simple for you to work on lettering and bigger designs. Darüber hinaus, there are 138 embroidery designs and seven fonts that will let you start your projects quickly. Außerdem, it has an automatic threading feature for the quick start of the project.
Gesamt, this machine is beautifully packed with outstanding embroidery features.
Vorteile:
Big touchscreen display

Huge embroidery area

Import designs feature

The high number of stitches
Nachteile:
Costly as compared to other picks

.
6. Brother PE535 Stickmaschine: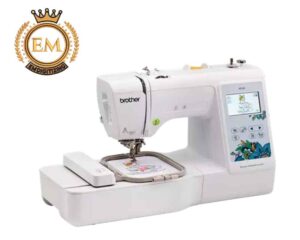 This model of brother is compact, tragbar, and even very easy to use. It is an amazing machine that provides amazing worth for both beginners and professionals with its simple-to-use interface. With its outstanding embroidery functions, embroidering on this machine is a lot of fun and simple for both experts and beginners.
This machine provides 400 Stiche pro Minute, which means it is not the quickest model but good enough to complete the work in a quick time.
So, if you are looking for a portable and simple-to-use machine then you won't find the best option other than this brother PE535 embroidery machine. It is small but has a lot of amazing features that will definitely meet your needs and requirements.
Vorteile:
Portable

Long-lasting

Convenient

Minimum noise

Simple to set up
Nachteile:
Embroidery only unit
7.
Brother SE2000 Embroidery Machine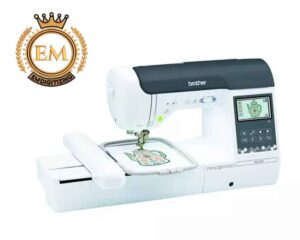 The Brother SE2000 embroidery machine is one of the most cost-effective machines, but its design is structured with efficiency and is made of the highest quality.
The Brother SE2000 embroidery machine is the perfect machine that will help you in sewing and embroidery with ease. It has a lot of advanced features with a 5 x 7 inches embroidery field, und ein 3.7 inches LCD color display, which allows for the easiest on-screen editing.
This embroidery machine is most loved because of its user-friendly feature that makes embroidery a lot more fun, especially for those who would not want to follow it as a hobby.
With its table, sewers can be comfortable to use when doing embroideries. It allows them to sew different kinds of projects, like adding creative motifs to bed sheets, and other materials like linens, Kissenbezüge, and even towels.
Vorteile:
Built-in LED display for simple computerized stitch selection

Free arm sewing machine

Simple to operate

Light in weight

A snap to thread
Nachteile:
May struggle with thicker pieces of material

LED light is not that bright

Some individuals report tension issues and uneven stitches

.
8.
Brother LB6800PRW Embroidery Machine

: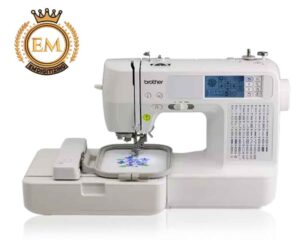 This brother LB6800PRW delivers the best results and it comes with a vast range of features designed to boost your craft. It is a simple and modern machine that comes with some outstanding functions which could be flipped through with a simple touch on the LCD screen.
The display is extremely effective, and simple to use. It lets you access designs, Rahmen, and different editing functions for resizing, rotierend, and previewing designs.
Außerdem, this model has a quick bobbin winding system set-up for nonexperienced users, as it winds the bobbin quickly, you only have to move the bobbin button towards the right and push the start button.
Es hat 67 built-in sewing stitches and seventy built-in embroidery designs. Ebenfalls, there are five built-in fonts and 120 frame designs available. It has an embroidery area of 4×;4 Zoll.
Endlich, this model of a brother comes with some amazing features that you can expect in any high-end machine.
Vorteile:
Ample of designs

Amazing stitch quality

No noise

70 integrierte Stickdesigns
Nachteile:
Not portable
9. Brother SE400 Stickmaschine: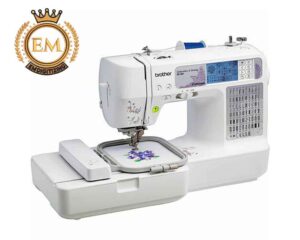 The brother SE400 is an amazing example of how modern technology has been integrated into modern-day sewing and embroidery machines. It is an amazing machine that is very easy to use.
This machine offers a 4×;4 embroidery field so that you can play around with projects of small to medium sizes. Aber, for big projects, you would have to split them up into sections.
It also has a very bright LED light to help you work in dark and dim conditions. Ebenfalls, it has a simple bobbin winding feature to get you started with your project.
This machine offers 67 built-in stitches to select from. You can as well enjoy up to 165 different formats with different in-built embroidery designs. So, if you are looking for a cheap machine this model will be your best choice as it delivers quality results.
Vorteile:
USB support

Big collection of Stitches

Sewing plus Embroidery machine

Variable speed frames
Nachteile:
Black and white LCD touchscreen
10.
Brother LB5000S Embroidery Machine

: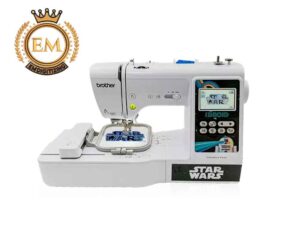 If you are a star Wars die-hard fan in need of a new sewing machine, you are in luck. Brother embroidery machine now has a star wars themed sewing and embroidery machine – and it is going to make your heart full.
While you would probably be most overjoyed about the star wars- themed Stickerei Entwürfe, you would as well be happy to know that this machine sews like a dream. It is a versatile machine that you would be using for years to come.
Mit dieser Stickmaschine, you get 3 interchangeable faceplates featuring the most beloved star wars characters: R2D2, Princess Leia, and Darth Vader. You as well get an easy star wars logo faceplate that attaches to the front bottom of the machine.
The faceplates do not affect the performance of a machine, but they are a fun addition and enable you to show off your love for your favorite star wars characters.
There is as well a USB port that enables you to import your own designs and bring new heights to your creativity. Along with the built-in designs, this Brother LB5000S machine has 9 fonts for monogramming (six English and three Japanese). There is as well an automatic feed thread-cutting function to make your life a lot simpler.
So, if you are looking for an entry-level machine that has a lot of in-built fancy designs this machine is for you!
Vorteile:
Offers great

Large LCD touchscreen

Big memory

Great looks
Nachteile:
Standard-size embroidery area
Wir hoffen, dass Ihnen die Lektüre dieses Artikels gefallen hat. Wenn Sie die Digitalisierung des Sticklogos anpassen möchten, EM DIGITALISING wird Ihre beste Wahl sein. Bei EM DIGITALISIEREN, wir liefern das Beste Sticklogo digitalisieren Dienstleistungen mit bester Qualität. Wir bieten 50% Rabatt auf alle unsere Dienstleistungen für unsere potenziellen Kunden bei ihrer ersten Bestellung. So, Fordern Sie jetzt ein kostenloses Angebot an und wir werden uns mit Ihnen in Verbindung setzen.
Ich hoffe, dieser Artikel wird für euch hilfreich sein!
Wenn Sie Fragen zu diesem Artikel haben, können Sie uns gerne einen Kommentar hinterlassen. Und, danke fürs Lesen!